Visitacion Valley Middle School young women participated in a robotics activity and panel.  Forty middle grade young women used flashlights as sensors to predict how Lego Mindstorm robots would respond.  Students then worked backwards to figure out how the robot used the flashlight to move. The panel included Jessica Allen, a scientist and teacher at UCSF, and Stinson Muirhead, a reporter from KRON-TV.  Jessica lead a presentation called How is a Cell Like a Robot? and facilitated the robotic activity. Stinson showed the students her ready to go reporter backpack with all of her cameras and reporting tools.  She was just reporting the floods due to atmospheric rivers in the North Bay before coming to present!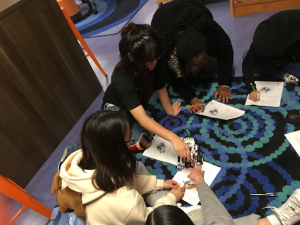 The primary messages were to advocate for one's self and to try as many things as possible to see what one is good at doing or interested in pursuing one day.  Both speakers talked about their middle school years and how they both were interested in math and science yet were not often encouraged, as young girls, to pursue careers in those fields.  Despite the obstacles, they followed their passions, went to college and are thriving in careers in the sciences. They shared with the young woman that at times they do deal with gender issues at work and that it is important to have allies and keep trying.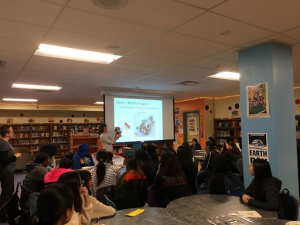 The Vis Valley young women had many questions about what high school was like, what colleges they went to and what work is like for them on a daily basis.  The Vis Valley students were eager to hear stories of what they do at work and how they overcome obstacles that could prevent them from thriving. The students ranged from sixth to eighth grades and their questions reflected their experiences.  The sixth graders were interested in what the women do, while the eighth graders, as they prepare to hear what high schools they will go to next year, were curious about high school and college experiences. Overall, the messages were positive and the young women really enjoyed participating in science activities with other young women.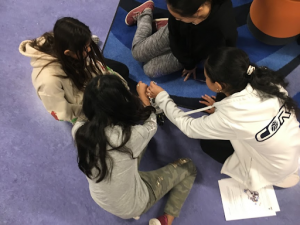 -Callen Taylor
IGNITE Advisor
Visitacion Valley Middle School
After attending this event:
Here's what the students enjoyed most:
I want to learn more about robots - 6th grade
I want more women to be doing more science - 6th grade
I want to learn how to build a robot and how to code it - 7th grade
I would like to join a club that focuses on girls in science in high school - 8th grade