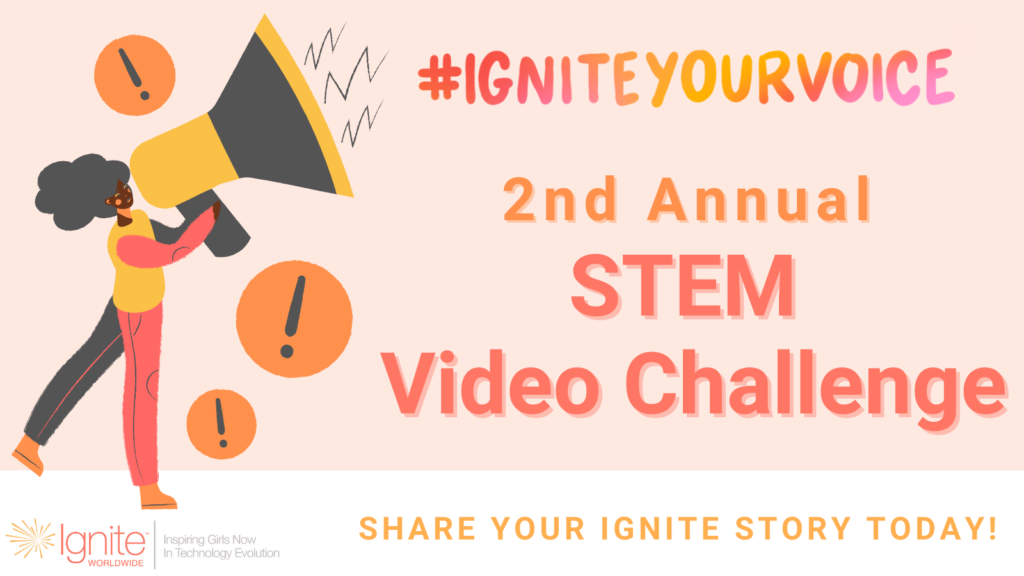 STEM Video Challenge
for young women, nonbinary, transgender or agender students
Eligible entries will receive a $50 Amazon Gift Card!
We want to hear from YOU!
Who can enter?  Girls, nonbinary, transgender, and agender students up to 19 years old.
When is the deadline? Friday, December 31, 2021
What could I win? Everyone wins this year! Every eligible entry will receive a $50 Amazon Gift Card! 
What should I submit? A video (90 seconds or less) of you sharing about your experience in IGNITE and how it has inspired you, or why you think STEM is important for girls. See the submission guidelines below to learn more.
Where will my video be shared? Your video may be shared with the IGNITE Worldwide community on our website, newsletter and social media.
Can I share my video on social media? Yes! You are welcome to share your entry on social media and tag IGNITE Worldwide. Be sure to use the hashtag: #IGNITEYourVoice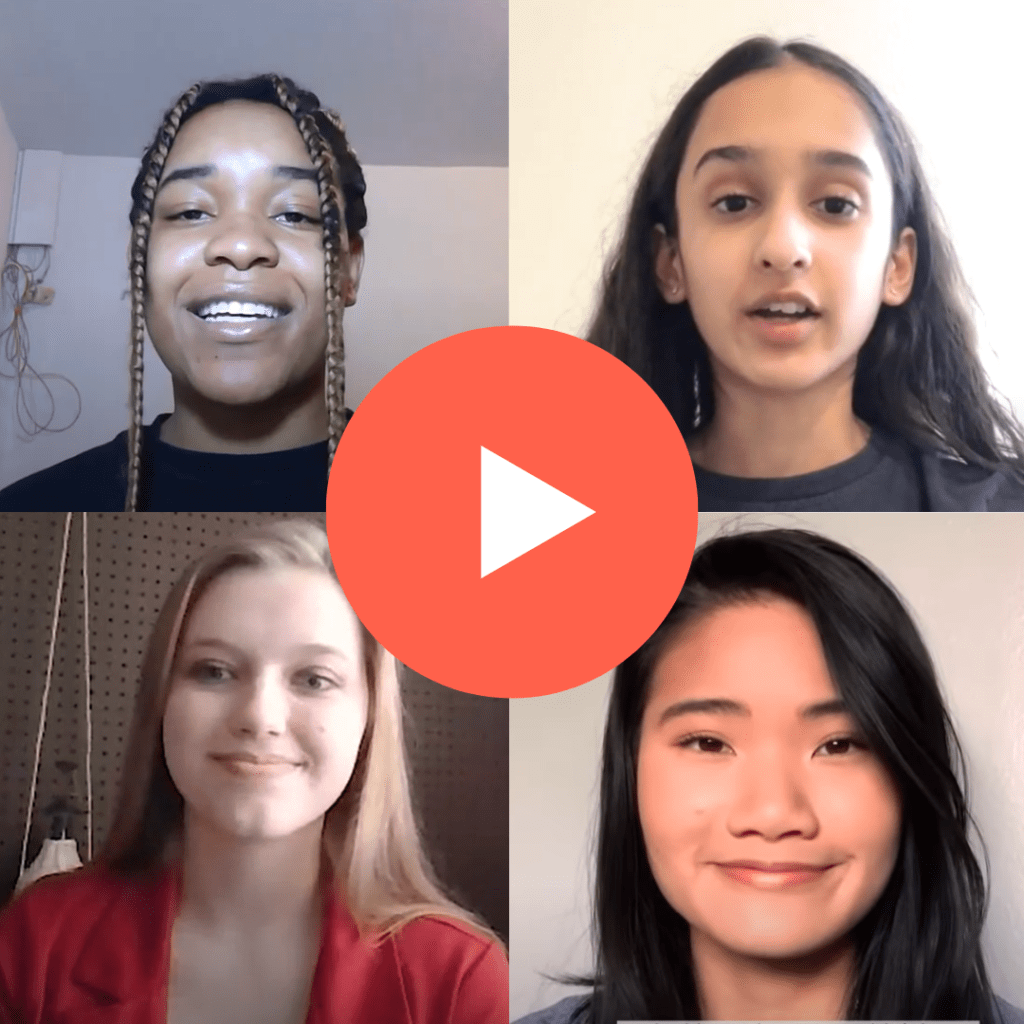 VIDEO PROMPTS
If you have attended an IGNITE event:
Feel free to

find the event(s) you attended on IGNITE Worldwide's website

and locate the comments you left. You are welcome to read your comments for your video submission!

How did the IGNITE event(s) inspire you? Was there a particular moment (like hearing a woman's story) that inspired you?

What did the event inspire you to do?

Is there anything you learned at the event(s) about STEM that inspired you?
If you have not yet attended an IGNITE event:
Why do you think it is important for more women and non-binary people to be in STEM (Science, Technology, Engineering, and Mathematics)? How will this make the world a better place?
VIDEO REQUIREMENTS
Your video must be 90 seconds or less

Please do not say your last name in your video.

First name is fine!

Upload formats accepted: .MOV, .MP4, .MPG, .FLV, and .AVI. Size limit is 200MB.

It can be filmed on a phone, computer, tablet, or any other device!

You are allowed to add graphics, captions, stickers, or anything you would like. Be as creative as you want!

If you choose to add music, make sure we can still hear your voice clearly.

Your parents must sign the media release form when you submit your video. If there are multiple participants in your video, a signed form is required from each participant's legal guardian.
CONTEST RULES
Entrants agree to be bound by the official challenge rules.
No copyrighted materials (music, images, etc.) may be used for this contest unless you own the copyright or have a license to use the material for this contest. Written permission must be obtained and provided upon request for all copyrighted materials.
Content must comply with all local and national laws of the country of origin and the United States. Content must not 1) promote illegal behavior; 2) support racial, religious, sexual or other invidious prejudice; 3) advocate sexual or violent exploitation; 4) violate rights established by law or agreement; 5) invade the privacy of any person; or 6) be otherwise inappropriate as determined by IGNITE Worldwide in its sole and conclusive determination.
Students may submit as many video entries as they wish. However, only 1 gift card will be awarded per student/team.
IGNITE Worldwide maintains the right to reproduce, reprint, distribute, perform, display, or exhibit the project for advertising, publicity, and promotional purposes on their website, at conferences, or at any other venues.
By accepting the gift card, participant agree to hold IGNITE Worldwide and all IGNITE Worldwide employees harmless against any and all claims and liability arising out of use of such prizes. Participant assumes all liability for any injury or damage caused from participation in the contest or use/redemption of any prize.