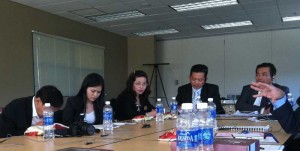 On Monday, October 1st, representatives from IGNITE (Inspiring Girls Now in Technology Evolution) met at the central offices of Seattle School District with a Vietnamese delegation touring the United States as part of a professional exchange program entitled "Primary Education", part of the International Visitor Leadership Program. The delegation, accompanied by three State Department representatives, consisted of 10 primary school Principals and School District Leaders, representing over half a million primary school children and 500 primary schools in Vietnam.
IGNITE founder Cathi Rodgveller presented the goals and methods of the IGNITE organization and how its programs are deployed to participating schools and regions. Throughout her talk Ms. Rodgveller emphasized the importance of bringing girls and young women into careers in STEM (Science, Technology, Engineering and Math) fields, and reducing gender and income inequality everywhere. The IGNITE Toolkit is in the works to be translated into a variety of languages, including Vietnamese and Ms. Rodgveller also offers consultation to countries interested in starting a Chapter as has been the case, for example, in Nigeria and Ghana.
"Anyone in the world can do this program." – Cathi Rodgveller
The presentation emphasized the underrepresentation of women in STEM, and the importance of inviting women who are already working in technology careers to share their stories with school aged girls. Young people- and in particular young women- are often confused and uncertain about the working world and their future in it. This is why it is critical for women in industry to get involved with IGNITE, to give presentations to girls about what their own experiences have been, and show the girls the wide range of options and opportunities open to them. IGNITE has a direct, in-person involvement with girls and young women, through discussions, demonstrations and job shadows. This is the type of experience that has measurable success in bringing girls and young women into fields which, in many cases, they would not have previously considered open to them.
Following the presentation, the delegation had many great questions. For example, one representative asked whether IGNITE steers girls toward careers that will not only empower them, but fill gaps in the United States economy. Cathi explained that STEM has the fastest growing careers in the US. For example, Microsoft and Boeing have a need to hire hundreds of new employees each day. Despite this, a very small percentage of those employees are women.
A fascinating discussion took place regarding the similarities and differences between the United States' and Vietnamese workforces, and the role IGNITE can play to empower women in both societies. We learned that Vietnamese women are roughly 50% of high tech and high income jobs in Vietnam—a big difference from the United States! However, delegates made it clear that women are still underrepresented in careers such as construction and manufacturing. Ms. Rodgveller emphasized that IGNITE's program model is able to be tailored to the particular conditions and economies of the people using it. She encouraged delegates to use the IGNITE tools and best practices that would best serve their needs. For example, while many STEM careers are equally occupied by men and women, the delegates spoke of professorship as a very high paying career in Vietnam, and that women are well represented except for in areas such as geology, philosophy and history. IGNITE can be a great model with which to increase women's participation in these fields, just as it is in the STEM careers.
Many thanks to all the delegates (who were presented with materials about IGNITE, including a DVD of the IGNITE video presentation) and State Department representatives and translators for their time and expertise. Sharing the work of IGNITE and discussing gender equality and career education across cultures was an incredibly valuable and enjoyable experience.