On Thursday, IGNITE girls from Eckstein Middle School had a great day at Microsoft, participating in a Teaching Kids Programming (TKP) event. The event was our first of the year at Microsoft, and it was a resounding success! Ashley Myers is the Leader and Coordinator for Teaching Kids Programming here in the Northwest and was our leader for the day. She taught girls how to use the Small Basic programming language. Ashley was a Software Tester at Microsoft and chose to teach. She is now the Web Design and Computer Science Teacher at Roosevelt High School, where many Eckstein girls will be attending high school soon! It was great for the girls to meet their potential future Computer Science Teacher. Thanks, Ashley!
The fun and success of yesterday's event is also owed to Aurora Metter, who is the Computer Science Teacher at Eckstein. Ms. Metter, who organized this event with her girls and supported them throughout the day, is clearly an inspiration for her female students. We feel incredibly fortunate to have her as an IGNITE Teacher!
The girls were so excited to be programming. Some already have their sights set on careers in high tech fields, and some were being exposed to the high tech world for the first time. One of the most amazing things to watch is how creative the girls get when allowed to experiment. They would try something new and then problem solve, sometimes with the help of classmates, until they got the result they wanted. Truly amazing to watch! If you would like to do a workshop with us, please let Cathi know. A schedule is published on the website and is in this month's newsletter.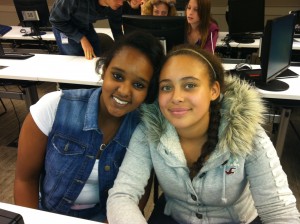 Of course, always, an enormous thank you goes out to the professionals who took time out of their busy days to share their story with girls. You all were a hit with the girls and did a great job feeding their thirst for information and helping them throughout the workshop! Thank you to Alli Curley and Alan Krumholz, both Software Development Engineers, and to Patrick Kelleher and Ajeta Singhal, both Program Managers. All these volunteers work at Microsoft- a great partner with IGNITE. Volunteers, you were so inspirational for the girls, and we cannot thank you enough!
One excited thing about Alan, Patrick and Ajeta is that all are part of the MACH program, which stands for Microsoft Academy of College Hires. This program allows you to rotate through a variety of jobs at Microsoft, to see which ones you are best suited for and like the most! It also gives you the option to travel to a Microsoft office somewhere around the world. In fact, Alan was telling the girls of his plans to travel to Beijing, China! MACH is a great opportunity for the girls for the future. Here is the link.
What a fun and exciting day! Thank you Eckstein and all involved!
We served 23 girls for this event, in grades 6-8. Here are the comments from the girls' evaluation sheets:
I liked learning about the different codes and all about how it can translate to something else.
I liked hearing about MACH and all these people coming together on a team, trying new things.
The sharing with the volunteers and the food/lunch was amazing. Their stories of how they got started were very inspiring.
I liked the creativity and freedom of the class. We were just learning and we learned at our own pace. I also loved the volunteers! Everyone was so nice!
It was interesting to hear about how people got interested in technology and about how new computers are.
I liked how we used the turtle and moved around, and that you don't have to be perfect at math.
I thought it was interesting that you don't have to go to school for that long to be a Computer Scientist.
I liked that Microsoft has sports teams and orchestra and things like that. SO COOL!
It was sad that about 14% of computer science is women.
What I liked best about today's event was moving the turtle, and experimenting with the turtles.
I really liked when I was able to freely experiment with Small Basic. Also, the food was awesome. Also, I liked hearing about the MACH program.
I like that you can do this at home. And that most people even though they started at high school learning tech, they still were able to do it.
The most interesting thing was learning about how "lazy" we are!
I thought it was cool that most of your interests can be used in computer programming.
I liked hearing the volunteers talk about their job, and all the FREE food and drinks we had- Thanks! Also it was cool hearing how much money they make a month.
Hearing about the different types of jobs working at Microsoft, and how much they make, and how the volunteers became workers at Microsoft- their stories.
I liked learning that you can get and keep a paid internship from high school to college.
I liked having the time to talk to the volunteers during lunch.
I liked finding out about different places people came from to get to their careers today.
I enjoyed listening to the volunteers tell their stories. I wanted to know whether I should really take the tech degree seriously. I planned to do so by listening to anybody who related to me.
The most interesting thing I learned today was that even if we decide to work for Microsoft or something we can still do anything else that we want to.
I liked the part after we learned how to program the tortoise when we got to try to get it to do other stuff with no specific instructions. It was like exploring!
It was interesting how the volunteers remembered their first computers.
Remember to sign up if you want to be part of these events. Just let me know you are interested in being on a panel this year, or want to learn to mentor at TKP.
Thank you so much for the dedication and energy you put into this program.
Cathi