Date: January 21, 2013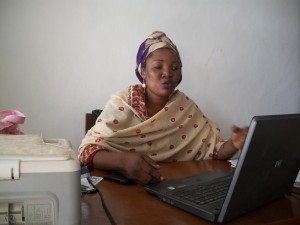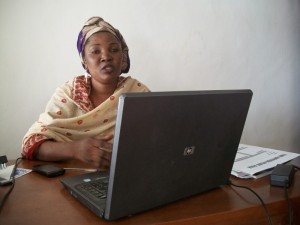 Interview conducted by the coordinator of IGNITE Katsina State Chapter (Nigeria) with the Principal Consumer Officer, Consumer Protection Council, Nigeria, Northwest Zonal Office
[IGNITE]:
How Do you think the IGNITE program can help girls get involved and overcome obstacles like gender issues, low self-esteem and the fear of being in a class with only boys?
[ABDULSALAM, Muibat Taiwo (Mrs.)]:
IGNITE, Inspiring Girls Now In Technology Evolution; is to encourage boldness & confidence in the mind of our girls in their activities and to embrace challenging courses like Engineering, Computer Science/Information Technology, ICT, and Mathematics. It is a very laudable program which should not be missed out in the girls' lives. Girls need to be technology drivers as some of the courses mentioned above would need computer literacy which gives esteem to our young women. IGNITE programs has lot of benefits for lucky girls who might be involved, thus:
Creativity- It creates, encourage and give room for exposure, interaction, charting, exchanging views / ideas on relevant technology issues, it brooding knowledge of our girls and in returns built in confident to tackle problems and make interaction freer without fear of inferiority complex.
Equality among gender- The program prepares girls for future task and bring to lime light, the fact that there is equality among boys and girls. What a boy can do, a girl can do better. There are instances of notable and role model women in the society. They started from somewhere, therefore girls should be encourage to have self esteem and be eager to learn and acquire more knowledge in technology. The world is being computerized with the use of laptop, ipad, tablets, face book, e-mail, gmail, yahoo mail, blog etc, are now in vogue for easy access and achievement.
Overcoming nervousness- Through continuous enlightens, and practice, the fear of uncertainty, speechless among crowd will be overcome. Training, constant interaction by quiz and debate in IGNITE Club activities, among others should be encouraged.
Recognition / Global Concept- The concept of Ignite globally will help members in relating globally outside their domain to further enhance boldness and increase egoism to encourage non-members of IGNITE. Whenever some girls are trained to be above others, it will surely motivate and to inspire others to take up challenging and rewarding technology courses to stand out among others.
Establishment of competitive program- There should be competitive programs to showcase acquired knowledge as in what had been acquired from others. This will enable good rapport and increases awareness creation among IGNITE MEMBERS.
Value of great women in the society- Moral value of great women in the society should be brought to IGNITE members' knowledge, this will serve as motivation to be great through technology eg Funmilayo Ransome Kuti, the first Nigerian woman to drive a car and ride a motorcycle. Also, the 1st in person of Professor Rukayat Ahmed Rufai-former Minister of Education, Margaret Thatcher, is also known to be an amiable woman. Queen Elizabeth, despite her caliber, she does surprising things; she could repairs her vehicle among other innovations, such will help creating positive mindset, boost morale and build self esteem which will grown to be a powerful force to be reckon with in every important position that will make nation.
Consequently, IGNITE program will produce future and focus leaders as success in protecting unwanted pregnancy among girls, early marriage, prostitution etc, as girls would have acquired inevitable/priceless skills and developmental program to stand out among mates. It will be an unavoidably success as this program would have cater for their psychological mental need and increases knowledge on Information Technology development.
Thank you.
ABDULSALAM, Muibat Taiwo (Mrs.)
Female Professor in the North West Zone of Nigeria
Principal Consumer Education Officer,
Consumer Protection Council, Nigeria,
North West Zone Office,
Katsina.
View Katsina Chapter Page