November 24, 2014
Hi All,
We had a fabulous industry field trip to Microsoft on Thursday.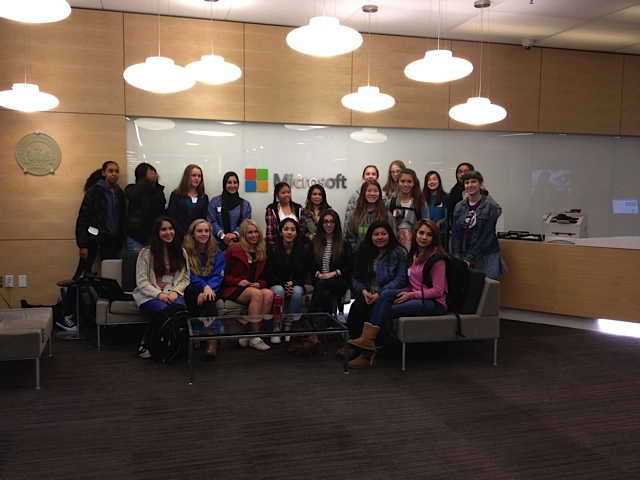 Thirty-five high school girls from Ingraham HS and their inspiring IGNITE teacher, Steve Codling arrived excited and ready to go.
We had planned a Teaching Kids Programming Workshop and most of the girls had never coded before. Only about 2 or 3 girls had an idea of what coding really was about. So they were extremely excited to give it a try.
The workshop is about 2 hours and when the girls leave they have created their own designs and truly get an experience of coding. There were a lot of excited voices throughout the workshop, like this is so cool, I love learning coding, and this is the best trip ever!
After the workshop, Microsoft provides a delicious lunch. After our eating we sit in a big circle with all of the women mentors who signed up to help the girls in the workshop and then share their stories at lunchtime. The women tell their real story, and real obstacles they face, to get to work at Microsoft, place they all love to work!
And the girls asked such insightful and thoughtful questions. There is a great exchange and discussion about what classes to take, how to prepare for these careers and then the girls always exclaim, I want to work here someday!
We then visit the Microsoft Visitors center where the girls get to play the latest Microsoft games and see the latest and greatest in technology innovation.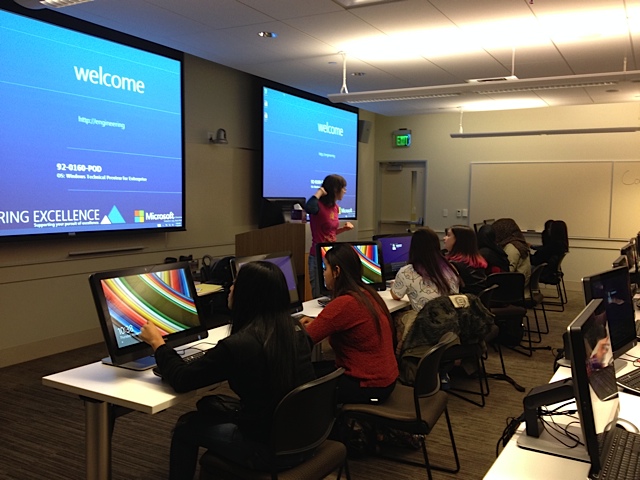 The girls are so inspired and empowered after the day's events.
WE have so many people to thank that make this day happen.
Thank you to Aparna Vishwanathan who sets everything thing up!
She gets volunteers, the computer lab, orders food, and everything needed to make this day so special. We cannot thank Aparna enough for all of her dedication and hours she puts in to these events.
Thank you to Ashley Myers, our Lead TKP teacher extraordinaire.
She is a master teacher and leads the girls expertly through the exciting word of coding. She goes into the details of why girls need math, and how coders actually code, and she does it in a fun and captivating way. Ashley commits her time to doing many of these each year fitting them into her extremely busy schedule and we appreciate her so much!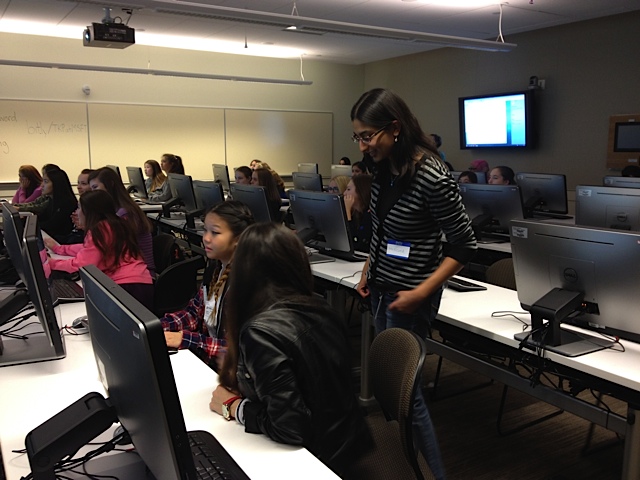 Thank you to all of the wonderful women mentors who stayed the entire day to support the girls throughout. The women rushed to the girls sides as soon as a hand went up for help! And then the women shared their stories and answered questions with engaging and exceptional caring.
Thank you to Manisha Patel, IGNITE Board President,  Kylie Hurd, Program Manager, Dana Baxter, Sr IT Service Engineer, Carly Harasymchuk Developer,
Harpreet Kaur, Program Manager, Rupi Sireshkumar, Developer.
You all were amazing and we appreciate your time and effort so very much.
One more big thank you to Steve Codling. Steve has been the IGNITE
teacher leader for quite a few years now. He is an inspirational IGNITE leader. He cares deeply that girls are represented in the exemplary technology program at Ingraham HS.
Ingraham is one of the schools and has a whole host of Technology offerings and Steve works so hard to make sure the girls not only know about the classes but participate in IGNITE so they get why these classes are so valuable and important to their futures. Thank you to Steve for all he does to support IGNITE and the young women at Ingraham HS.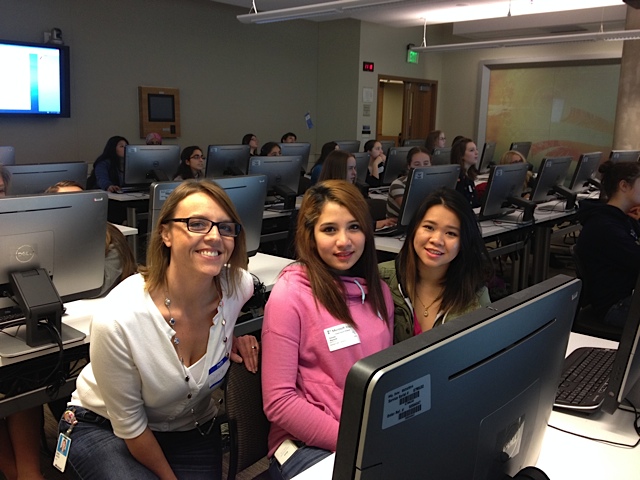 Thank you to Dana Williams, Attendence Specialist who chaperoned the field trip.
She was certainly such a positive and encouraging teacher for the girls, and we really appreciate her help and support.
Here are the girls comments from the survey forms. They always say it best!
We have tons of pictures, and will post on the website under news.
I liked that it was not scary. It was very welcoming. I know very little about computer science, but I did not feel stupid or nervous because of that. The women were all very inspiring. Everything was very inspiring. I enjoyed it all very much, Thank you!  Grade 11
Today was just really cool! It was awesome to make a spirial. I felt accomplished! I liked hearing the stories of the volunteers. I learned that anything is possible. Grade 10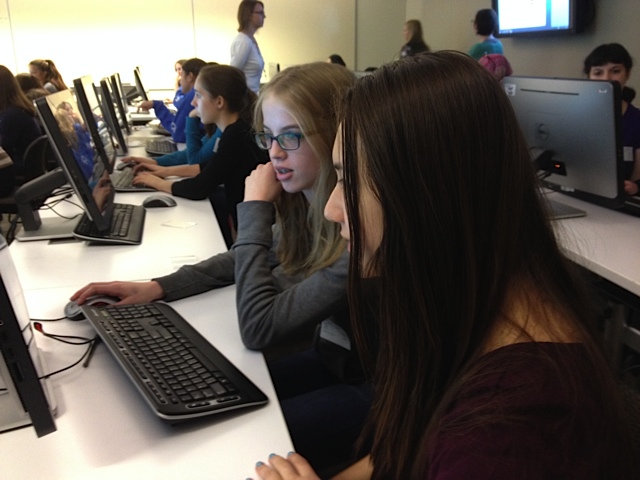 I honestly enjoyed all of it. I really liked hearing from the volunteers especially.
All coding was really fun. The most interesting field trip I have ever been on. Grade 10
I learned that no matter what you can be successful.  I loved the Q and A. Grade 10
I loved learning how to write code. And hearing the volunteers tell us their stories. Grade 12
I really liked learning about all of the different backgrounds that the women came from. It was nice to learn that you don't need to go to an Ivy League to get a job at Microsoft. I also loved playing with the programming. I think the most interesting thing was that girls are getting hired right out of college and the need for these professions will be growing instead of shrinking. Grade 9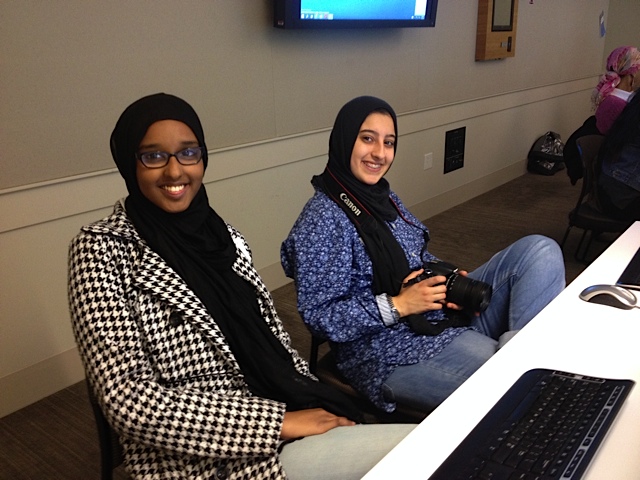 Talking to women in a technical field and learning more about computer science and more options and internships. There are amazing internships where you get your own project to work on and higher up people in the company come and see you present. Grade 10
I liked how they showed us how to use software and that they taught us to use technology. I learned that you can get paid a lot if you go into this industry. Grade 9
I loved learning coding and how to get into computer science. Thank you !
I thought it was really interesting to hear the statistics about how many people will be needed in computer science and the stories about how the volunteers got there. Grade 9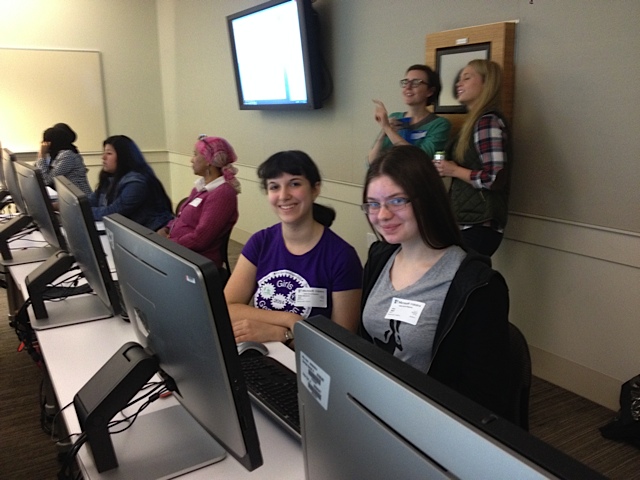 The coding experience was the best event I have ever attended. And hearing the volunteers talk about their stories and how they got to Microsoft. This trip today made me want to pursue this career. I learned how many different types of people got to Microsoft and it was very inspiring. Grade 12
Thank you Ashley, you are a really fun teacher! I liked the coding and getting to hear from women who work here. I liked that I got to ask questions. I thought it was most interesting to learn about how many different pathways there are to getting a good job in computer science. Grade 10
It was interesting that there are a lot of workers in the tech field. It seems that if you get a good education in the tech area and want to work in their field that you can do it and get a job offer. Grade 9
I loved how to program the tortoise and experimenting. I thought it was interesting that not a lot of people are going for these jobs even though they seem awesome! Grade 9
The fact that we did actual programming! I thought programmers were all male and largely made fun of as people who could not communicate. I learned that is not true.
I liked hearing about the Microsoft internships. Grade 10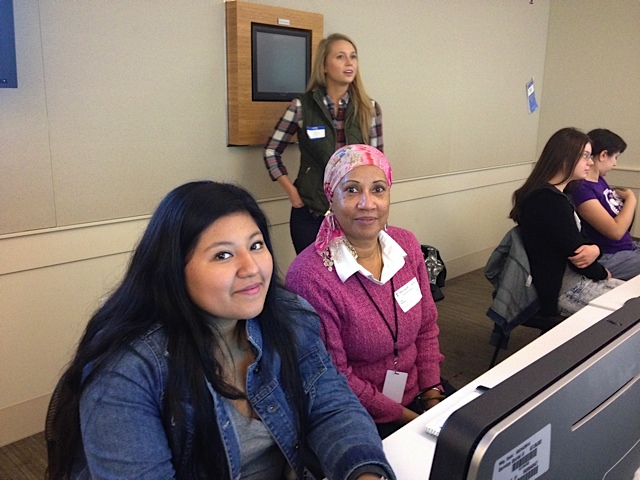 I learned that you don't have to go to a super prestigious college to get a good job. The flexibility of working at Microsoft, super cool. Grade 10
I liked learning about how the women got here. I found it interesting and inspiring. Grade 9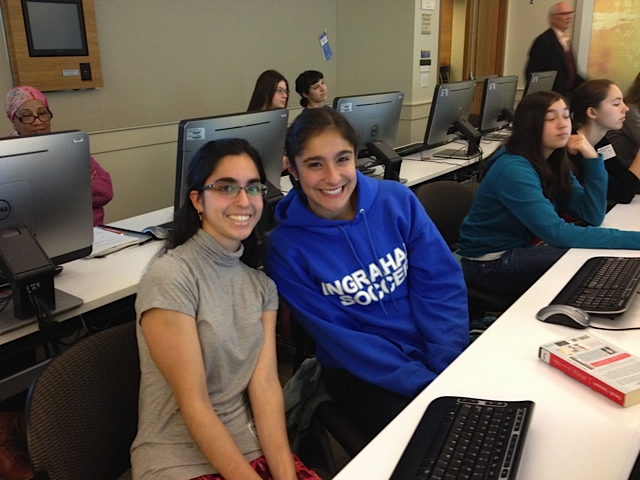 I liked learning about the opportunities available in their field. I also liked hearing about the volunteers experience and what they do in the computer field. I think its interesting how many jobs go unfilled because of the lack of women and men who study computer science. Grade 10
I liked the part were we learned about code. The most interesting thing I heard today was how easy it can be with the right degree to get a job in tech or at Microsoft. Grade 9
I liked hearing the women's stories. How they all got intotheir line of work and got hired. How fun it is to work here at Microsoft. Grade 12
What I liked about today's event was how hands on we were. For example the coding we did on the computers. The most interesting thing I heard was that you don't have to be a 4.0 student to go into a STEM field.  Grade 10
I liked how much you guys put emphasis on how they need more girls in computer science. Which made me consider it more. The most interesting thing is the people who had gotten different types of education and still succeeded in their goals. Grade 10
My favorite part was the coding and listening to women in the industry. I learned a lot from their stories and backgrounds. I heard that I can go anywhere to get a computer science degree. Also you can intern before college. Grade 9
What I liked about today's event was pretty much everything. I enjoyed the coding. And learning about how the women got into the careers. Grade 11
Listening to the wonderful stories of HOW these women got involved at Microsoft!
I loved being able to work on a software and have a first step into coding! Grade 12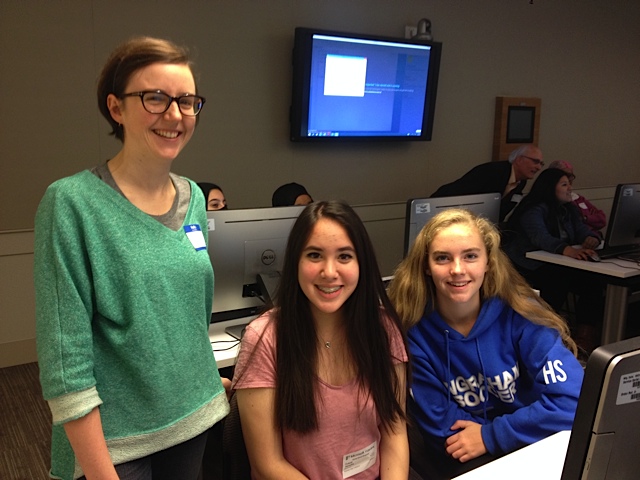 I'm currently taking a computer science class, however we haven't; learned to code yet, so it was really cool to have that experience. It was also really cool to listen to the volunteers experiences and learn how they got to Microsoft. Grade 10
The most interesting thing I heard today was that if you work hard and you have a high chance of getting a computer science job that also pays well and allows you to be creative in how you work. Grade 10
I really loved how open everyone's was about their experiences and how they got here. How flexible the hours in their jobs in with all of my other dreams. And I really learned how much I loved coding. Grade 9
I really loved when we sat in a circle and discussed careers and backgrounds, it make me very relieved with college and the part about flexibility of hours really made me want to work here. I liked the diversity of people working at Microsoft. Grade 9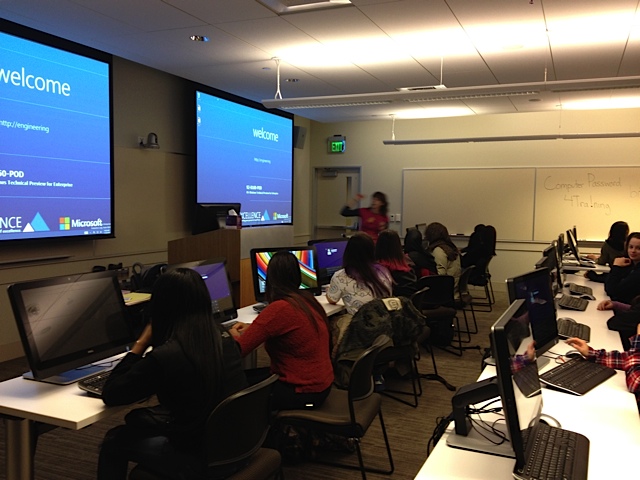 I really enjoyed how the coding segment was hands on and the instructor was enthusiastic and helpful. Grade 12
I liked when some of the programmers were sharing their stories of how they made it and basically telling us girls that we can make it too. The food was also great. Thank you ! You don't have to be perfect or an A+ student in order to work at Microsoft. Grade 11
Thank you all for making this amazing day possible.
Cathi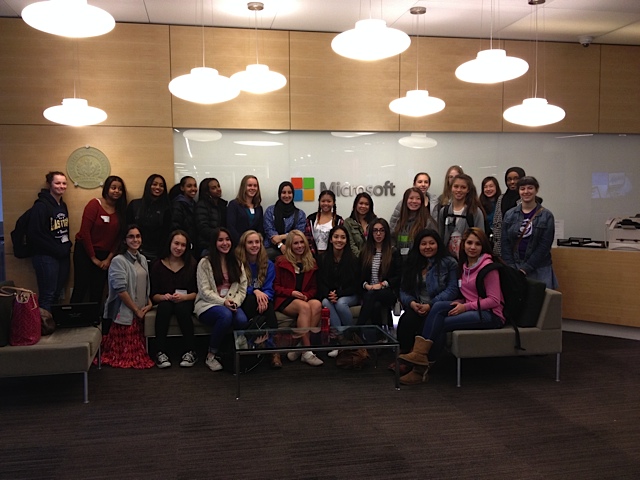 View the Ingraham High School Chapter Page