Tillicum is now in its second year of running a chapter of IGNITE– a program that encourages girls to consider careers in technology and engineering.  Our most recent (1/27) IGNITE event was another success!!
We had close to 40 girls in attendance and 5 women volunteer speakers (from companies such as Microsoft, T-Mobile, and Slalom Consulting) who talked with the girls about careers in technology and engineering (Kari Escobedo, Chauncy Faulkner, Jane Yan, Ilyse Wagner, and Maria Defante ). They told the girls about their lives, work, and education, and also got them thinking about how their current interests could lead to exciting, fun, and lucrative jobs in engineering and technology.
The students were engaged and inquisitive and MANY of them said that they are now considering careers/educations in technology and engineering – but prior to the event hadn't thought about it.
Quotes from students:
What did you like best about today's event?
"I think it was cool to see that there are so many technology jobs and how women are a minority and still doing an amazing job."  – Paige, 8th grade
"I liked the fact that the presenters were relatable and they made tech jobs sound fun."  – Anastasiya, 8th grade
What was the most interesting thing you learned today?
"That guys still think that they are better at everything but girls are really smart and just as intelligent as boys are! And the women taught us not to be scared and to have confidence to show what we know."     – Mckenna, 6th grade
"…That statistics can change your parent's opinion."  -Naomi, 6th grade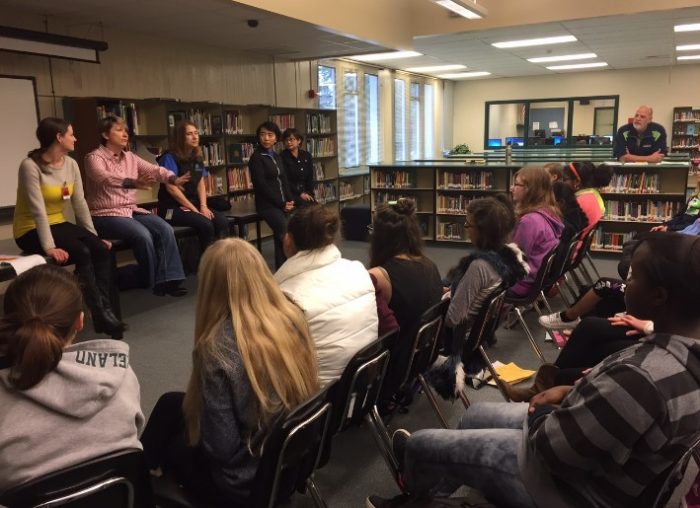 Tillicum plans to hold another event in the Spring.
Tillicum IGNITE advisors – Alysia Carey and Jeff Hunsberger.
View the Tillicum Chapter Page