February 24, 2015
Event Summary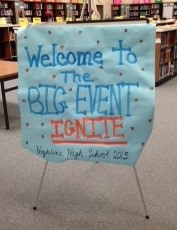 We had a super fantastic presentation today at our very first Big Event.  What an amazing turnout – the whole south end of the library was almost full with over fifty young ladies!!  The girls had a ton of questions – great questions! – and we could have been there for a lot longer, if we had been able to stay.  The six speakers were beyond words.  Their stories were heartfelt, inspirational, and fascinating.  Even with all those girls you could hear a pin drop!!  Each woman told her story, simply and from the heart; this is an essential component of what we do in IGNITE.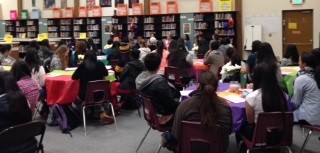 The overwhelming reaction to The Big Event and what the speakers shared was "Wow! Thanking you for having this."  The following are comments are from the evaluations filled out by the girls who attended—they always say it best!!  All of the comments are worth reading, so take some time and read all the way to the bottom!
Student Comments
I liked that we were able to hear from actual women working in technology careers and learn how and why they got there.
I really enjoyed hearing their stories and found it really interesting. I also found it inspirational and encouraging, which I really liked.
What I liked best about today's event was listening to wonderful women's stories.
It was awesome, it's awesome how they're from different backgrounds.
What I liked from today, was to hear about the women's backgrounds because it shows me that no matter what we pass through, we can still accomplish what we want; still dreaming.
The best part about this was that I felt related with these women…and how women can be successful in a "men work" world.
I liked how the speakers shared their experiences and how they were able to get where they are now.
How rough some of these women had it, but they got through it and did something amazing with themselves and kind of stepped out of the crowd and began doing a "man's" job, tech, and that they love it and it just gives me hope when I'm having a rough time.
I liked hearing stories about how people went from the bottom to where they are.
People were being honest about their struggles and telling us that it is not easy to find what you're going to do.
Keep trying and don't give up.
I thought it was all very interesting; I thought it was great.
How you don't have to know what you want to do in college…because there are different paths to take.
The most interesting thing I heard today was the amount of money they make.
There is so much you can learn in the technology field.
Speakers were very open and honest.
I learned more about things I could do to help my future.
I learned that being a techy is a lot of fun and that they may earn around $100,000 a year. I also learned about the things they do in their office.
Mentors are important. I know that, but I haven't heard it out of robotics.
Mentors are key to making it far. There's tons of fields in IT.
I liked when they were talking about their background and giving advice to us girls for what we should do for our careers.
I found it most interesting how many different routes are in technology.
Ask for help when needed and give help when you can.
What I like best was listening to their stories. That they didn't just wake up one morning and became engineers.
Today was really cool.
There's very few women in engineering.
I loved hearing about everyone's stories, they were very inspiring and motivating.
I found it most interesting how most of them didn't know or plan on going into engineering.
THANK YOU!
To our presenters – you all opened up and shared your stories and your obstacles in such a real way that we all feel truly touched very deeply.  Your enthusiasm was contagious and you shared in a meaningful, yet fun way.  It is obvious how much you all love coming in to talk to the girls.  We are so fortunate to have amazing women volunteers such as you.  Each time we have an event, I am awed by the magic that happens in the room.
I want to thank our very special speakers:  Daniela Tudor, General UI; Megan Olsen, Microsoft; Kylie Hurd, Microsoft; Ari (Smith) Mailey, Microsoft; Rupi Sureshkumar, Microsoft; and Tara Steed, Expedia. You were all exceptional speakers and really connected with the young women.  It was exciting to hear all of you and watch the girls get inspired!
I also want to thank our wonderful College and Career Specialist, Sydney Williams, who helped make all of this happen!!  She is an inspiration and we are very lucky to have her at Highline High School.  It is an honor to get to work with her.  And thank you to her interns who really jumped in, helped set up, decorate, clean up, and made this day very special.  I am very excited to have had you all on board!!
Thank you to Royce Badley, our awesome CTE Director for Highline Public Schools, who has made The Big Event all and all the other IGNITE activities possible.  Everyone enjoyed their great lunch and really liked the decorations and festive atmosphere.
What a fabulous event!  I'd like to say thank you again to everyone who made this all possible, for all of your continued support of IGNITE, and for wanting to be part of an extraordinary experience.  As you can see, this event has changed these girls' lives.
Sincerely,
Lisha Johnson
Chapter Coordinator
Highline High School
Our Great Panel of Speakers

View the Highline High School Chapter Page.