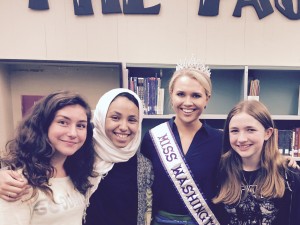 We had close to 40 girls in attendance and 3 women volunteer speakers who talked with the girls about careers in technology and engineering (Kylie Hurd – UX program manage Microsoft,  Eleanor Robinson  – Digital Analytics Microsoft and Shannon Hubbell- freelance computer software engineer). They told the girls about their lives, work, and education, and also got them thinking about how their current interests could lead to exciting, fun, and lucrative jobs in engineering and technology.  The students were engaged and inquisitive and MANY of them said that they are now considering STEM programs in school.
Thank you to the IGNITE program and our guest speakers it was a valuable session for the girls at Tillicum.
---
Quotes from students: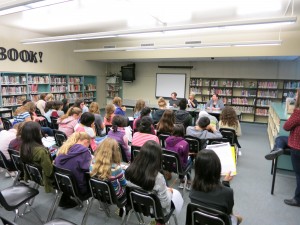 What did you like best about today's event?

 
"It made me feel good to hear that Girls can do many things that boys can do like Technology and Engineering – Jenesia 7th grade
"The event was very interesting and I really liked it. It inspired me!!!!! – Logan 8th grade.
"I enjoyed how they highlighted the fact that you don't have to like technology to be in a STEM career there are other opportunities.  Take advantage of what your community has to offer.  Aine 7th grade.
"It taught me that I can contribute a lot if I want to.  Also failure isn't final and confidence is important."  Dani 8th Grade.
---
Tillicum Middle School IGNITE advisors – Jeff Hunsberger, Tracey Williams