STEM Fest 2017 a Huge Success!
On March 28th, 225 female-identified students in 7th through 12th grades made their way to Highline College to attend Highline Public Schools' third annual women in STEM event, STEM Fest! The event has traditionally been centered on careers in technology, however, with over 240,000 STEM jobs expected in the Seattle region within the next five years, we wanted to address equity gaps by empowering students and strengthening their interests in these strong-wage, high demand fields. The goal is to help students build confidence and motivation to pursue these pathways as well as help them realize and reach their full potential.
STEM professionals, teachers, staff and other partners supported students at the event by providing mentorship, expertise, and encouragement throughout the day. They participated in a "speed networking" activity, and hosted hands-on demos and activities designed to connect coursework to STEM careers. Six different demos and activities were offered, ranging in variety from creating code for interesting objects out of plastic filament. Based on student feedback surveys, one highlight for many students was hearing from the panel of inspirational professional women. These women shared their personal stories, where their perseverance and courage lead them to becoming the successful women they are today in their STEM careers.
Of the students surveyed, 91% said this experience helped them better understand their future career interests and plans after high school. 90% said that this experience motivated them to do better in school, and 99% stated we should offer this experience again in the future. It was difficult to choose which student's reflections to highlight from all the positive feedback, but here are just a few of their key takeaways from this experience:
"I learned more about STEM and how even with struggles and obstacles, you can still achieve your goals."
"I saw different stations showcasing different things. Hearing the speakers talk about how they got their jobs made me want to work harder to achieve my dream job."
"I thought that school was important after seeing the fun things we got to make."
"There were women who talked about their stories working in STEM that really inspired me to go into STEM which means I need to work hard now to get there."
"It was pretty encouraging to hear that you don't need to be super techy."
"The personal stories I heard helped me to know that even if I'm at rock bottom or struggling, I can still make my way back up if I work for it."
"I will take more electives related to STEM.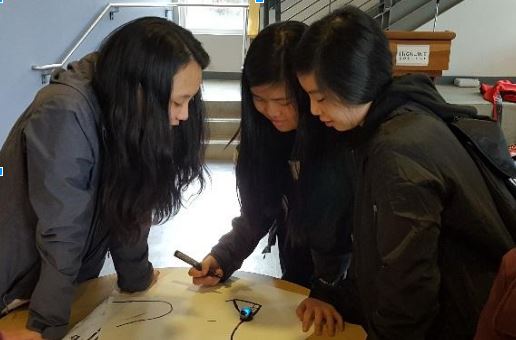 On behalf of the entire Highline team, we would like to thank all of our amazing career partner volunteers for your contributions and support, and IGNITE for helping us recruit even more volunteer women in STEM. Creating these meaningful experiences is truly making an impact in helping us Graduate Highline together, as a community.