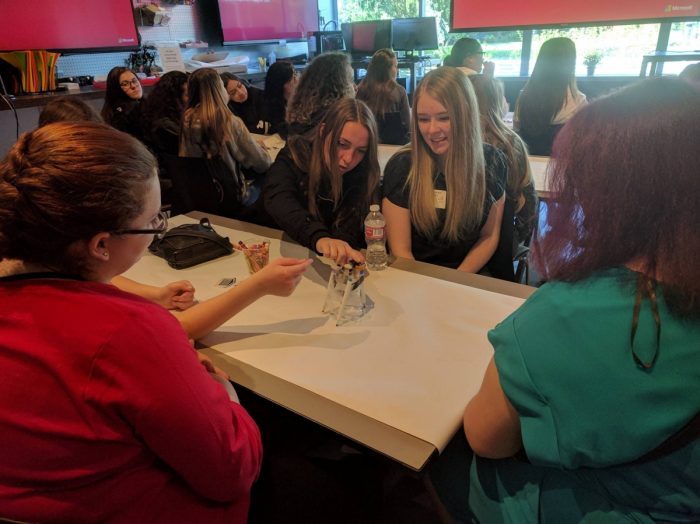 The Ignite field trip to  Microsoft, Building 7- also known as "The Garage" on 5/4, was eye opening for our students.  All of the girls absolutely loved the experience.
Once we arrived, we were greeted by one staff member who guided us to a conference room, which was full of things to play with. We broke up into groups and explored areas within the building where employees are free to create/make items either for themselves, to test their ideas, or for the company. Students and advisors were able to experience Microsoft's mixed virtual reality, which is someone new and still under development at Microsoft. The girls had a great time with this one! As an advisor, I found it interesting to see equipment in the building such as a drill press, a sewing machine, and other common items you could find in a "shop class" at a high school which offers construction related classes. I definitely wasn't expecting that! After lunch the students had a round table session with four female employees with different job titles at Microsoft. The girls asked intuitive questions and sometimes were very straight forward with their questions, which is good. They were interested in what the employees had to talk about and enjoyed the conversations. Many of my students told me they wanted to come back again next year because they enjoyed the trip so much. I am also glad it was a girls only trip with female employees only to work with. I think this made the girls feel more comfortable and gave them a sense of power that they can actually work in the field of computer science. It was a great trip and would very much like to do it again next year.
For those that had never expressed an interest in pursuing a STEM career, they now started talking about possibly pursuing that path.  For the girls that were already interested, they came back from the trip on fire.  One of my students said that she "never knew that cool of a career was possible". 
Thank you so much to every volunteer and speaker at this event- you have made a huge difference in the way these girls view a career in STEM.
[Best_Wordpress_Gallery id="2″ gal_title="Bethel 5/4″]