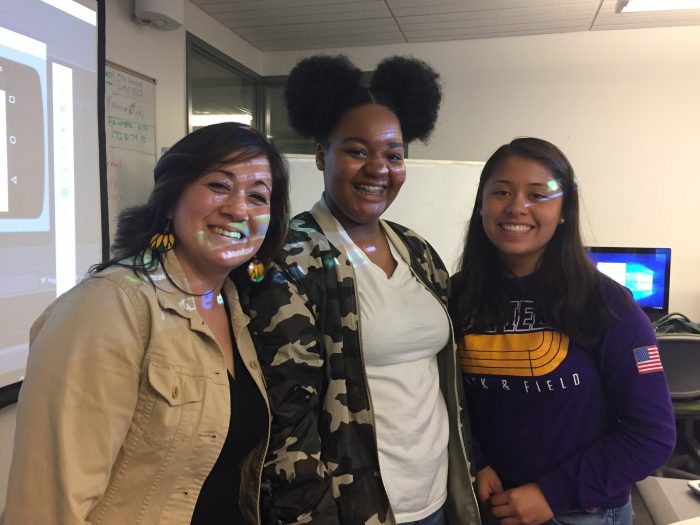 We had a fabulous Glitter Conference this year!
Girls from 5 different high schools in Kent School District and Seattle Public Schools were able to attend.
The girls participated in three workshops, 55 minutes long: A robotics workshop, creating a website, and creating a mobile app. So much of the day was learning how to code and most of the girls had never coded before. You will see from their comments below how much they loved the workshops and now want to take Computer Science and Engineering classes at School!
95% of the girls reported that the conference made them more interested in studying computer science.
During lunch the women from TUNE spoke on an IGNITE Panel: sharing about their careers, how they got to where they are today, and how much they love what they do. The girls asked really insightful questions and the panel handled the questions with so much care and thoughtfulness.
I want to thank all of the amazing people that worked so hard to make this happen!
Thank you Lisa Sandoval, Director of IT Programs at Seattle Central College. Lisa does such a wonderful job creating workshops and organizing everyone that participates in the success of this day. A huge thank you to Christine Torres-Clara, Lead for the College Success Foundation, who arranged for her staff at each school to recruit girls for the event. Thank you Lisa and Christine! Thank you to the instructors who were amazing at working with the girls: Stanislava Meredith, Ed Messerly, Sara Newman, and Bill Newman.
Thank you so much women from TUNE:  Camille Sutherland, Diana Tuck, Hillary Prather, Meredith Lampe, and Aishwarya Manoharan. And a special Thank you to Ali Wulf for organizing!
[Best_Wordpress_Gallery id="3″ gal_title="Glitter2017″]
Comments from the survey forms:
Working with the robots, making them move and change colors was so much fun. This made me see how simple it was to do but how complex it really was when you looked at the structure of it. I am going to change my schedule for next year to include taking computer science.
I loved making my own website and then being able to e-mail it to myself so that I can work on it more. I thought everything was great and would not change a thing.
Creating a webpage was my favorite part today. This event has inspired me to try more computer science classes and start to build my tech skills. Everything that was provided today was entertaining and informational, and I so enjoyed the opportunity, Thank you.
I loved hearing the panel, how they got to where they are now, The event was awesome and I learned a lot. ( Many comments like this one)
I thought the event was coordinated really well. It made me see how fun and interesting it is experimenting with many objects throughout the event.
I loved the robot session, this was inspiring. It shows how far we are getting with technology. I thought everything was perfect!
I loved working with robots. It inspired me go outside my comfort zone and try new things. I want to learn more about STEM careers.
I enjoyed all of the workshops. I also enjoyed meeting new people. This event has inspired me to pursue coding and technology classes and careers.
I now want to learn more about coding. I really loved playing with robots. Everything was great, thank you !
Now I feel like I can do technology and even design my own website!
This event inspired me to look into the technology field as a career.  I think everything was perfect.
This event inspired me to try things that I do not usually do, like coding. I think this is a great program. It was awesome and amazing. I loved it so much!
I loved that we got to do different workshops and experience new things like robot technologies and making an app. This was an amazing event! I loved it soooo much!
I would not change a thing. I hope I can come back next year! Fun Program! Thank you so much!
I think now I can put myself into technology. I am now much more interested in technology as a career choice.
I am now convinced technology is a great career choice. Everything was so well planned. GREAT WORK!
Thank you to everyone who made this day such a great success.
Cathi