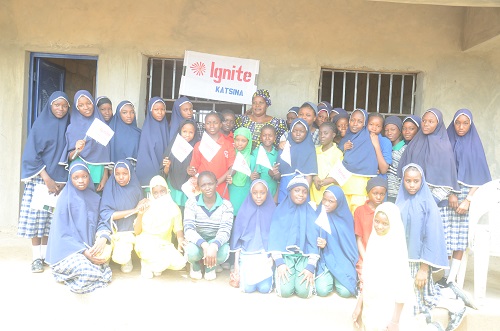 The girls listened with rapt attention as IGNITE Club inauguration proper commenced.
A teacher in the school lecture on the beauty of technology. The coordinator, Abdulraheem read the order of inauguration, locally made IGNITE Flag made by the coordinator was presented as honour to mark the event.The New IGNITE Club president (student), had this to say: "I am excited, honor and happy for having IGNITE Club in my school, Aunty Nike College, Katsina. I thank the State Coordinator, the members of IGNITE Club here present and everyone who have come to celebrate us. We are girls marching forward to turn around the perception positively. We promise to be good IGNITE Girls and future STEM leaders. Thank you".
The matron advised and encouraged the girls in the field of STEM Careers.
IGNITE Teacher charged the girls to be focused and serious with their studies to achieved their aims in life. At the end, students, teachers and IGNITE Katsina posed with the IGNITE Flag.
[Best_Wordpress_Gallery id="6″ gal_title="Katsina"]
---
A full account of the IGNITE Club ignauguration:
Ignite Club Inauguration Event of July 6 2017 by IGNITE Katsina
The event commenced as stipulated. The IGNITE Katsina and its club members from other schools which include Imam Malik Academy, Mariamoh Ajiri Memorial Int'l. Sch., among others within the city of Katsina matched to the venue of the event to inaugurate new IGNITE Club for Aunty Nike College. Aunty Nike College is a co-education school with close to 50 girls.
At the beginning, the girls recited IGNITE Anthem with the following stanzas:
OH! IGNITE WOMEN
WE ARE GIRLS LOOKING UNTO YOU
NATURE HAS BESTOWED MUCH ON YOU
RISE UP TO YOUR RESPONSIBILITY
OBSTACLES ABOUND EVERYWHERE
SHARE US YOUR PERSONAL STORIES
INSPIRE US TO SPARK OUR CURIOSITY
YOU ARE OUR PATH TO BECOMING AN EXPERT ON THE FIELD OF STEM
State coordinator, Abdulraheem, in his inaugural speech,  re-affirmed that IGNITE worldwide is a non profit educational program founded in 1999 originally launched in Seattle School District, USA., under the chief executive director and founder, Cathi Rodgveller. Chichi Okafor started the program in Nigeria, and Abdulraheem pilots it in Katsina.
Abdulraheem introduced IGNITE as a program that celebrates everyone involved in Nigeria, helping expose girls to futures in STEM careers. He added that IGNITE is an acronym for Inspiring Girls Now In Technology Evolution. It empowers young women to succeed in STEM (Science, Technology, Engineering, and Mathematics) careers and inspires girls to dream big to achieve their full potential.
In relating the event to the current trend; Abdulraheem made it known to the girls that school leaders, government and the concerned public lament the limited academic performances of students in STEM courses, and find ways to solve the problems. IGNITE on the other hand join in the crusade with possible and accessible measures, believing that girls' active participation would help to solve the problem. He charged the girls to believe strongly in themselves as female and successful women to be. That they should throw out phobia on development and promising careers.
He unfolded the popular adage that says "what male can do, female can do better" by recalling the scientific study which shows that the female brain collects information five times faster than the male brain. This is as a result of larger complexity of female brain. Hence, multitasking is no problem for women.
The other reasons as he stated for girls to consider STEM career include but not limited to:
The forecast technology jobs available by 2020 with current graduation rates in STEM careers far below expectation, there is a need for girls and women to be in technology to help fill the gap.

Analysts say that more women are needed in research to increase the range of inventions and breakthrough that come from looking at problems differently than men typically do. He finally make it clear

That computing jobs are the fastest growing and highest paying with fewer women benefiting from these jobs.
STEM careers will enhance girls' futures and reduce social inequalities. IGNITE breaks down barriers for girls by providing women role models, so girls can see that women have done it before them.
The coordinator culled from the IGNITE founder, Cathi's remarks, saying "the most important thing of all is for girls to hear from women who are successful so they can hear how women did it themselves and some advice on how to create a path of independence and economic success."
It was on this note Abdulraheem made it known to Aunty Nike College that IGNITE uses methods like Club activities to create awareness and boost morale of girls to further discover who the girls are naturally. In the club activities teachers are trained to become chapter leaders for a school. Again, girls participate in chapter events and get inspired. IGNITE equally organizes panel discussion, field trips, job shadows, presentations, conferences, interview for guest of the moment, among others.
He concluded his inaugural speech by dictating IGNITE websites for the girls to copy and ask them to constantly visit the sites for up-date on IGNITE events and for other learning tips.
The brief lecture follows:
"THE BEAUTY OF TECHNOLOGY IN GIRL-CHILD EDUCATION"
Brief lecture delivered by the Basic Technology Teacher of Aunty Nike College, Katsina.
At the
INAUGURATION OF IGNITE CLUB FOR AUNTY NIKE COLLEGE
By the IGNITE Katsina.
Thursday, July 6, 2017
The girl – child has had various challenges in order to obtain equal education in all forms of formal education in Nigeria and many other countries. Although, education is universally recognized as a basic human right, female literacy rate remains very low in Nigeria especially in the North with less than 35%.
This is becoming a plague and may be blamed on ignorance. Yes!! Ignorance of the fact that:
Education bestows on a girl a disposition for a lifelong acquisition of knowledge, values, attitude, competence and skills also…

The socio – economic development of a nation depends on the calibre of women and their education in that country.
Issues of gender equality in education have been the subject of any debates in the past decades and there is a large disparity between the education that is the key and the one the girls receive.
Although Nigerian girls and women are currently making much advancement within the society, their access to formal education is still constrained due to the unfair work load within the household.
Right from time immemorial, society prefers the boy child to the girl child thereby forcing her to accept the position of a subordinate even though born with equivalent potentials that could be fully realized under proper and conducive  environment.
It is encouraging that the girl – child of our generation is now being exposed to better opportunities of getting formal education but making maximum utility of this advancement is needed.
This will be a major tool that can aid this advancement and guarantee maximum utility technology.
A simple definition of technology is anything which allows us to get information or communicate with each other using electronic or digital equipment.
Technology in this context is sometimes referred to as I.C.T and may include computer hardware, software, digital cameras, the internet, telecommunication tools etc.
Young boys and girls from birth to eight (8) years learn rapidly using all their senses to absorb sensations and understand the world around them. And since the 21st century is called the computer age, they are surrounded by technology.
Why should technology be incorporated into the Girl – Child Education?
There are three (3) main reasons why technology matters in early girl – child education.
It already has an impact on the people and environment that surrounds them and their learning.

It offers new opportunities to strengthen many aspects of educational practice.

It is readily available around them making it easy to be integrated into their curriculum and learning practice.
BENEFITS OF TECHNOLOG IN GIRL – CHILD EDUCATION
Some of the benefits of technology in girl – child education are highlighted below:
Technology especially computers are intrinsically motivating for young girls and contribute to cognitive and social development.

It enhances the girl-child self confidence and improve their attitudes towards learning.

Girls that are exposed to technology demonstrate increased levels of spoken communication.

Technology offers additional  ways of learning and to demonstrate learning

It assists in the emergence of early literacy and mathematic thinking
Technology is often a time categorized as "hard" and therefore "masculine". This is why the male end up being equipped to pursue it while the girl – child stigmatized and ends up shying away from it with no knowledge at all.
This is the time to impact knowledge of technology on the girl – child to make better women and create an attitudinal change towards the use of technology.
Thank you for listening.
That was the lecture. Inauguration of the club, follows:
IGNITE INAUGURATION PROPER
Just immediately after the lecture, IGNITE INAUGURATION of the Club was held. The girls, women and other invitees stood-up to recite the IGNITE anthem once more.
Abdulraheem, IGNITE Katsina coordinator moved to invite the prospective IGNITE Club executives of the school include a female teacher in the school as the school club coordinator, and a girl student as the club president.
While they remained standing, Abdulraheem read out the lines of responsibilities expected of them to other member of the group and the benefits in becoming IGNITE member. The coordinator while he read the IGNITE mission, it was added that the benefits included but are not limited to giving girls the opportunities to associate with real women who have real jobs that are interesting, fun, and pay well, that IGNITE provides a meaningful bridge between school and industry. Teachers learn about changing technologies, so their lessons reflect the world the students will face.
The idea and link for effective communication forum for making their suggestions, contributions, advise and complain to the IGNITE worldwide was shared among the girls.
Thereafter, Abdulraheem confirmed the New IGNITE Club and passed some guiding document to the school club coordinator. IGNITE Katsina FLAG was equally presented to the new club. The new club president appreciated the gesture and everyone resumed back to their seats.
The Matron on the other hand told story of herself, and how she was successfully made the Nigeria North West Principal Consumer Education boss. The girls were happy listening.
The new IGNITE Club president, spoke and the closing remark was held.
The event ended quarter to 2:00pm.
Group pictures were taken for show.
Thank you.
Abdulraheem
IGNITE Katsina