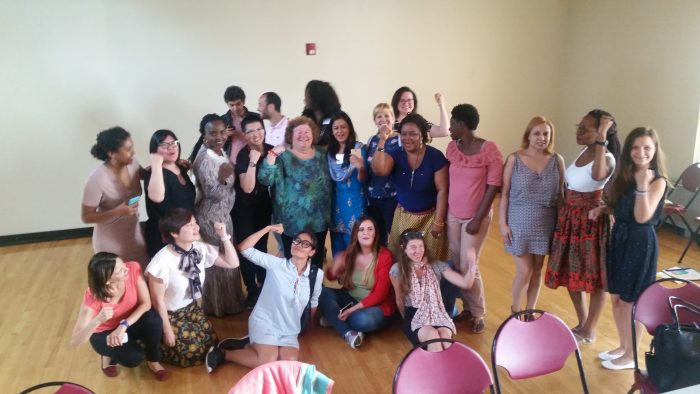 We had a powerful and captivating meeting with women leaders from all around the world.
The International Visitors Leadership Program through the World Affairs Council and the State Department, hosts these visitors who travel around our country and view our Best Practices.
This particular group is called, "The Role of NGos in Promoting Women's Issues" and there are 24 individuals from various educational, legal, and economic NGOs worldwide.  
I want to thank our support team who helped make this such a special event, Thank you to Elizabeth Dewar, IGNITE Program Manager, and Alex Kegal, Program Coordinator, International Visitors Program. And our special guest from Microsoft, Ana Nicacio.
[Best_Wordpress_Gallery id="9″ gal_title="WAC 8/10″]
IGNITE Worldwide is chosen as a national best Practice program for engaging girls in STEM classes and careers. I have hosted close to 100 of these workshops since 2005. It is always a thrill to have them thrive in different parts of the world, and some of these places have not ever had a girls program before.
It is always a great honor to host these workshops with these inspiring and talented groups of women. They come to learn about IGNITE. We then donate the programs to any of these International Visitors from developing countries who wish to take the program home and become an IGNITE chapter.
Here are the list of visitors from this delegation. Every one of these women are leaders in their communities. I want to thank the World Affairs Council for supporting these events and working tirelessly to host these international visitors.
LIST OF PARTICIPANTS
Albania Ms. Gertjana HASALLA
Project Coordinator
Woman Forum Elbasan
Egypt Ms. Marwa Ibrahim Sayed ADAM
Self-Employed Senior Translator, Interpreter and Editor  
Haiti Ms. Carene DESIR
Senior Technician
Ministry of Education
Haiti Ms. Sandra JEAN-GILLES
Program Coordinator
World Bank
Hong Kong SAR Ms. Sau Yong WONG
Executive Director
RainLily Rape Crisis Center
India Ms. Bharathi KODE
Associate Program Manager
GMR Varalakshmi Foundation
Israel Ms. Orna SADGAT EREZ
Head, Women's Administration
Municipality of Herzliya
Israel Ms. Tal PALEVSKY
Founder and Facilitator
Empowerment Program for Jewish and Arab High School Girls
Hanisui Argentina Elementary School
Liberia Ms. Malinda Bendu JOSS
Executive Director
Women and Children Development Association of Liberia
Moldova Ms. Eleonora GROSU
Deputy-President
Women's Law Center NGO
Morocco Mr. Youssef GHERRADI
Assistant Project Manager
Benzekri Foundation for Human Rights and Democracy
Nepal Ms. Shubhechchya KHADKA
Planning, Monitoring and Evaluation Officer
Informal Sector Service Center
Nigeria Ms. Oyenike ADELODUN
Gender Officer
New Initiative for Social Development
Palestinian Territories Ms. Beesan SHEHADA
Training Coordinator
Filastiniyat Media Organization for Women and Youth
People's Republic of China Ms. Tingting LI
Chief-Coordinator
Rainbow Lawyers
Romania Ms. Iulia PASCU
Founding Member and Projects Coordinator
Equality and Human Rights Action Centre
South Sudan Ms. Kiden Lillian Benson LOKULI
Programs Coordinator
Sudan Women's Empowerment Network
Sri Lanka Ms. Sinthuka VIVEKANANTHAN
Senior Project Officer
Jaffna Social Action Center
Swaziland Ms. Makhosazana Mbali MKHONTA
Volunteer Programs Officer
Swaziland Young Women's Network
Taiwan Ms. Hsing Hung LIN
Board Director
Taiwan Women's Film Association
Thailand Ms. Matcha PHORN IN
Director
Sangsan Anakot Yaowachon
Trinidad and Tobago Ms. Khadija Ayanna SINANAN
Attorney-at-Law and Co-Director
WOMANTRA
Mr. Hedi BCHIR
Project Coordinator
Center of Arab Women for Training and Research
Ukraine Ms. Olesia BONDAR
Director
Ukrainian Women's Fund
Accompanied by: Mr. Jonathan CHRIST
U.S. Department of State Contract Liaison
Ms. Maya PANOVA
U.S. Department of State Contract Liaison
Ms. Jennifer STRAUSS
U.S. Department of State Contract Liaison
Mr. Voytek STREMEL
U.S. Department of State Contract Liaison
-Cathi