Federal Way Public Schools and IGNITE hosted our FIRST Middle School Women in Technology Panel at Sacajawea Middle School.  Thirty diverse young women learned about careers in tech and the different paths each of our panelist took to obtain their career.  They also learned about classes that they could be taking now to prepare for careers in technology.
Our panel consisted of engineers, coders, project managers for Artificial Intelligence and graphic designers from Boeing, Microsoft, Disney and REI.  The Sacajawea scholars were over joyed to have these amazing professionals help guide them early on their career path.  Thank you Virginia Bing, Sara Nagy and Michelle Taylor.  The young women were inspired and in awe of each of you. We so appreciate each of you sharing your real stories to success.  You made each scholar feel that no matter their circumstances they can reach their goals.  You encouraged them to stay focused take classes to prepare for long term goals and do not let anyone stop you!
The scholars want to know when you will be coming back.  Another young woman stated "You are a true success story" as one of the panelist share  what she had overcome.
After the event, the Panelist were like Rock Stars to the scholars.  I hope you are all on several social media sites, as many selfies and snap chats have you posted as the highlight of their day!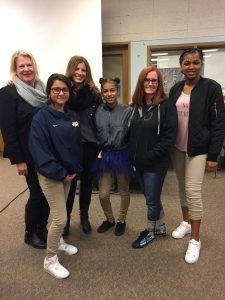 Thank you IGNITE and thank you Virginia, Michelle and Sara to our amazing panelists!