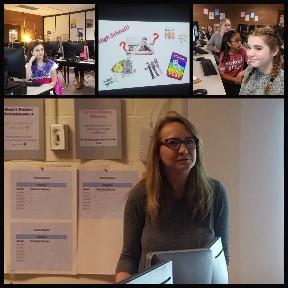 West Valley Junior High IGNITE was fortunate to host Ms. Joy Bender from SignalHealth, Yakima on January 29, 2018. Ms. Bender has been a database and software developer for years and spent many years working for a steel manufacturer. While she worked in their IT Department, she decided to pursue her CIS degree and juggle home life and raising children! She went on to help them automate their manufacturing systems and develop HR and Environmental Health Tracking systems. She also spent many years doing independent contracting where she helped to build several web applications.
Ms. Bender shared her insights on why lifelong learning is a key to keeping the mind fresh and why getting a degree helps in career growth. She told the IGNITE girls how lucky they were to be exposed to so many resources, such as certification opportunities, counselors and courses, and encouraged them to research various career opportunities available in the STEM industry, as well as keep up with the trends.
Ms. Bender currently works as a Data Scientist in a Healthcare organization, SignalHealth, and gathers data from a variety of local healthcare organizations to facilitate quality initiatives for healthcare in our community. She said that her work makes a difference in people's lives and that is perhaps the most satisfying part of her job. She also told students that being a woman never deterred her from pursuing her interests and goals and that gender doesn't define capability.
The students enjoyed her lively slideshow where she shared graphics depicting her mindset at various levels of her life from being a single young girl to a working mom and a student. She told the students that she often made mistakes and had a hard time identifying a career to pursue, but that it is always a great idea to never give up and to always seek guidance.
Feedback from students
Ms. Bender's story inspired me to find my passion and pursue my dreams.
It took Ms. Bender a long time to find the right career. It was very encouraging that she didn't give up!
The speaker told us to research various websites and look at what kinds of STEM jobs are available, their growth potential and salaries. I plan to do that so I can be more educated about the opportunities available for me.