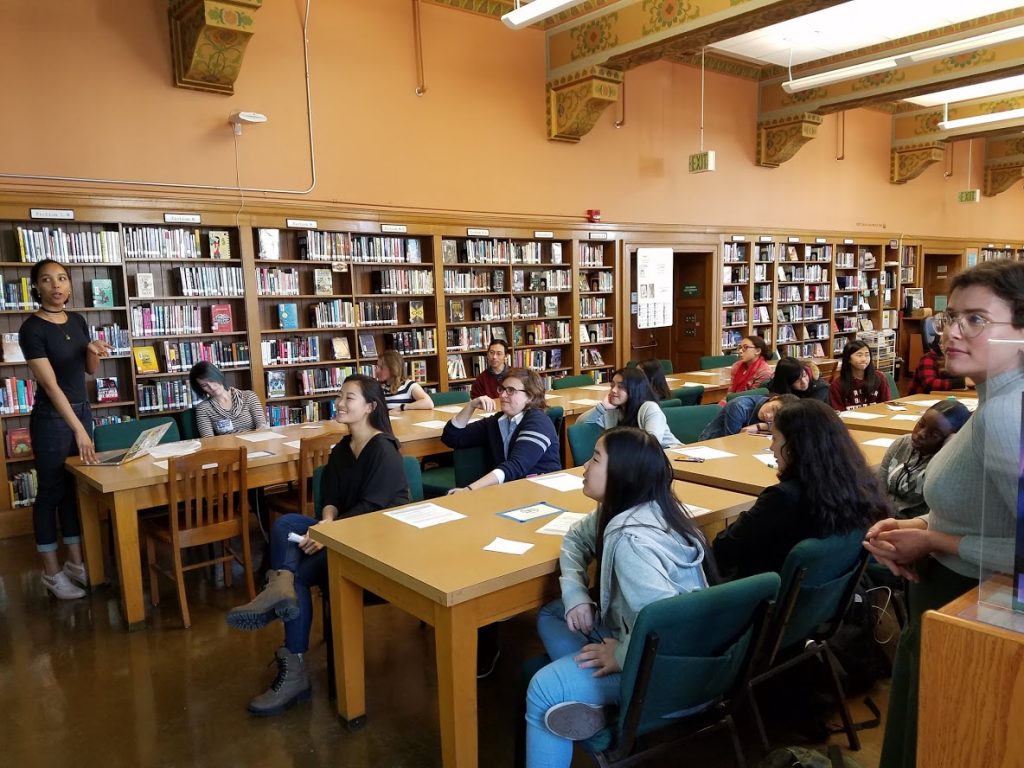 Galileo Academy of Science and Technology High School celebrated Computer Science Education Week by hosting an inspiring Kick Off Panel with following 7 volunteers:
Lucy Shen, Software Engineer at Intuit
Laura Piersall, Game Developer at Lumosity
Erin McCarty, Games Engineer at Lumosity
Mary Ann Jawili, Software Engineer at SalesForce
Rita DeRaedt, Designer at YouTube
Natasha Maria Fernandez-Fountain, User Experience Designer at YouTube
Maica Gil, Entrepreuneur at Heroikka
The women told their stories of challenges they encountered in high school and college, what they learned, and their successes. They also shared what they love about their career today. Girls left inspired by the myriad opportunities taking a Computer Science class opens!
Afterwards, girls and panelists ate delicious vegan burgers from VeganBurg and were able to have one-on-one discussions.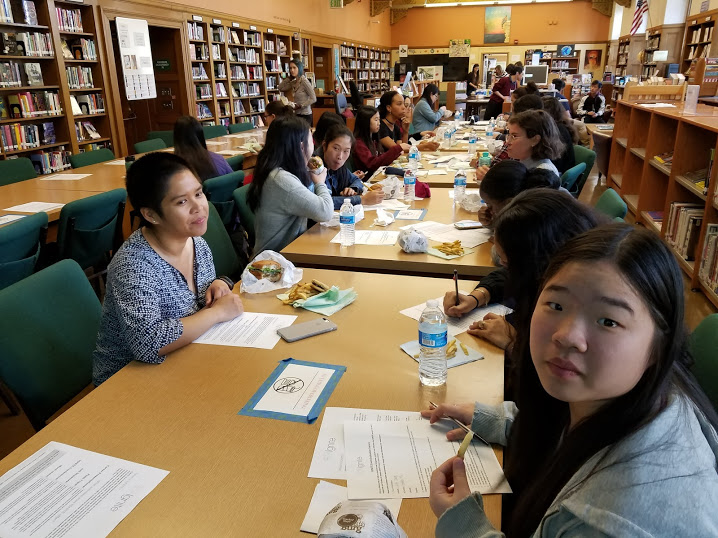 IGNITE volunteers networking with girls at Galileo over vegan burgers and fries.
It's a rare occasion to allow food into the library but today's a special day!
---
THANK YOU!!!
Thank you to Danny Tan, Galileo High School's IGNITE Teacher. This was his first event and he did a great job facilitating! It's so important for girls to see that there are caring Computer Science teachers who go above and beyond to make such a memorable learning experience for them. Thank you to each of our IGNITE Volunteers. Each of these volunteers shared their stories with the girls, and it's what makes this experience so relevant and valuable. The girls relate to the volunteers and see how similar they are to them: they went through a lot of things, did not have it easy, and had to work hard, but triumphed because they never gave up. It's an amazing message and one that changes these girls' lives forever. Thank you to everyone who shared their stories and answered questions with care and such thoughtfulness. Thank you to Galileo High School's Librarian and the student TAs who helped set up the projector, chairs, flyers, and food for the event.
After this event:
Here are the comments from the Event Surveys. The girls always say it best.
"This event inspired me a lot. I wasn't really sure I was interested in technology, but the women who presented today really made me want to learn more about things I could do by studying in the STEM field." - Grade 10
"I enjoyed the stories of how these women didn't have any interest in computer science but ended up doing it anyways. This event inspired me in the way that it opened up my eyes to the fact that computer science is used everywhere." - Grade 10
"I enjoyed hearing their stories and how they got to where they are. This event has inspired me that I can do these jobs and there are resources that are available to me." - Grade 10
"I enjoyed how every woman told us more about their own experience and how they never thought of doing computer science but ended up being a major at it. I really love this event and I hope they do it in different schools to inspire people." - Grade 10
"I enjoyed that women are so proud of what they have done and their story." - Grade 10
"I enjoyed how all the speakers were so into what they do and how they love their job." -Grade 9
"I really liked how they talked about how it was very stressful and were super honest about it. This made me more interested in a technical degree." - Grade 9
"Just knowing you can work at YouTube sounds cool." - Grade 9
Looking forward to the next IGNITE event at Galileo!
Sincerely,
Amber Zertuche
IGNITE Regional Director