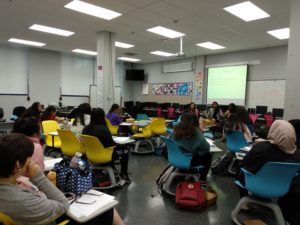 On October 24th, Galileo Academy of Science and Technology hosted an IGNITE Women in Tech panel in our Computer Science classroom to inspire and encourage female students to participate in the various technology and engineering classes, after school programs and clubs at Galileo.
After an introduction to the various programs, the students heard from a group of three panelists:
Mary-Ann Ionascu, Embedded Software Engineer, Apple

Esha Joshi, Software Engineer, Apple

Stephanie Cherubin, College Student Junior, Make School
The women told their stories of how they ended up where they are, including their experiences in high school, college, and their careers. Girls were inspired by the experiences shared by the panelists and the amazing opportunities that come with learning about computer science and technology.
Comments from the students attending about what they enjoyed:
"Seeing a women in color and also hearing all the different stories about the tech company" – Grade 11

"When they talk about how they started. This inspired me to try new things like engineering." – Grade 10

"Learning that there are people who didn't start out with a strong interest toward the CS field on majored in something else, but eventually ended up in CS because they saw the high demand for it and saw its influence in other fields." – Grade 11

"I heard personal experiences from the panelists. Panelists inspired me to continue on with my interests." –Grade 10

"I enjoy how the panelists share their experience of how they are and how it wasn't easy to do computer science. This event has inspired me because I can relate to them. Computer Science is hard for me now but I hope that I get better at it as the time goes by." – Grade 11

"I liked hearing the panelists story and the advice that they gave has inspired me to keep going in order to achieve what I want and can do in the future." – Grade 11
Thank you to each of our three panelists, Mary-Ann Ionascu, Esha Joshi, and Stephanie Cherubin, for sharing their stories with the girls and making this an engaging and valuable experience for them. The students asked a lot of questions and it was clear how much the students could relate to the panelists and the many challenges they have overcome. The stories shared and questions answered were powerful and have inspired many of the girls to be more interested in STEM and to study harder in their courses.
-Danny Tan, Galileo High School's IGNITE Advisor

After this event: