On December 14th, 2018, Evergreen High School hosted their 5th Annual Women of Color in Technology Symposium. This included a wonderful IGNITE Panel of women in STEM who spoke to the students at Evergreen about their career experiences. Speakers were from companies like Boeing, Amazon, Microsoft, and Puget Sound Energy. 
Students who attended the event got to hear the speakers' answers to questions like these:
What was your educational pathway in getting to where you are at today?
What were some challenges you had to face as women in the tech field?
How did you overcome those challenges you faced as a women in the tech field?
Who helped you along the way? Who was a mentor or support for you?
What do you enjoy most about your job?
Roderick Booker, College and Career Access Specialist at Evergreen, would like to thank the speakers:
"It was said by Simon Sinek, 'Genius is in the idea. IMPACT, however comes from action', and you showed that and expressed in what you said to these young ladies today! You made an IMPACT today. You are trailblazers to these young ladies and I am so proud for them to meet you!  I want to thank you and IGNITE  on behalf of Evergreen High School and the Highline School for being part of our event!"
Thank you to all of the amazing panelists who made this event successful and inspiring for girls and non-binary students!
After attending this event:
Here's what students had to say:
"I liked that they/we were all girls. It made it a bit more relatable and understandable."
–  9th grade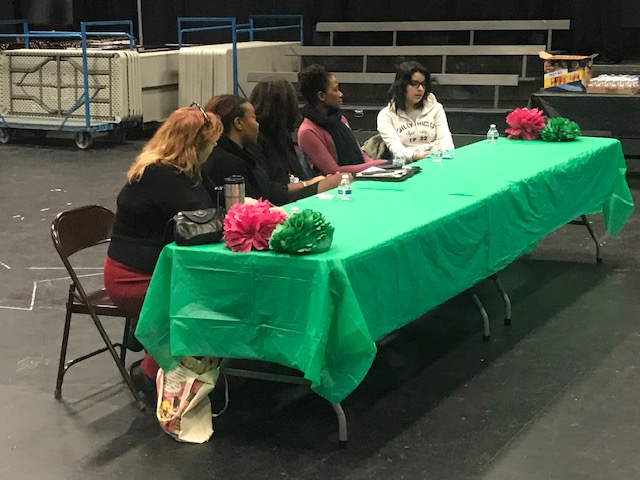 "When they talked about their past and their journey. That I can do more than I think."
–  9th grade
"When the panel spoke about their backgrounds it inspired me because they are a lot like myself."
–  10th grade
"I enjoyed hearing about how each [speaker] got to where they are."
–  10th grade
"How they said not to take no for an answer, and to try to do what you want."
–  10th grade
"How each [speaker] had different stories to tell."
–  11th grade