On March 7, a group of about 80 fourth and fifth grade girls from Van Asselt Elementary and Loyal Heights Elementary had the opportunity to engage in an IGNITE Microsoft Coding Workshop! They also got to hear from a Panel of incredible women, who shared their journey and stories into technology and their careers at Microsoft.
——-
Van Asselt Elementary 
Energy and excitement was in the air that morning, as the girls, teachers, and chaperones left our school on South Beacon Hill in Seattle. Prior to this trip, our students had never experienced a trip designed exclusively for girls. They were enthralled and their smiles, exuberance, and lively conversations as we made our way to the Microsoft campus in Redmond, were all indicators of pride, anticipation, and even a sense of solidarity. "This trip is just for us, I can't wait!" one of my students beamed.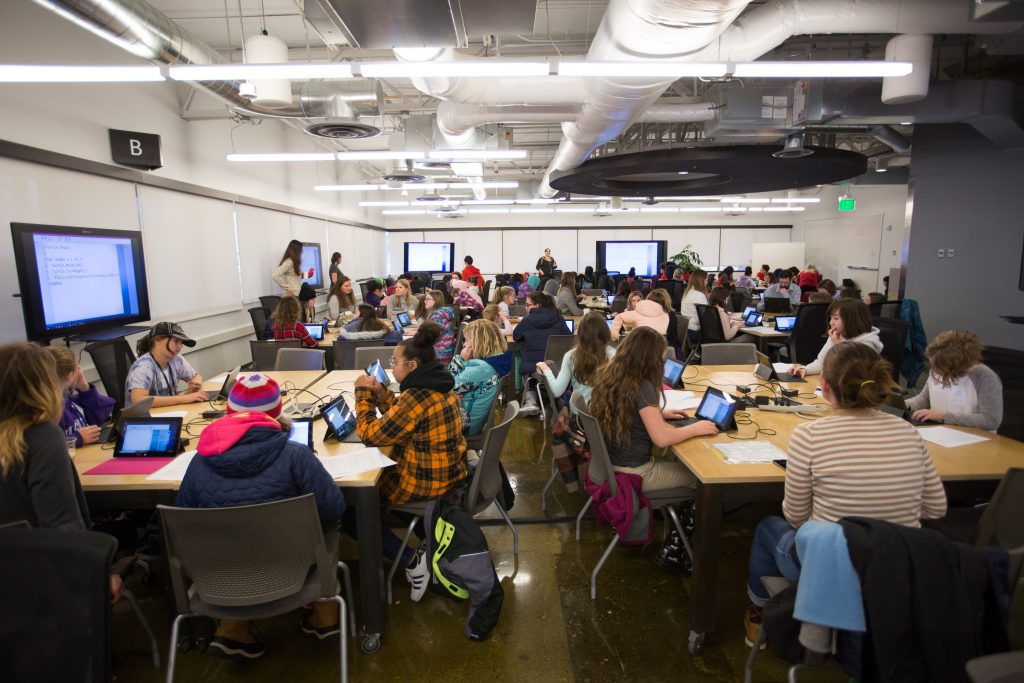 Upon arrival at the campus, we were greeted by an education coordinator and a host of welcoming volunteers. Our students were invited in to a large digital learning lab and equipped with Surface tablets. Over the course of the next hour, the students were lead through a series of "Small Basic" coding activities. The energy of the coordinator and the volunteers was contagious and even though coding was new and challenging for many students, they dove right in. A color-coded step-by-step directions sheet and a large screen for modeling the coding strategies were both supportive learning tools for our students, many of whom are English Language Learners. The students were hooked! When it came time to enjoy the pizza lunch provided by our hosts, some of them didn't even want to stop.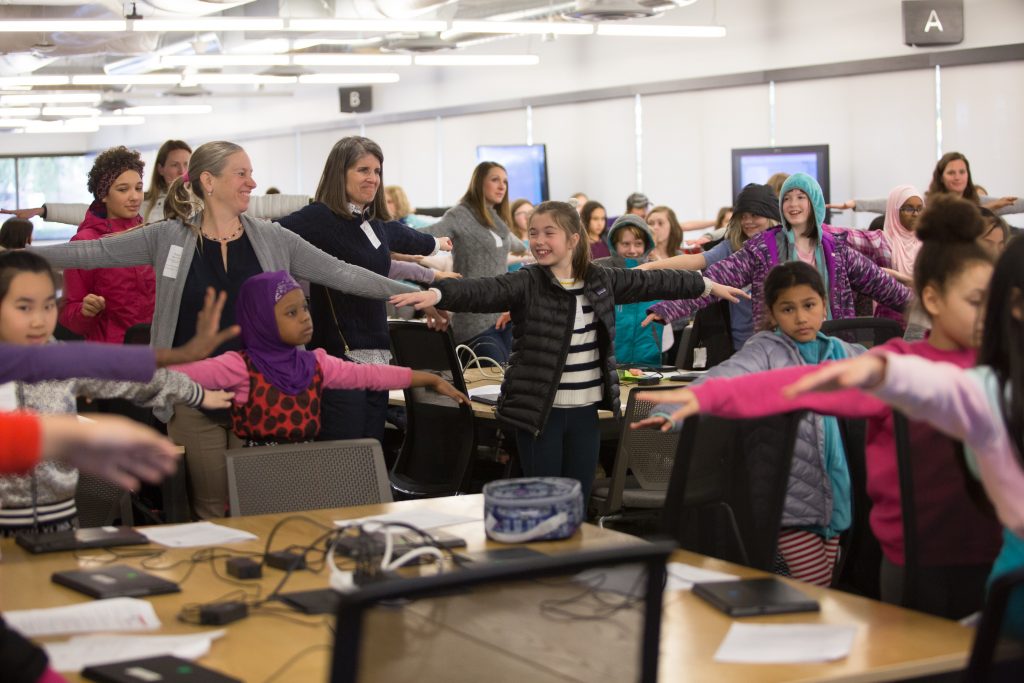 Following our lunch, the girls were given an opportunity to learn about the many volunteers who had been supporting them in the previous hour with a "Women in Tech" panel. The women shared their personal stories of getting into the technology field and took tons of questions from our enthusiastic bunch. Many of our students had thoughtful and enriching questions that went beyond the tech industry and connected on a deeper level, such as: "Who inspires you?" and "If you were not in this field, what direction would you have gone in your life?" Our students were genuinely struck by these women and one of my students commented to me later that asking questions was her favorite part of the whole day.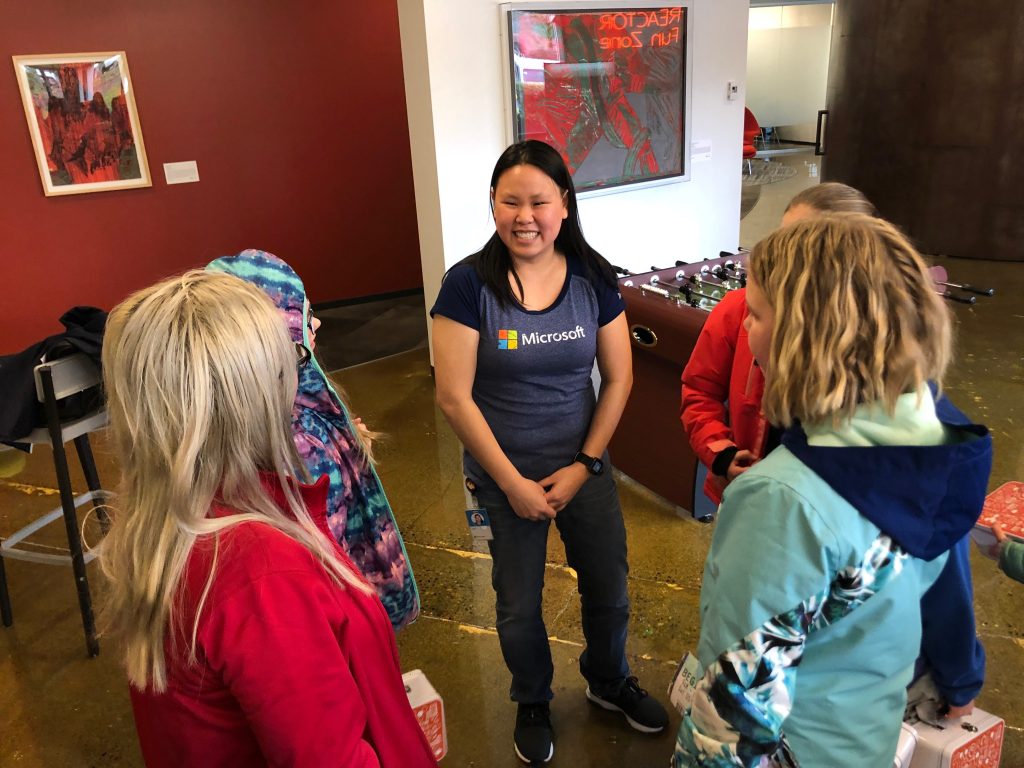 There were so many take-aways for our students that day – from the coding and the panel, to honestly, the aura and experience of being in an environment that felt so professional and high tech and theirs. Here are some of the comments from our students as they reflected on our IGNITE trip:
"I enjoyed coding and it has inspired me."
"Coding inspired me today. How fun!"
"I enjoyed talking to the women who worked at Microsoft."
"There is nothing I would change about this trip. It was perfect."
"Everything about this trip was amazing!"
"When are we going to go back??"
On behalf of the Van Asselt 4th grade students and staff, we would like to thank IGNITE and Microsoft for being such generous and wonderful hosts. The exposure and experience you offered our students on this trip was not only unprecedented, but will not soon be forgotten. You have set our young scholars hearts and minds in motion, and there is no stopping them now! 🙂
by Megan I. 
——-
Loyal Heights Elementary 
On March 7th, 2019, thirty-six fourth & fifth grade girls from Loyal Heights Elementary made their way through an early morning snowfall to the Microsoft campus. On this IGNITE trip, students explored how to code and met several women who chose a career in the STEM profession. The girls loved coding, and although a general set of directions were given, each girl made it her own and was creative with the directions they chose. They each produced something they were proud of. After receiving lots of pizza, the girls sat for a question and answer session with a panel of women professionals who work at Microsoft. The questions they asked ranged from "who was your favorite teacher?" to "what is the most challenging part about being a woman in this career?".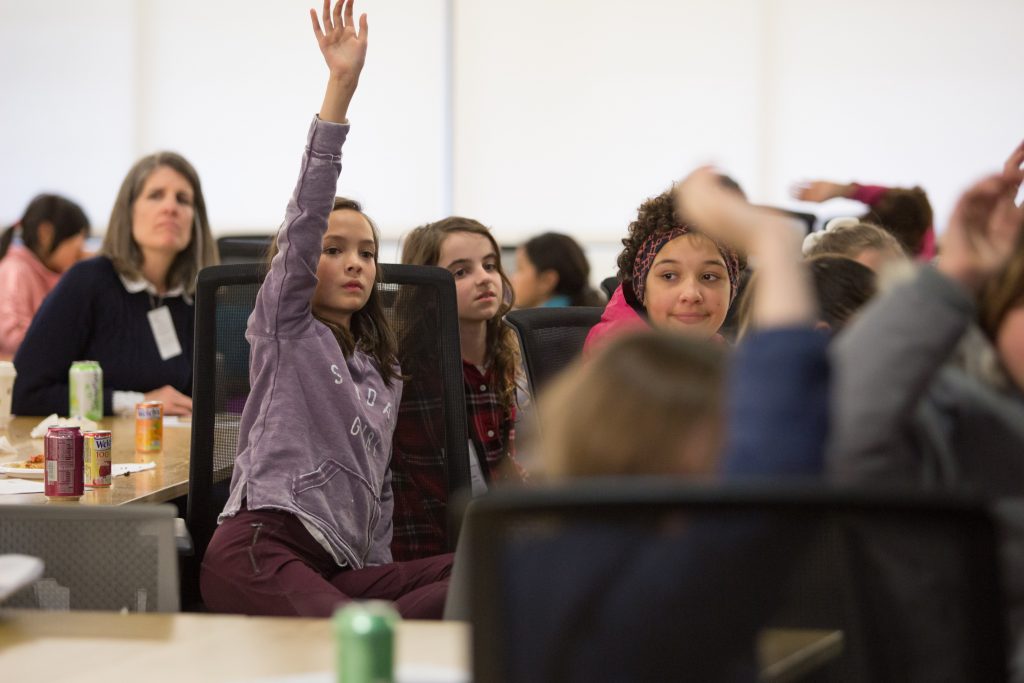 The girls LOVED this experience. Parents were so impressed with what the girls went home with that night and shared with their families. The girls were so excited about everything they learned and experienced. It was the first snowy morning, and for once the students were happy about school not getting cancelled. As an educator, I was impressed at how genuine the Panel was in answering the questions honestly. The message to the girls was to work hard, appreciate the support your family provides you, and to do what you love. Thank you to IGNITE and Microsoft for making this possible. Our young female & non-binary students need to believe that working hard and believing in yourself is the way to make your dreams come true.
by Ellen S.
After attending this event:
Here's what the students enjoyed most:
"I enjoyed coding and making the turtle make shapes! I was inspired by the women working there. They seemed so happy!"
– 5th grade
"I loved when we got to do coding on the computer. I thought it was so cool!"
– 5th grade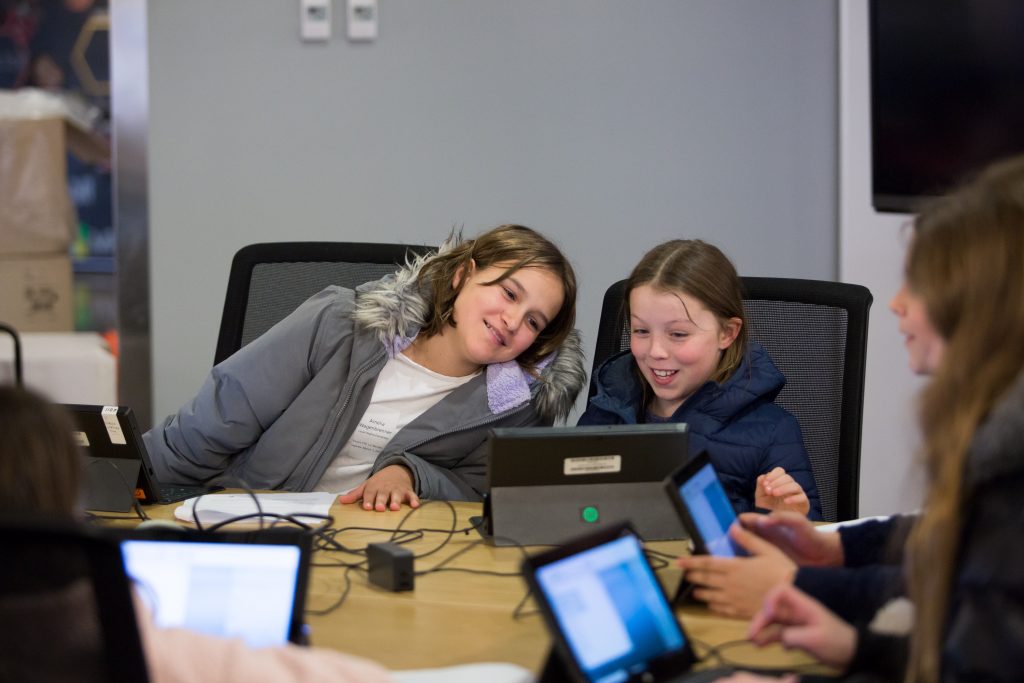 "Got me excited to learn more about coding."
– 5th grade
"It was really fun and when I got home, I wanted to get Small Basic and code."
– 5th grade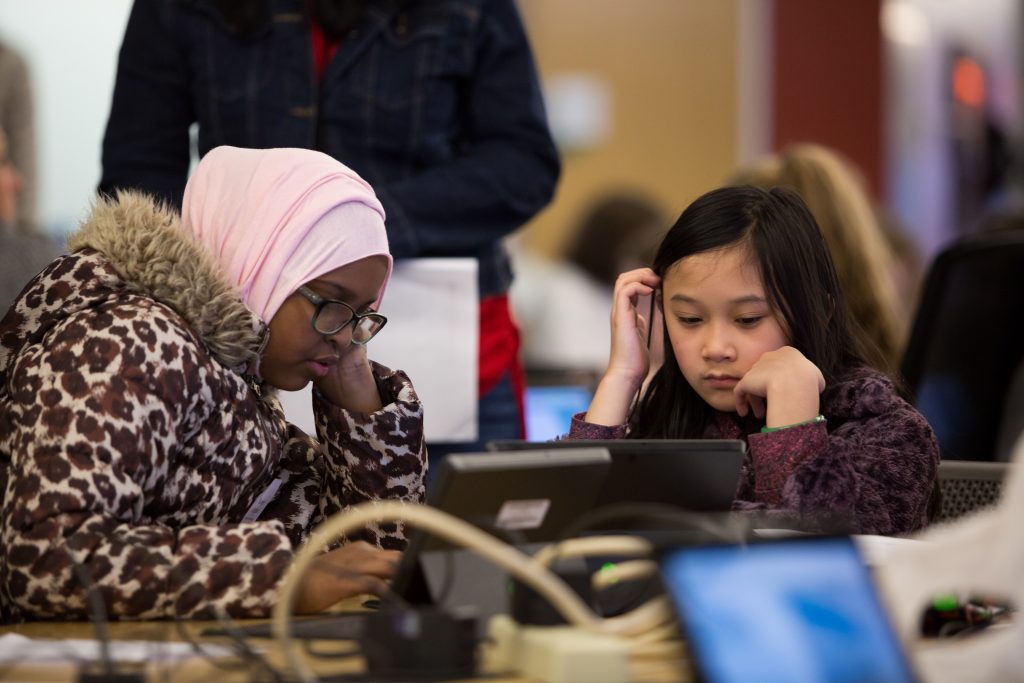 "I loved coming up with the code! I loved how everyone put in deep interest to the questions/answers."
– 5th grade
"I enjoyed coding the turtle to make a circle. I figured it out by myself."
– 5th grade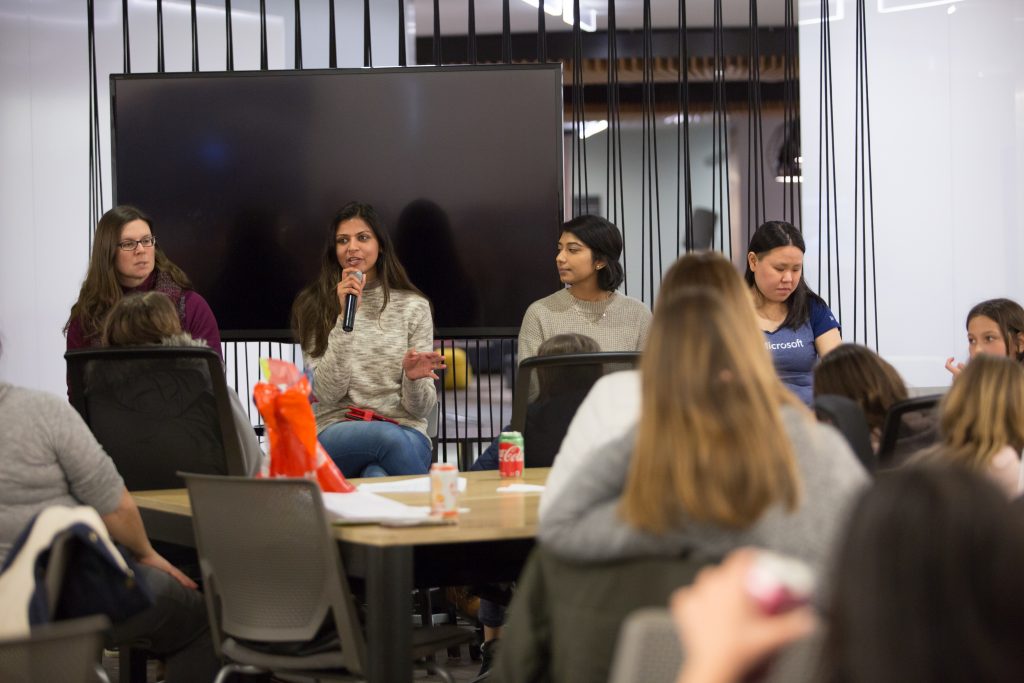 "I really enjoyed learning the actual coding. I also liked how you could actually tell the computer what to do using signs, instead of words."
– 5th grade
"We got to make our own movie with coding. It made me want to do science more."
– 4th grade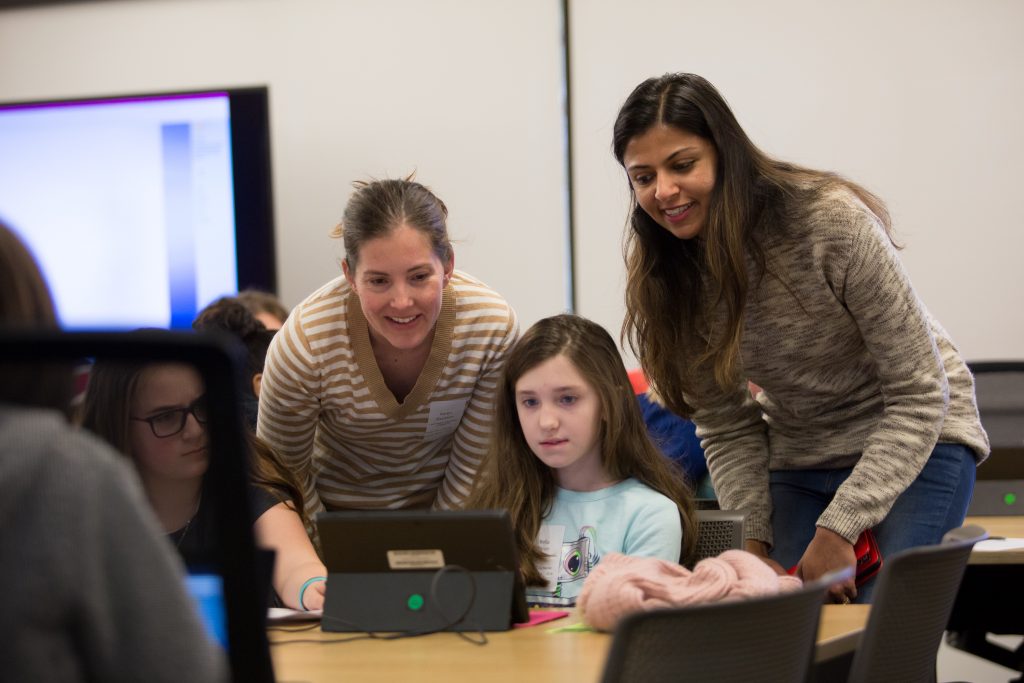 "I liked how it was a good learning experience. The panel inspired me."
– 5th grade
"I got inspired to code."
– 5th grade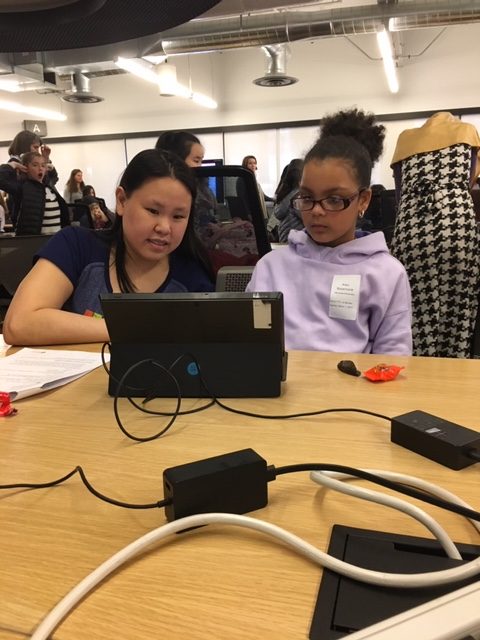 "There were sooo many smart, cool and strong women."
– 5th grade
"I enjoyed the coding because it was fun it inspired me to do more typing."
– 4th grade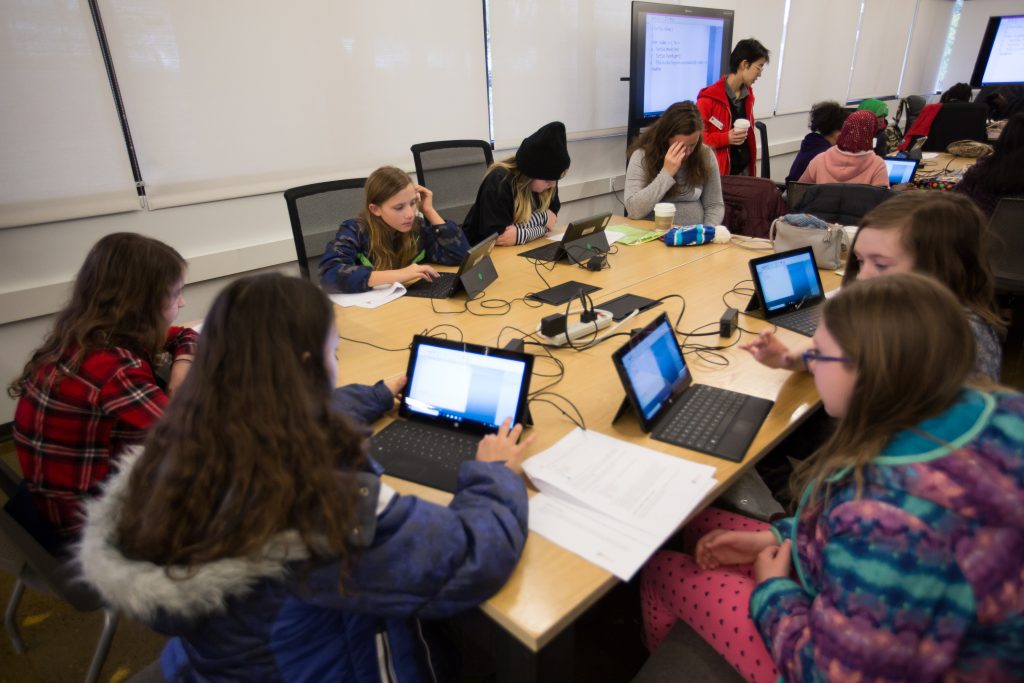 "I really liked moving the turtle and the fact that everyone was doing it with me."
– 5th grade
"I enjoyed asking questions. What inspired me was the coding part."
– 4th grade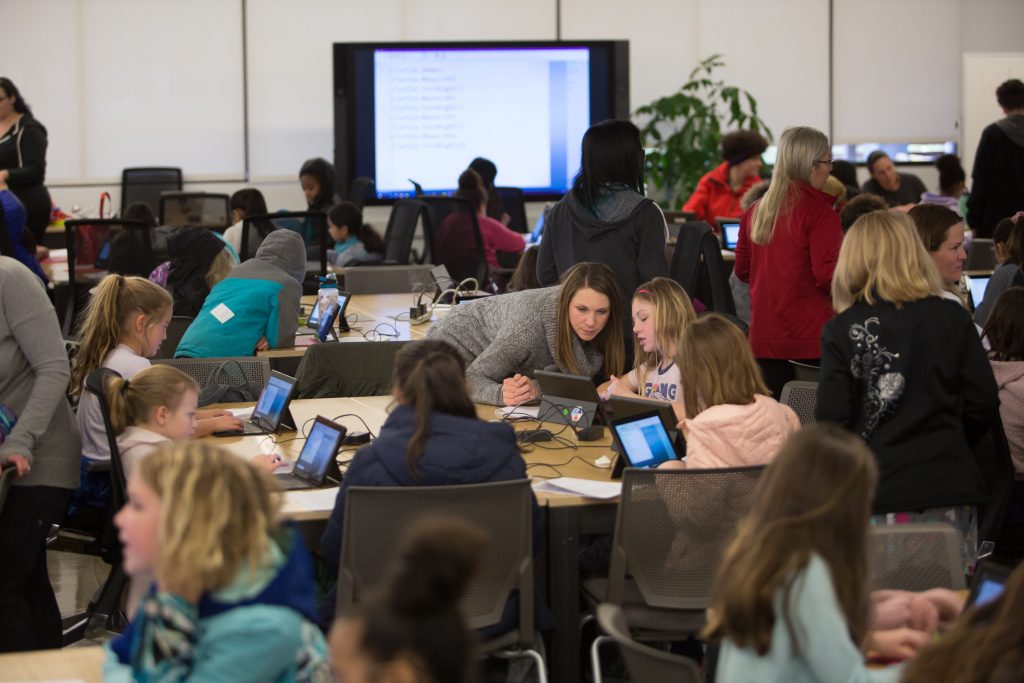 "I enjoyed having the freedom to go ahead and work on harder coding things."
– 5th grade
"I enjoyed coding, and it inspired me to do something like that again!"
– 4th grade