10/4/19 | IGNITE Workshop and Panel at Everett Middle High School | by Demetric Strong, IGNITE Advisor
On October 4th, at Everett Middle School, several panelists spoke to 20 Ignite students regarding their journey into the tech industry. The panelist collaborated with our youth outreach workers who facilitated the panel and asked several clarifying questions. The panel covered a variety of topics such as recommended courses to take in the future, struggles faced along the way and motivational stories to inspire our girls.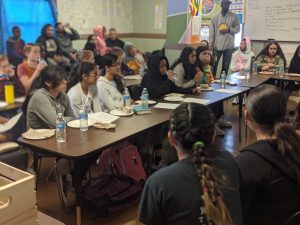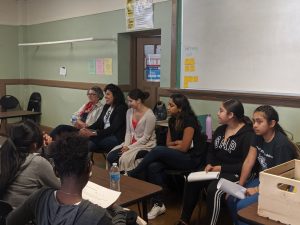 The students heard the inspiring stories and then participated in an interactive workshop involving Virtual Reality (VR) as well as the day of the dead face painting. The Ignite girls were excited about the event and gave testimony to several other students which peaked more interest in Ignite and more interest in joining our tech clubs on campus. This event was successful and left many students energized and excited about entering the tech industry.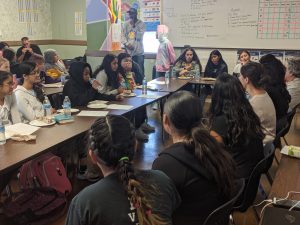 Thank you to our panelists: Lorena Morales, VP of Marketing at Go Nimbly; Aria Srinivasan, Technical Produce Manager at Groupon; Karishma Pratt, PhD Candidate at UCSF; and Jennie Lyons, Computer Science for Girls Advocate.
Thank you to our Augmented Reality facilitator, Hallie McConlogue, AR/VR Teacher at Berkeley City College.
Your time, talent, and wisdom helps girls realize the opportunities available to them to pursue their passions.
After attending this event:
Here's what the students enjoyed most:
Now I'm more interested about learning how to code.
That they say their stories and share how they got where they are at today. The activities were cool and I loved the food.
Kids asked very good questions and what inspired me was that they achieved greatness with different backgrounds.
Something I enjoy about today's event is when they talk about how they reach to their career what inspire them to and what we should do to have a good career in life.
I'm inspired to be more into school and other things.
That some day we as women could achieve a lot. Just don't let people make you go down.
The event gave me more confidence.
Something that inspired me is that I can do it even if it might be hard.
I enjoyed getting to know more about VR.
I enjoyed getting to learn more about STEM and coding.