10/22/19 | IGNITE Workshop and Panel at Oakland Unity High School | by David Reynolds
On October 22, 2019, Oakland Unity High School hosted its very first IGNITE workshop in cooperation with speakers from the Strategic Energy Initiative and East Bay Municipal Utility District. One dozen students began the session with a hands-on workshop on light and energy auditing led by TTriss Williams Renard of the Strategic Energy Initiative. She introduced students to the basic principles and importance of energy auditing, followed by a tour of our auditorium to assess the loads and energy usage of the various plugs and devices in the space.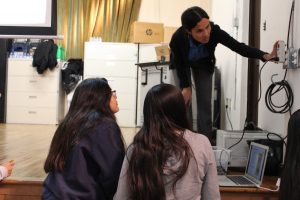 This workshop was also students' first introduction to the types of tools and techniques that they will use during the SEI energy auditing competition, in which they will compete against other California schools to maximize their respective schools' energy efficiency. After the workshop, TTriss was joined by Jamie Sweet and Lauren Sanders of EBMUD for a discussion of their experiences as women in STEM careers. Each speaker shared their own background and career path, as well as their current position and roles. The intimacy of this event allowed panelists to make a real connection with students and answer questions in detail.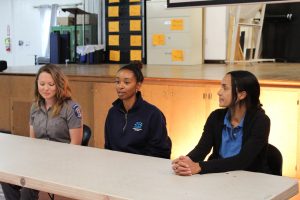 This event provided the most valuable possible type of learning: hands on experience. By working closely with the panelists and the tools provided, our students saw that what may seem a daunting career is already well within their reach. In their reflections, several of our young women commented that the session showed how a person's background may influence their career choice, but a career is also a valuable opportunity to reinvent oneself and realign/re-center one's identity. They also expressed admiration for the confidence and professional bearing each speaker brought to the session, even when talking about their own private doubts and struggles.
Thank you to IGNITE Worldwide, and especially to TTriss, Jamie, and Lauren for taking the time to share their experiences and advice with the next generation!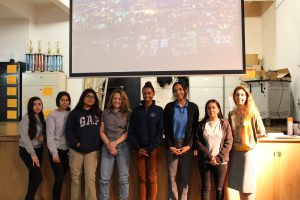 After attending this event:
Here's what the students enjoyed most:
My highlight was that there was a variety of women in a stretch of fields. - Grade 12
I enjoyed learning about their different backgrounds and their career choices and experiences. - Grade 12
Something that I enjoyed was the activities and the close chat we were able to have. Keep doing more events. - Grade 11
I enjoyed that I got to see what jobs these women have and how they are inspired by their roles and career choices. - Grade 12
I was inspired by the panelists being able to talk about their job experience and how it has helped them think different about the environment. - Grade 11