On December 10,2020, IGNITE Worldwide hosted a panel with five inspiring women who work in different STEM careers at Amazon! Girls and non-binary students from Denny International Middle School in Seattle, Everett Middle School in San Francisco, Central Academy in Ann Arbor, MI, and Interlake High School in Bellevue learned about the importance of STEM careers and discovered that these careers are accessible to anyone with the right mindset.
Nicole Michaud, a Systems Development Engineer II at Amazon Web Services (AWS), facilitated the event. She shared about the critical underrepresentation of women and nonbinary people in technical careers, as well as the numerous ways STEM skills can be applied to any career. The students viewed a short video that highlighted a few of the diverse career opportunities available at Amazon, and then they got a chance to meet some of the women working in these jobs!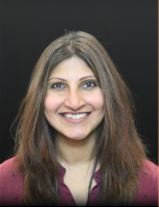 Ramya Winstead is an electrical engineer who works as a Principal Product Manager, Electric Vehicles at Amazon. She described her work improving energy efficiency in Amazon data centers and transitioning Amazon deliveries to electric vehicles. Previously, Ramya worked on generation efficiency for fossil fuels, but she was excited for the opportunity to advance renewable energy with Amazon! She has been interested in power generation since high school.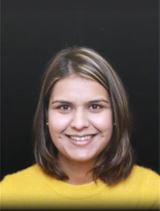 Dr. Nihit Pokhrel, a Solutions Architect, High Performance Computing at AWS, studied mathematics and chemistry in college. Because she wanted to perform cutting-edge research, she then earned a PhD in computational chemistry. Dr. Pokhrel emphasized the "cool" factor of computer simulations, likening them to video games that advance scientific understanding.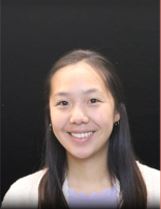 Sonya Lao, a Software Development Engineer intern, is currently a senior in college. Sonya described how her interest in tech stemmed from participating in robotics in high school. She chose to study Computer Science in college, and this is her second internship at Amazon!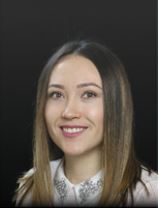 Anna Khabibullina, a Technical Program Manager at AWS, told her story about stumbling into an  Amazon career partly by chance. Originally from Ukraine, she first worked as a quality assurance engineer, later transitioning to a more traditional engineering career to challenge herself. Eventually, Anna got a job at Amazon, beginning with Alexa development and then transferring to AWS.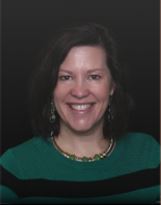 Ria Schalnat, Corporate Counsel at Amazon is a technical licensing lawyer with a computer science background. She emphasized how STEM knowledge can be applied to nearly any career! As a lawyer, Ria especially enjoys how many different computer science concepts she learns about on a regular basis.
After the panelists introduced themselves, there was an in-depth Q&A session where the girls had an opportunity to gather specific information for their futures.
Some of the students' questions were:
How do you keep producing ideas? Sonya said it was important to focus on specific problems you want to solve. For example, she made an interactive online microwave map for her college so she knew which Microwaves to use! Anything is possible if you have enough patience!
How do you become successful? The speakers stressed that the most important thing is to find what you really like, no matter what it is, and follow that passion. Explore a little to see what really calls to you, ask questions often, and plan your goals carefully. 
What's your most rewarding experience in your job? The panelists agreed that they enjoy working between different teams and building connections to foster creativity. 
What keeps you motivated? The speakers again emphasized the importance of finding a place where you're passionate about the work you do. There are many options that integrate different topics (such as biology and chemistry) with programming and technology. It's also helpful to work with people who are equally energetic and motivated.
Panelists shared many different ways to become involved in STEM. STEM is a flexible field, and any field you enter within it is closely related, offering lots of opportunity. Amazon employs women in a large variety of roles outside of software engineering, such as lawyers, project managers, and solutions architects, and they hire people from all kinds of backgrounds and of different levels of experience, ranging from undergraduates to PhDs in any field. At Amazon you don't work for a specific department or team; you work for Amazon, and moving around and trying new things is encouraged!
The panelists shared that there is no one way one path into a STEM career and encouraged students to keep trying and exploring to find what they are passionate about. And don't give up! It is difficult, but it is worth it.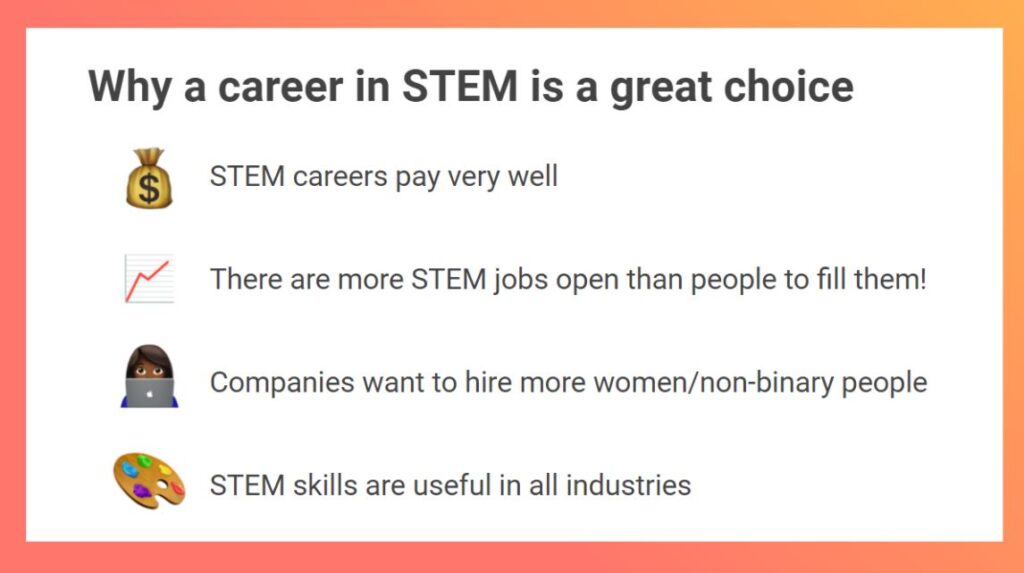 Following the questions, each panelist offered the girls one final piece of advice.
Ramya: Don't be afraid to fail.
Anna: Don't pressure yourself into any specific path – be bold but flexible.
Ria: Learn about everything, and know that no learning is wasted.
Nihit: It's more than acceptable to switch fields.
Sonya: STEM is creative, and can be fun and "cool"!
Students appreciated the in depth answers the panelists gave and how they kept things specific and detailed. They were inspired by hearing from the women on the panel about their varied paths to a STEM career and knowing that there are high achieving women in these careers and that they can follow in their footsteps!
Thank you to everyone for attending this IGNITE event! A big thank you to all the amazing volunteers for taking the time to host the panel and educate and inspire girls about careers in STEM: Nicole Michaud, Stephanie LaBoo, Marika Champagne, Dr. Nihit Pokhrel, Sonya Lao, Ramya Winstead, Ria Schalnat, Anna Khabibullina, and Sebastian Rodionov.
After attending this event:
Here's what the students thought of the event:
"Today's event inspired me greatly because it helped me be able to believe in myself. It also motivated me to see so many brilliant women working in STEM! It will always have a huge impact on me!" – 7th grade   

"It was very interesting learning about the diversity in career options. I also found it very cool how everyone had their own unique journey to arrive to where they are today. There is no formula for succeeding. These strong women are inspiring. Thank you for sharing your experiences and advice!" – 11th grade

"I loved how all of the different panelists talked about the different experiences they went through. Even with all of their difficulties and not knowing what they wanted to pursue, they ended up finding their way and entering a career they enjoyed. It inspired me because some of them didn't know what they wanted to pursue until later on in their journey which shows you can always just take your time to find what you're interested in. I would like to thank all of them for taking time out of their day to come and talk to us about the STEM programs. They really helped with motivating me to try harder and keep working to pursue what I want to do." – 11th grade

"One thing I enjoyed was listening to the women on the Panel share their stories of how they were in STEM, and it was very interesting to listen. One thing that inspired me was seeing all of the different, brilliant women in STEM who were achieving so high. It motivated me, letting me know that I can aim just as high as they can!"

"Today's event inspired me because l got to learn about women who pursued careers in STEM. I got to hear about what they went through. I got to hear about their struggles, and how they overcame them. I would like to thank them for sharing their experiences. They shared a lot of great advice." – 9th grade

"Today's even inspired me to choose a career that excites me. I also know I have many opportunities with STEM. However, after today's event I know I should choose the opportunities that I am most passionate in pursuing. They really helped inspire me!" – 9th grade

"I was really struck by how there was a lawyer among the panelists. It was refreshing to see someone who didn't necessarily work in the STEM fields yet needs to constantly learn more about STEM for her work. I thought it was interesting how Amazon had so many different sectors and different people with different backgrounds. I was also really struck by the idea that people are hired for Amazon, not for a specific team." – 11th grade

"I love how I got to get insight into the different STEM fields instead of just the regular computer engineers. The speakers were all amazing and learning more about their journey was inspiring. I would like to thank them for sharing their experience with me. I would love to attend more events like this!" – 11th grade

"Today inspired me in many ways, firstly it opened up so many different jobs and careers I didn't know I could pursue in STEM. The panel inspired me to pursue those jobs that were talking about. I really want to be a lawyer and Ria Schalnat really inspired me to pursue a degree in law in computers. I really appreciate them and appreciate that they took time out of their day to enlighten us about STEM." – 7th grade

"It inspired me to become more motivated. It also helped me have a better mindset. Their stories are inspiring and motivational. I am happy they are here to explain all the things they did to become who they are today." – 9th grade

"I loved seeing women in STEM. A huge plus for me was that they were all diverse. I loved that you were able to speak with us today! Thanks so much!" – 7th grade

"It made me realize that I can be comfortable working in/pursuing STEM. This helped me know how to be more confident in myself and not be afraid to pursue STEM." – 9th grade

"This event helped answer some questions I had related to Amazon and gave me a better understanding of how STEM is related to Amazon. This event also taught me of how different types of STEM are all useful and how it is good to switch around and get more experience overall." – 10th grade

"I thought this was very inspiring and I learned a lot by listening to the stories. I found these stories helpful in telling me what I should be expecting in the future, thank you for sharing your experiences!" – 10th grade

"I really like how they explained what they went through and achieved. They really made me see that working in STEM is a very intriguing thing to do." – 9th grade

"Wowww! . . . That was an outstanding event. It opened up doors that I didn't think existed. I've always wanted to be a lawyer and Ms. Ria Schalnat showed me that I could have a degree in law with STEM incorporated in it."

"I was inspired how these women achieved their dream. You work hard to get where you are." – 7th grade            

"It was very nice to meet such great people. I liked when everyone from Amazon shared with us their experiment. I feel like I want to make many researches on the things that I have heard." – 9th grade

"I have always been interested in STEM. I also have been greatly inspired by today's event and it will have a positive impact on me forever!" – 7th grade

"I enjoyed hearing from the panelists' different experiences. They explained the different aspects of the STEM field, including those that I haven't thought of before." – 10th grade

"It was cool to see women having good jobs. It helps inspire younger generations in believing that if they work hard, they can go where they want to go. I really enjoyed it and would love to come to another one :)" – 7th grade

"This event inspired me because the people who were there told us about how they got to where they are. Also they told us other interesting things. I'm so interested in working in something that uses math, science, engineering." – 7th grade

"The panelists were all very passionate. Their positive experiences in the STEM field was a huge motivator. Thank you so much for your time! I really appreciate it!" – 11th grade

"I enjoyed hearing about women who are passionate about what they do. Thank you for your insight!" – 11th grade

"It showed me that there are a lot of opportunities available in STEM. The panelists that were selected were amazing!" – 11th grade

"It taught me about the different types of jobs I can pursue in STEM and it made me feel more comfortable about attending STEM jobs. Thank you for taking your time to talk to us." – 7th grade

"It gives me a perspective of a cooler option. I admire them that followed their dreams." – 8th grade

"It inspired me to do better in computer science. It made me feel inspired to do stuff like this." – 6th grade

"I loved this it really made me feel good. And it also helped me so now I am more confident to do anything I want to do." – 6th grade

"It inspired me to follow my dream. I met so many amazing women." – 6th grade

"It inspired me to look into STEM more." – 7th grade

"It was great to learn about all the things." – 6th grade