On November 3rd, 2021, twenty-five girls and nonbinary students at Lake Elementary School in San Pablo, California took part in a Build Your Own Motor Workshop led by volunteers from Tesla.
The sixth grade students learned about the dearth of women in STEM careers during the event introduction. Then they transitioned to building motors, enjoying the hands-on approach to learning how batteries, magnets and wires fuel Tesla's engines. Students iterated the original model and made hearts from the wires.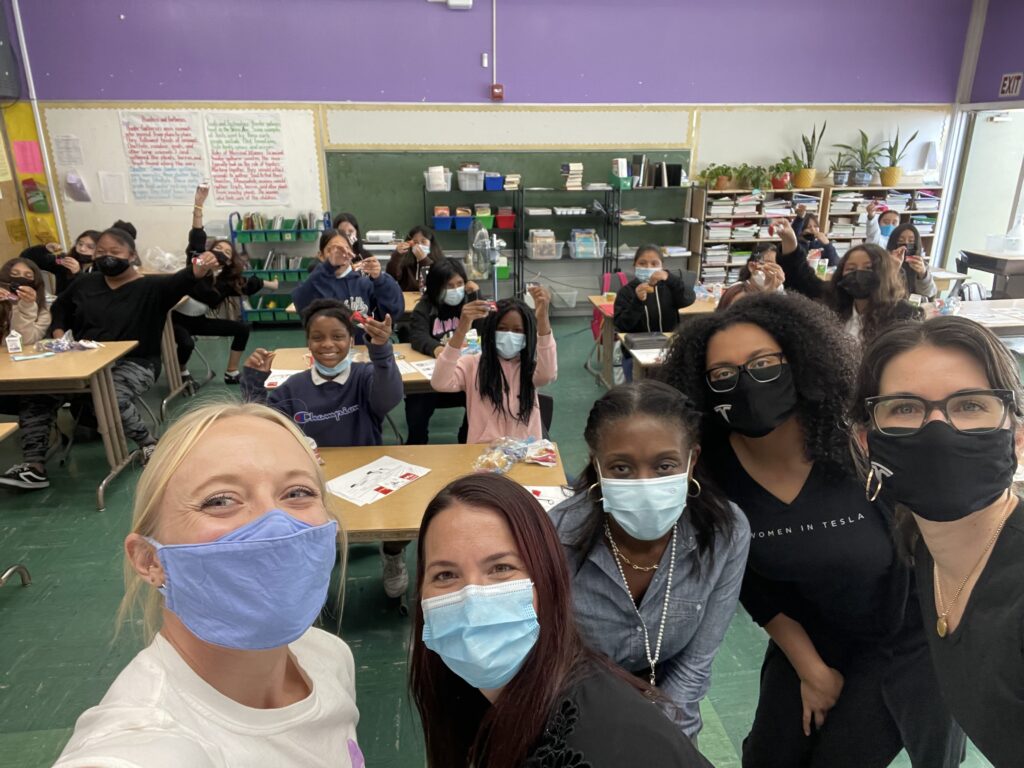 Students took turns exploring the Model 3 Tesla the volunteers brought to campus, and particularly enjoyed the whoopie cushion feature.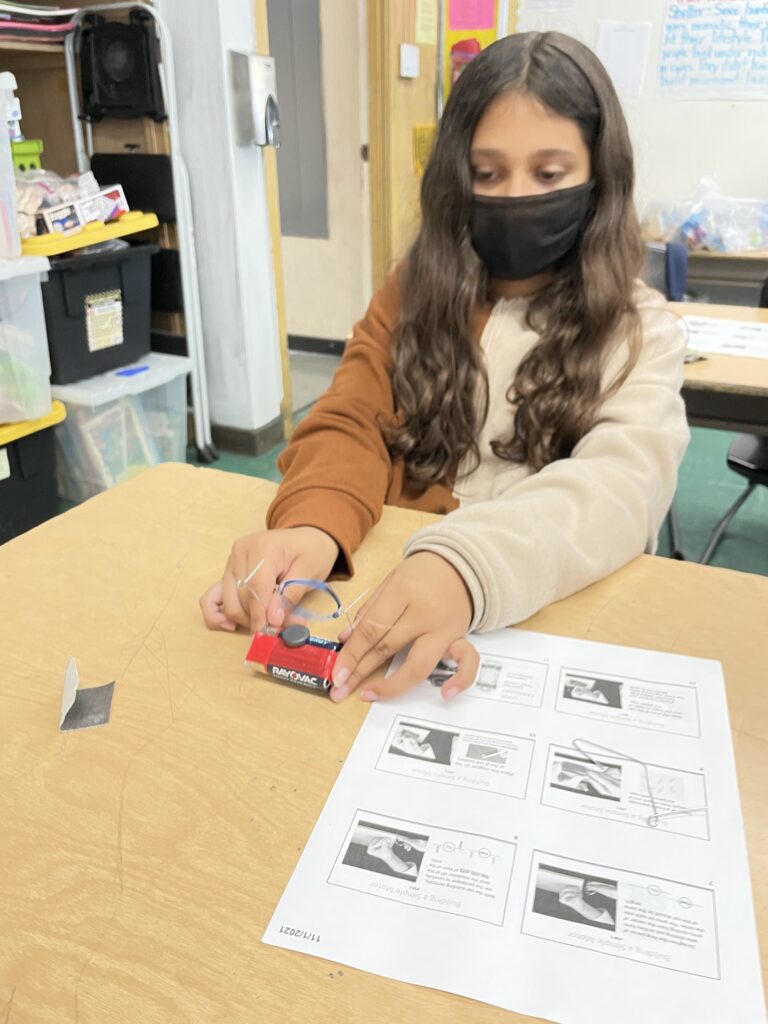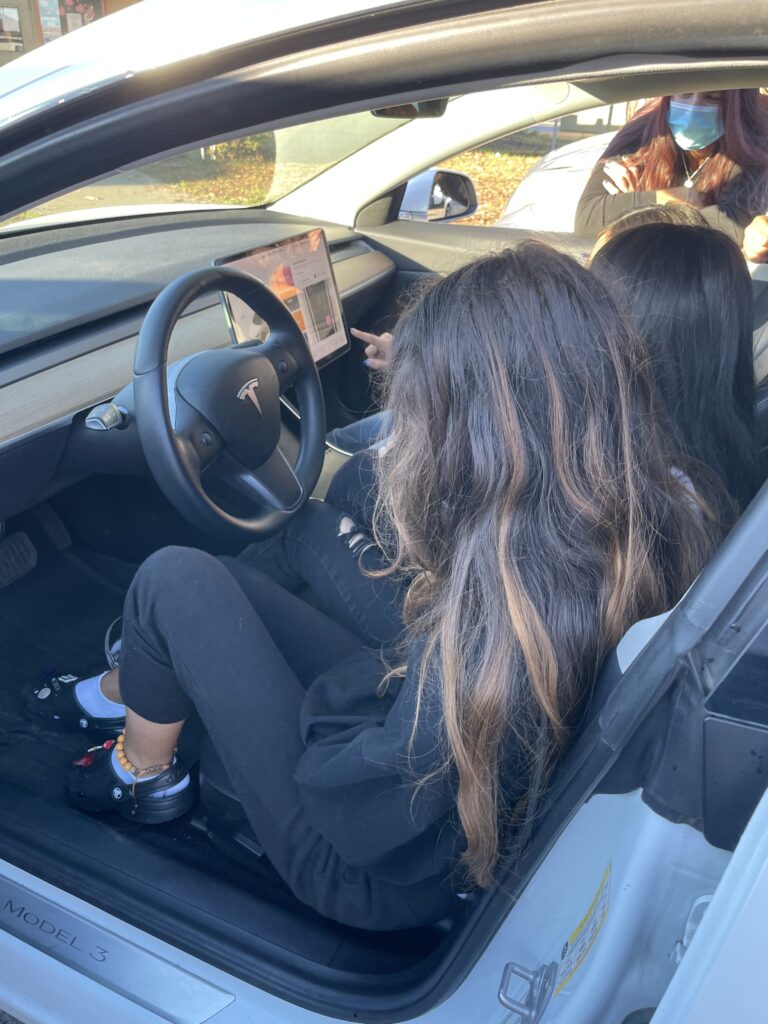 After the activity, students sat down with the volunteers for a career panel.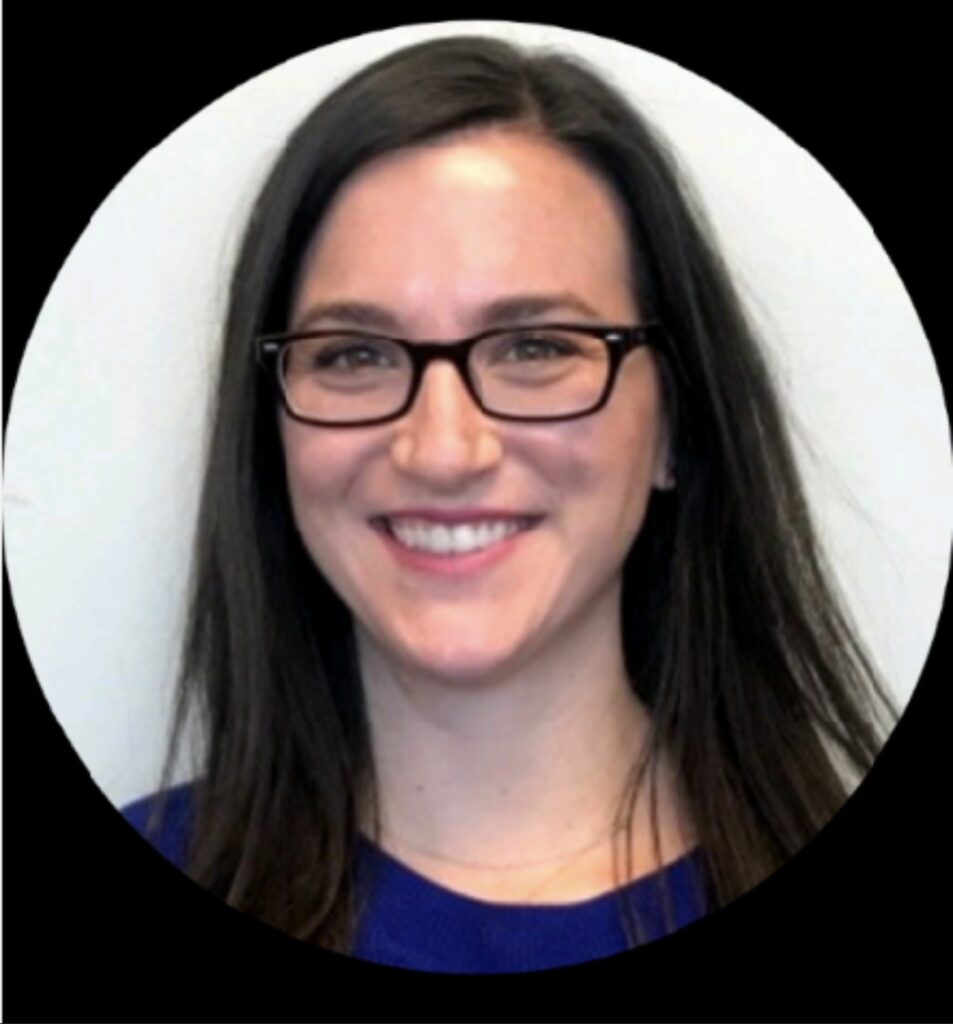 Deana Zornow, Return to Work Specialist, was a shy but gifted athlete as a child. As she's gotten older, Deana has grown more comfortable being noticed for her great work, and she uses her expertise in biology to excel in her current role.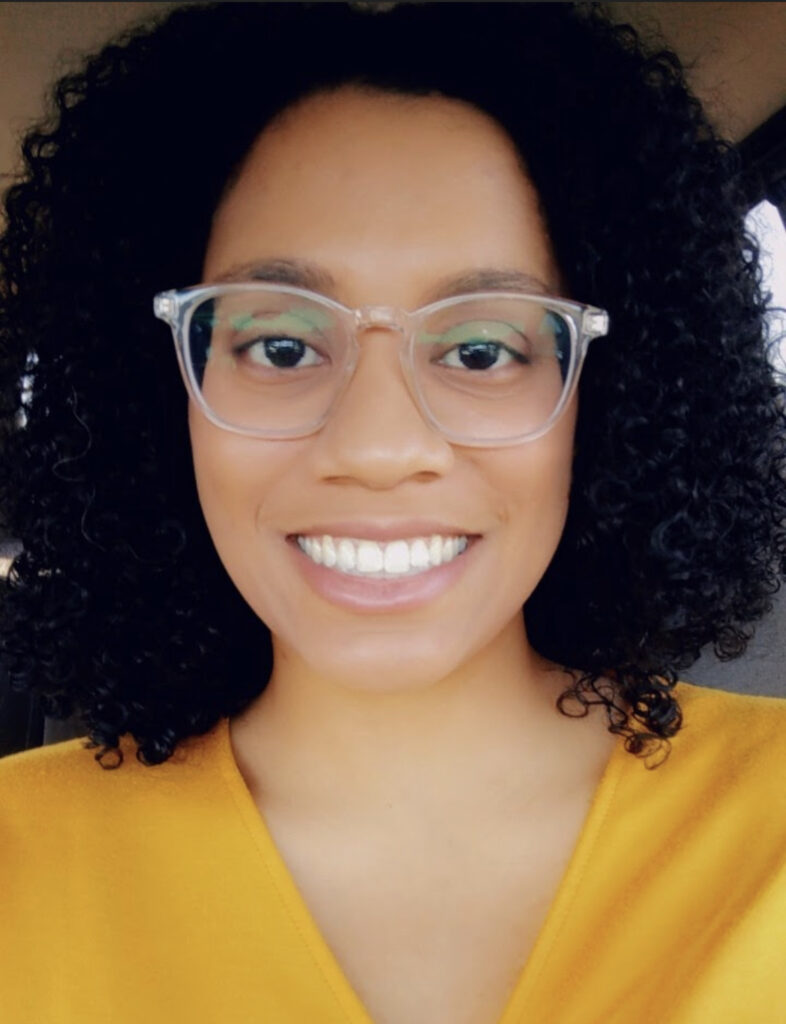 Erin Hughes, Environmental Engineer and Program Manager, grew up in small-town South Carolina, and related how she never believed she would be able to work for a company like Tesla until she actually accomplished it. She followed her passion for engineering with environmental and social impact and through hard work she got to the position where she is today. She advises others to follow their joy and passion and to open themselves up to possibilities.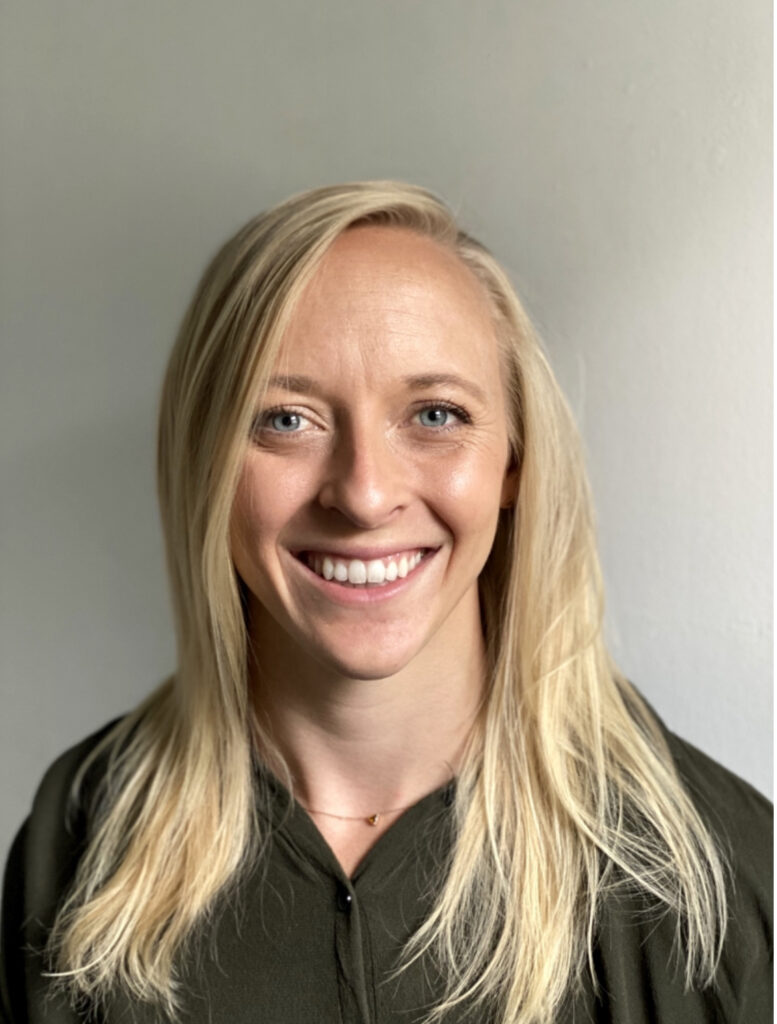 Holli Honnette, Senior Applications Engineer, struggled with math and science in school until she had an excellent math teacher in high school. She was gratified to experience success in something that had been such a challenge for her, and she fell in love with solving problems. She learned that engineers solve problems every day and make a good living doing so, and now she solves problems every day at work.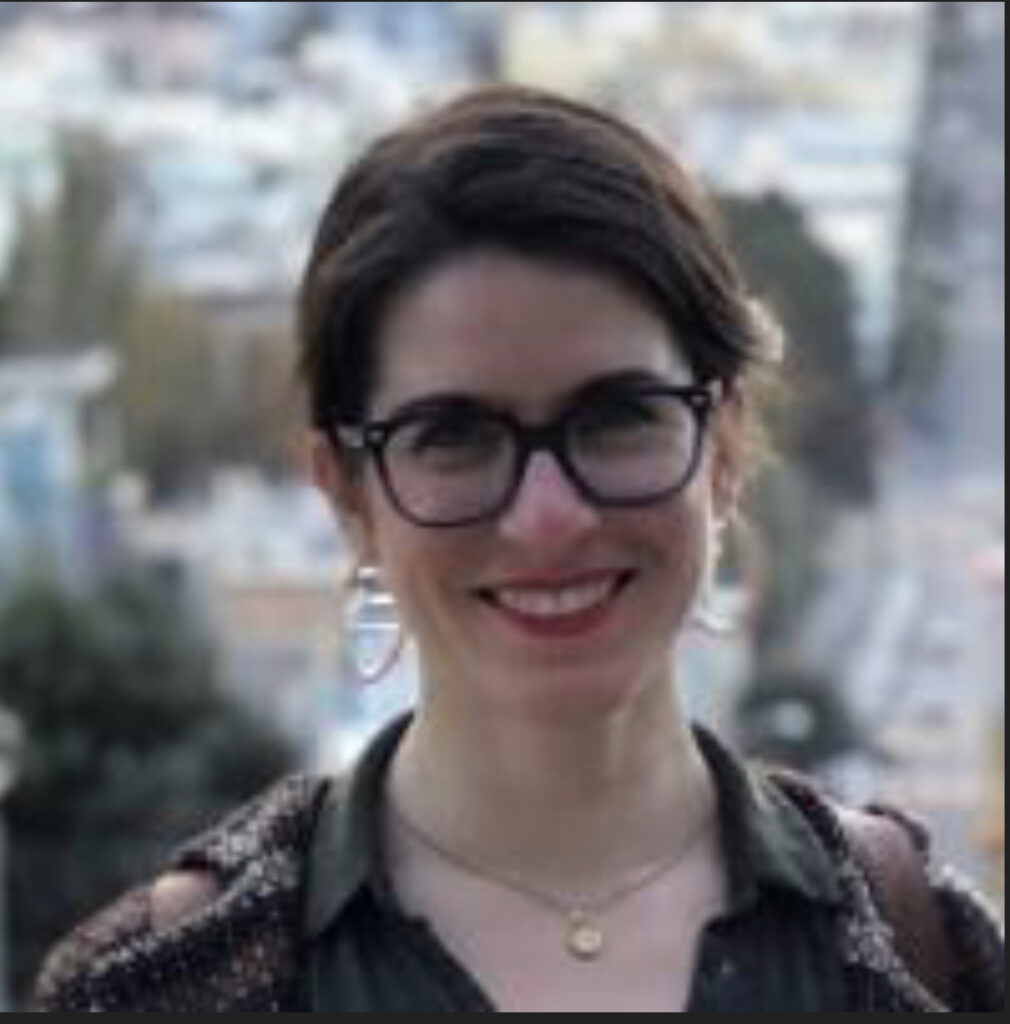 Tessa Sanchez, Policy Analyst, has had a growing interest in sustainability from her time in elementary school and now she works in the field of sustainability on clean energy and electric vehicles.
According to Lake Elementary School Teacher Latanya Brown, the panelists "were real, relatable and their stories were definitely relevant. The hands-on activity was engaging and age appropriate. Bringing the Tesla [Model 3] was the icing on the cake."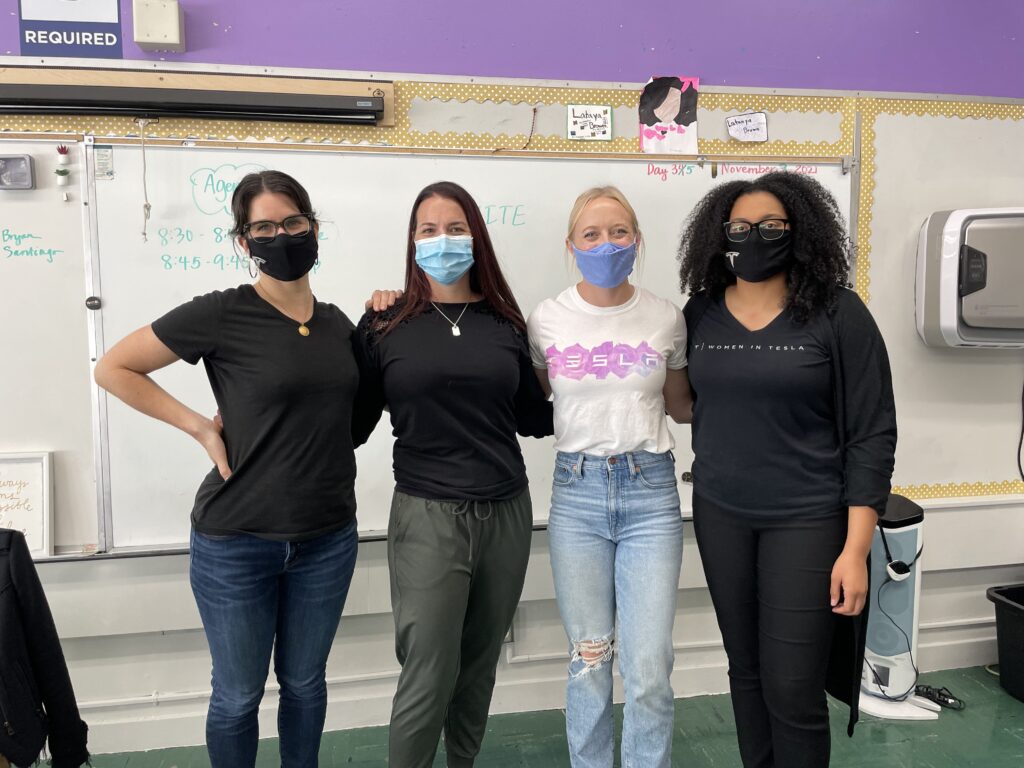 Ms. Brown added, "Representation matters and Tesla did not disappoint."
Students asked questions including:
What colleges did you go to?
Do you need to go to college to become an engineer?
How did you know that engineering was your thing?
How long have you worked for Tesla?
How many years does it take to become an engineer?
Some of the advice from the panelists included:
You can fail at something and it's okay.
You can veer onto a different course. You do not have to keep the same career path.
Engineering is problem solving. If you like to solve problems this can be a good career for you.
Accept the challenge!
Thank you to Holli, Deana, Erin, and Tessa from Tesla, as well as to Lake Elementary School team Ms. Brown, Jeannie Williams, and Karen Rodriguez for working together to make this an interactive and educational workshop! Extra thanks to Ms. Brown for writing up reflections from the day for this blog post.
After attending this event:
Here's what the students thought of the event:
"Today inspired me because I see more women that are successful in their career and it makes me feel like I can do that too." – 6th grade

"Today's event inspired me because the STEM professionals showed me how to be confident in terms of careers. It also made me more interested in engineering. They all showed me to not think things like careers are only for boys." – 6th grade

"Today's event inspired me to look more into tech than I did before. It also inspired me to like environmentally-safe cars. I have never been into science and this has changed my perspective!" – 6th grade

"They were helpful and sweet—all STEM professionals were kind! They all helped me today with hope and confidence. They really inspired me to be a successful woman." – 6th grade

"It inspired me to have a career, and also motivated me to have a better life." – 6th grade

"They inspired me to become an engineer in the future." – 6th grade

"It inspired me that even though I'm a woman I could still do everything a man could do." – 6th grade

"When I grow up I want to be like them." – 6th grade

"Changed my personality and confidence. I want to be an engineer when I grow up." – 6th grade

"Today made me feel good and confident because the STEM professionals described how they were all different in a good way." – 6th grade

"This event showed me not to give up. One key I got was to try new things." – 6th grade

"Today it was cool and fun. We learned about STEM. It helped me know that I should be confident in what I want to be." – 6th grade

"Today's event inspired me to learn more about technology." – 6th grade

"It was a fun hands-on project. There were only girls so it inspired me because there are mostly men working in Tesla." – 6th grade

"Today was good to see women that do 'male' jobs. I might like to work at Tesla." – 6th grade

"They inspired me to do more experiments. And they made me feel more inspired and confident." – 6th grade

"It inspired me because they were saying there weren't many females who did engineering." – 6th grade

"It was fun and it was cool. It was fun getting to know them. The car was so cool and it helps the world." – 6th grade

"Today's event inspired me because I heard the different things you could study." – 6th grade

"They were very kind and answered our questions and if we needed help they would help us and [they] showed us the Tesla." – 6th grade