On November 17, 2021, over 145 young women and nonbinary high school students attended the Women in STEM Skilled Trades Conference at the Universal Technical Institute (UTI) Sacramento Campus.
Campus President Tess Dubois-Carey opened up the event with a heartfelt story about her own experiences and rise to her position.
Next, Local Marketing Manager Kira Daczko shared information on skilled trades and UTI education, including videos from the Larry Miller Auto Group and the women's Indy 500 team.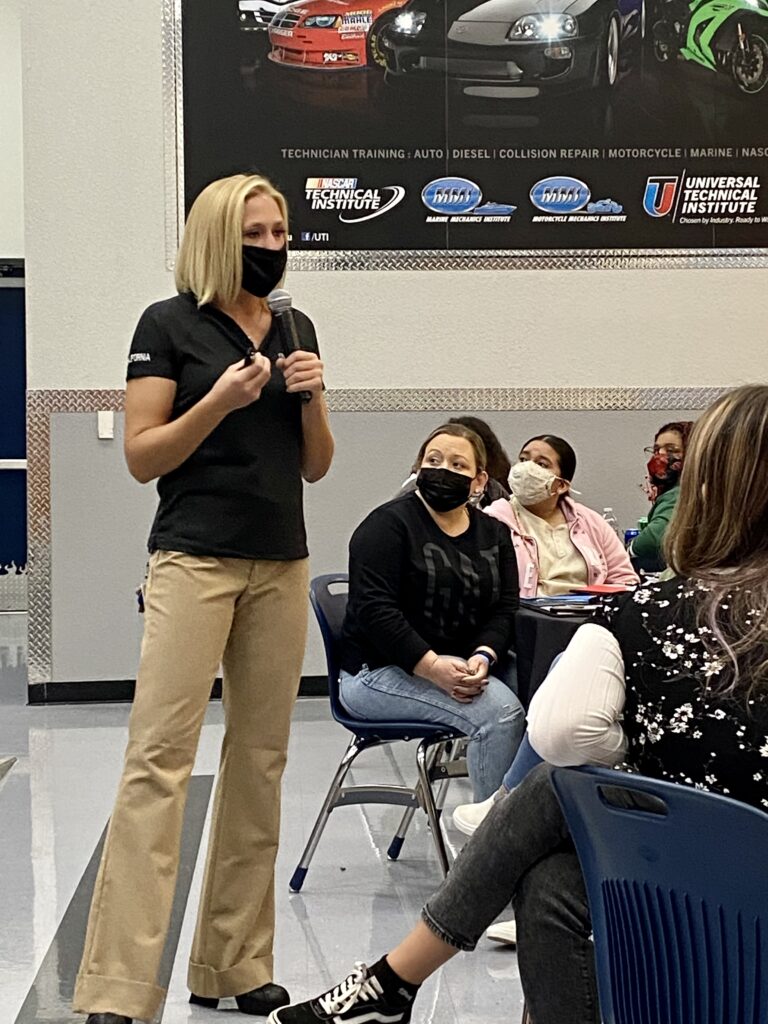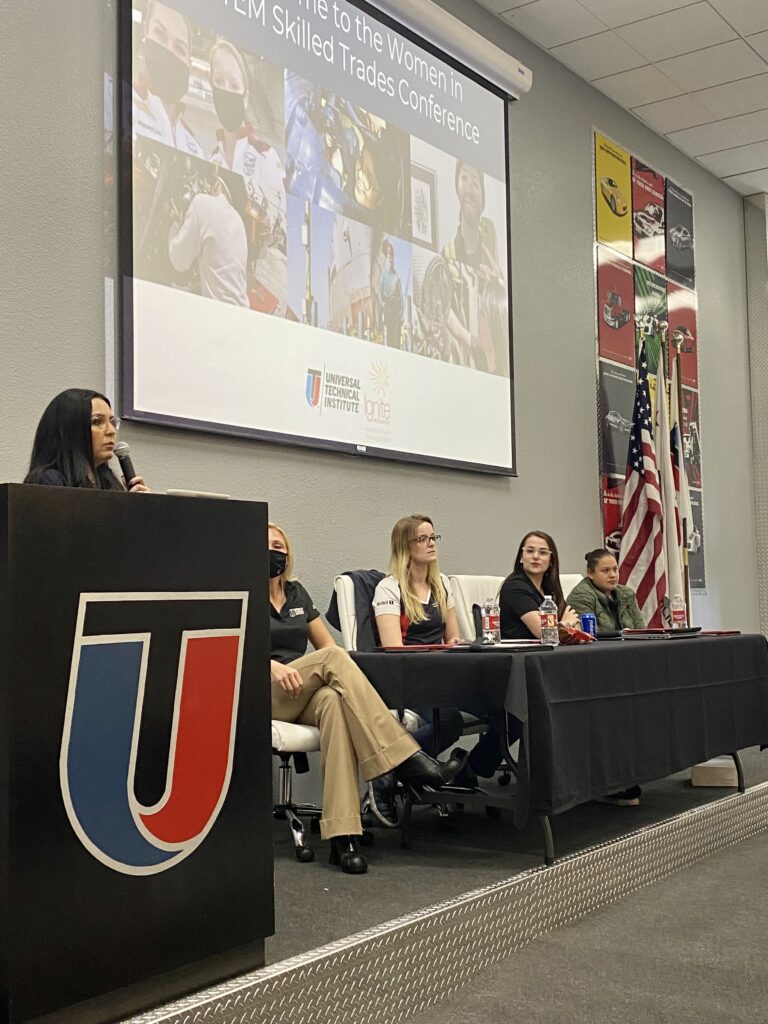 Students then had over an hour to tour the campus with admissions teams. Rich Garti, Director of Operations/Education, and the education team at Sacramento put together four project-based learning demonstrations that every participant cycled through. 
After this introduction and campus tour, students heard from an expert panel facilitated by Migdalia Vazquez-Valle, UTI-LA Director of Campus Admissions including four women in skilled trades.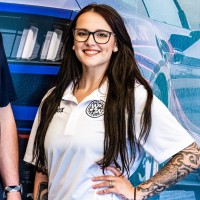 Sophie Fox, CEO, Women and Wheels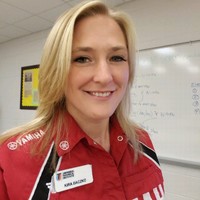 Kira Daczko, Local Marketing Manager for UTI
Also on the panel were recent UTI Sacramento Graduates Katie Mohler, Porsche Technician and Jocelyne Cisneros, Ford Technician.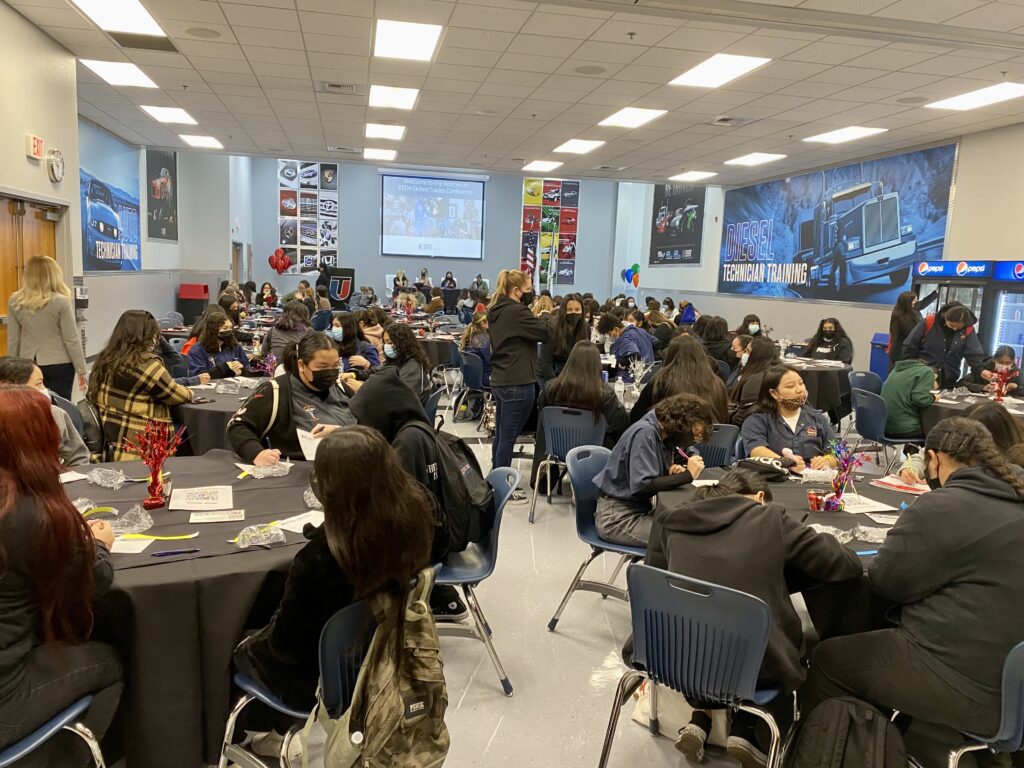 Teacher Joanna Alvarado from Live Oak High School shared,  "Everything about today was inspiring and motivational. The staff has so much passion—it's no secret why your students succeed. You offer just enough of everything students need. The Ford program is amazing! You figured out how to help students succeed while meeting the needs of employers! Excellent day! Thank you UTI team, thank you!"
Thank you to all volunteers, including Tess Dubois-Carey, Adrian Cordova, Regional Vice President, Rich Garti, and W. Tracy Kilby III, Regional Admissions Director, all the panelists, and National Director of High School Development for UTI Jerry Ellner. Special thanks to Doc for working behind the scenes and Eric Severson, Senior Vice President, Admissions, who has supported these events from planning to execution.
Here's what the students thought of the event:
"Today opened up new opportunities that I didn't even know I would want to do but coming here sparked something in me—I definitely want to take the IGNITE program!" – 11th grade

"Today, I took in knowledge that I never was aware of. I can go home today and talk to my parents about the different sensors and their importance to the function of the car. I will leave today, hyped and proud of being a woman in STEM. I will embrace my identity and be proud of who I am. When I am applying to job opportunities, it is important to look for support for women." – 10th grade

"Women can do anything! It can be scary at first to work with a lot of men but you will get used to it and enjoy it. There is science in cars. Women are changing the world every day." – 11th grade

"I'll remember seeing and hearing from women in the STEM field and their experiences which isn't something I've been exposed to." – 12th grade

"I learned that as a woman I shouldn't be talked out of a career due to it being male dominated. I should persevere and take advantage of opportunities I find interesting." – 12th grade

"Honestly, today was so cool to see how a car works from the inside and to get inspired by female mechanics and techs. This field trip really convinced me to try out tech." – 10th grade

"I will forever remember that there is nothing stopping or preventing you from doing what you want but you. There's always support when women are a part of the STEM industry, to the point that everyone/anyone will be willing to teach and guide you to be a part of the STEM industry." – 11th grade

"Today was very inspirational to me, especially because I have a strong passion for cars and racing. I have closer insight and feel very motivated by these lovely women. Thank you!" – 12th grade

"I will remember you guys saying that girls can do this and that girls can do anything as long as they really want to and go for it." – 12th grade

"I will remember how the speakers gave us advice on the different opportunities and what the classes are about. The learning experience looks spectacular. I would like to be here and do hands-on activities. Especially the respect they give to women here is what I like a lot." – 11th grade

"I learned that girls are capable of doing anything that men are able to do. Today we saw people working on cars and we explored around it which was really cool because I'm getting into cars and I want to learn more about them." – 12th grade

"After this event I will remember that the most important thing is that women could easily do this. I also heard about the women speaking about their personal lives and how they discovered their passion." – 12th grade

"Something that I will remember about today's event is the tour of the Ford room and when the speakers talked about not letting other people's decisions dictate your career. And even if it is a male dominated field women are no less valued in this field than men so we shouldn't be scared to enter this field." – 11th grade

"I will remember how if you put your mind to it you will be able to accomplish what you want. To not listen to whoever wants to discourage you." – 11th grade

"It was really inspiring. Honestly, heartwarming. I feel like today was a real confidence booster and inspiring. Thank you everyone that hosted this event!" – 12th grade

"I can do whatever I want and pursue whatever I love and have every right to do so unapologetically. If others can't handle my passion, their only place in my life is in the dust." – 11th grade

"All the classes that were shown to us today were very cool and interesting. I enjoyed learning a bit of everything. Also, the women who spoke today are very inspiring to listen to. I enjoyed my trip here today." – 12th grade

"The main thing I will remember about today's event was something that was repeated by the panel members which was that everyone is equal no matter their gender. I also will remember that us women should not be afraid of going into a male-dominated career path. It's good to take chances in your life because you never know where it'll take you." – 12th grade

"I will always remember how inspiring these women are. I really loved Sophie's speech with her simple message of 'Don't give up,' and 'Do what you want to do, not what others want you to do.'" – 11th grade

"I learned that I am responsible for my own future. I also learned to follow my dreams and to not listen to the people that want to change them. I think that the most important thing I learned was that being a girl is maybe my power and I can do more than what I can imagine." – 11th grade

"I remember that women can do anything that a man can do and women work hard too. I have learned more about how the piston is used and learned a little about diesel. I had an overall really great experience today, coming here and learning a little more about mechanics. Everyone did a really good job with explaining everything and setting up for the schools. Thank you!!!" – 10th grade

"I learned today that you can be whatever you want." – 12th grade

"I will remember learning about the Ford vehicles and how women specifically are sought out and wanted in this career." – 11th grade

"There's space for anyone who wants to be involved in STEM. There's lots to learn in this career pathway. You don't have to love everything to work in a specific aspect of it. I learned that the automotive field and other similar fields are a part of STEM." – 11th grade

"What I heard today is that women should not feel less or more and we should encourage each other to do the things we enjoy. I also learned that women are really wanted in this industry." – High School

"You can achieve anything you want if you put your mind to it." – 12th grade

"What I will remember about today's event is that women can do anything they put their minds to." – 12th grade

"I will remember that no matter what I should never give up and I should always keep trying and giving it my best. Thank you so much for today!" – 12th grade

"Something that I have heard that'll stick with me is to not listen to what others say and do whatever you want and like. Also to learn what you are interested in and not your friends' interests." – 10th grade

"Don't be scared to try things out even if the industry is mostly for men. Do what you're passionate about." – 12th grade

"I will remember to follow my dreams like working in STEM." – 10th grade

"I had never considered this career path before but I think I'd really like to look into it more." – 11th grade

"I will remember the panel's advice to follow your passions and not let others' differing opinions influence you." – 12th grade

"I will remember Kira. She inspires us women to follow through with what we want to do. I'll remember the cool cars in the shop. I'll also remember making new memories with my friends. I got to learn a lot about cars, diesel trucks, and motorcycles." – 12th grade

"I remember that Sophie said that 'women in this field are valued and valuable.' Also that we don't need to go into this field, as long as we are going to be something that we love and will not regret doing." – 12th grade