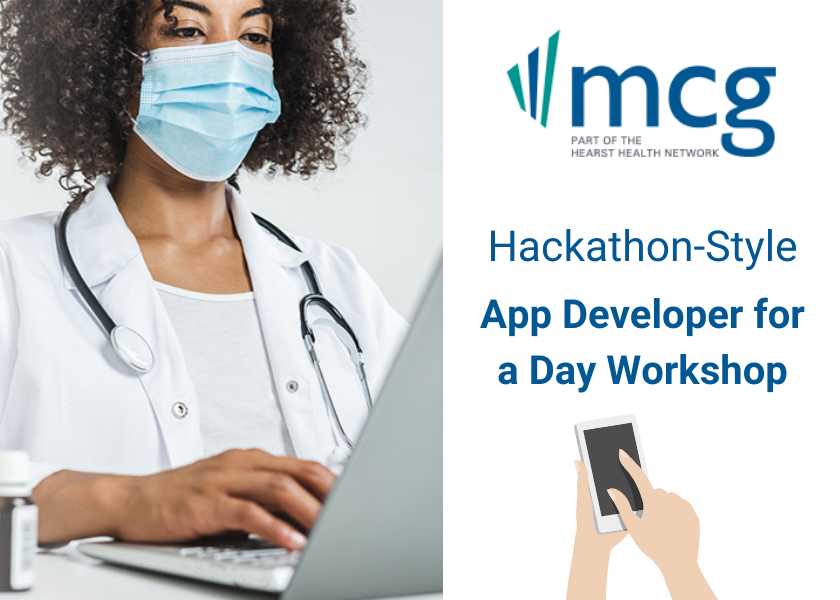 Hackathon: Be an App Developer for a Day! Workshop with MCG Health (High School)
Teachers, be sure to take our 6 minute teacher training before signing up for the event.
Only teachers can sign up for IGNITE events. If you are a student, please let the IGNITE Teacher at your school know that you are interested in this event. If you don't have IGNITE at your school, please email contactus@ignite-worldwide.org to get started!
Learn how technology and medicine work together!
In this "hackathon-style" event, high school girls/non-binary students will work in teams to answer a "customer" request for an app update. They will be using their creative problem-solving skills to brainstorm ideas for the update. Then they will put their ideas into action by updating the app using JavaScript, CSS, and HTML (no experience necessary).
Experience how a customer request becomes a product update – and learn how much tech is involved in medicine!
MCG Health, part of the Hearst Health Network, is a healthcare technology company that reviews scientific research to create guidance for healthcare professionals. MCG's evidence-based guideline software is used by insurance plans and hospitals to make healthcare more effective and ensure patients get the best care by informing care decisions like selecting the appropriate setting of care (hospital, home care, or recovery facility) and customizing patient treatment plans. During this event you will complete an activity with one of MCG's development teams on their newest software solution, which uses patient data from a hospital's electronic health record (EHR) system to support Emergency Room (ER) admission decisions.
The How many students are you bringing? ticket sales has ended!