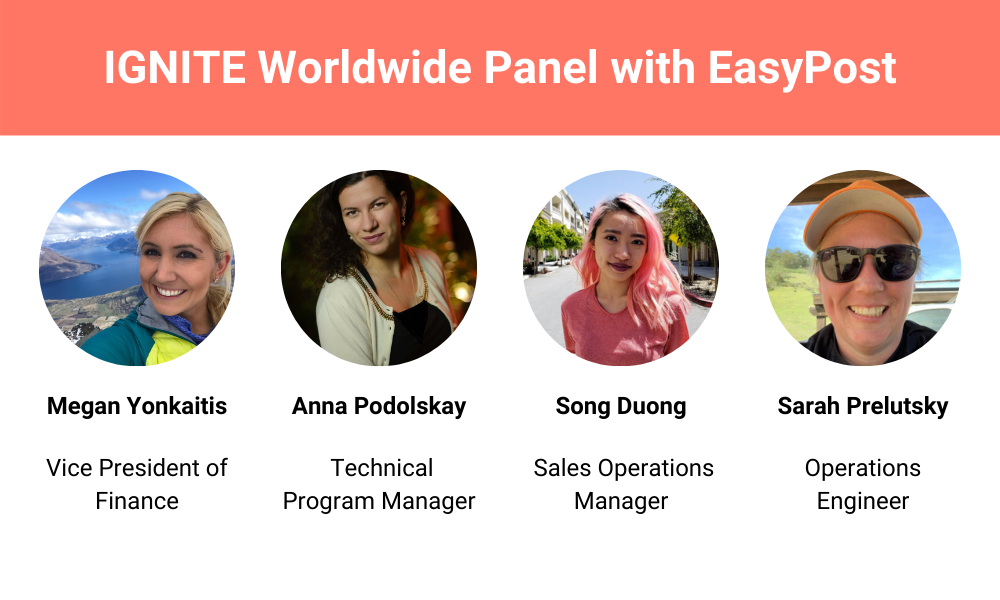 Panel with EasyPost
Teachers, be sure to take our 6 minute teacher training before signing up for the event.
Only teachers can sign up for IGNITE events. If you are a student, please let the IGNITE Teacher at your school know that you are interested in this event. If you don't have IGNITE at your school, please email contactus@ignite-worldwide.org to get started!
Learn from women in a wide range of tech careers from finance to engineering!
EasyPost was founded in 2012 as the first RESTful API for shipping (we make shipping easier!). EasyPost has thousands of customers shipping millions of packages each month. Anyone can use EasyPost, from small business owners to enterprise companies.
Panelists:
Anna Podolskay, Technical Program Manager
Erin Brown, Technical Program Manager
Gloria Chen, Software Engineer
Megan Yonkaitis, VP of Finance
Sarah Prelutsky, Operations Engineer
Song Duong, Sales Operations Manager