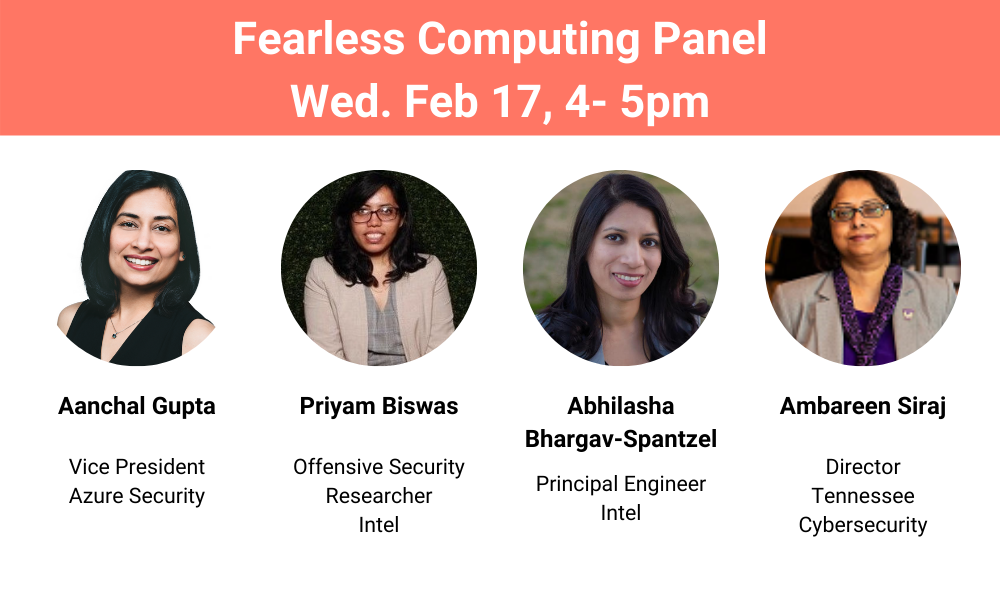 Fearless Computing: Intro to Cybersecurity w/ Extended Q&A!
Teachers, be sure to take our 6 minute teacher training before signing up for the event.
Only teachers can sign up for IGNITE events. If you are a student, please let the IGNITE Teacher at your school know that you are interested in this event. If you don't have IGNITE at your school, please email contactus@ignite-worldwide.org to get started!
Students will hear from women in STEM at Intel tell their stories, share their challenges, and how they overcame them. Students will then participate in a live question and answer session!
Fearless Computing – STEM Minus The Feeling Of Getting Hacked
Have you ever wondered what it takes to keep your computer or cellphone data secure or how technology keeps Zoom calls and social media accounts from being hacked? Securing tomorrow's technology takes a diverse set of engineers to ensure these platforms are protected from cybercriminals. In this panel, you will hear from female leaders from some of the world's largest organizations discuss what it means to be in cybersecurity, fun stories about their childhood, and the actionable steps you can take right now to follow in their footsteps. We hope you will join us as we work towards our vision for fearless computing.
Students are also invited to stay for an optional extended Q&A for 15-30 minutes after the panel ends.
Panelist Bios:
Dr. Ambareen Siraj is a professor of Computer Science and the founding director of Tennessee Tech's Cybersecurity Education, Research and Outreach Center (CEROC). She has served as the leader on several NSF and NSA education and workforce development grants. She has secured external grants totaling $7.6 million through 2020. Siraj is passionate about training the next generation of cybersecurity professionals, and encouraging women and other minorities to pursue an education in Computer Science and other STEM programs. She is the founder of the Women in CyberSecurity (WiCyS) organization, an initiative to recruit, retain and advance women in cybersecurity. Her efforts to educate students and enhance the cybersecurity field of study goes beyond classes, research, outreach projects, workshops and conferences. Dr. Siraj's research focus is on security in cyber-physical systems, Internet of Things, situation assessment in network security, security education and workforce development. She has authored or co-authored more than 50 publications.
She is a frequent speaker in various cybersecurity conferences on topics ranging from education, curriculum, workforce development, outreach, security issues & solutions for cyber-physical systems to diversity and inclusion in cybersecurity. She has addressed the Congressional House Committee on Science and Technology Subcommittee on Research and Technology in 2020 on "Developing the U.S. Cybersecurity Workforce". Dr. Siraj is recipient of the ­Colloquium for Information Systems Security Education Exceptional Leadership in Education Award in 2018 and ABET Claire L. Felbinger Award for Diversity and Inclusion in 2020.
Aanchal Gupta is Vice President of Azure Security and leads Microsoft Security Response Center (MSRC), the front-line defense for millions of customers around the world who use Microsoft platforms and products. Previously, as Chief Information Security Officer for Novi (Calibra) at Facebook, she led a team responsible for assessing and mitigating security risks across Facebook's cryptocurrency initiative. Aanchal joined Facebook in 2016 after serving as Chief Information Security Officer at Microsoft for Skype and Skype for Business. Prior to Microsoft, Aanchal led Yahoo's Global Identity team, contributing to various authentication and authorization open standards such as OpenID and OAuth.
Aanchal was named one of Business Insider's "Most powerful female engineers of 2018". She is a member of the Internet Security Research Group Board of Directors, and a fellow at the RSA (Royal Society for the encouragement of Arts, Manufactures and Commerce). She serves on technical advisory boards for security startup ThreatWatch Inc. Aanchal is passionate about building diverse teams and serves on the review board for the Grace Hopper, Enigma, and Black Hat conferences.
Abhilasha Bhargav-Spantzel is a Principal Engineer at Intel, focusing on hardware-based security product architecture. She has 15+ years of experience in security and privacy. She completed her doctorate from Purdue University, which focused on identity and privacy protection using cryptography and biometrics. Abhilasha drives thought leadership and the future evolution of cybersecurity platforms through innovation, architecture, and education. She has given numerous talks at conferences and universities as part of distinguished lecture series and workshops. She has written 5 book chapters and 30+ ACM and IEEE articles and has 25+ patents. Abhilasha leads multiple D&I and actively drives the retention and development of women in technology. She is passionate about STEM K-12 cybersecurity education initiatives, as well as co-organizes regular camps and workshops for the same.
The Book Students ticket sales has ended!