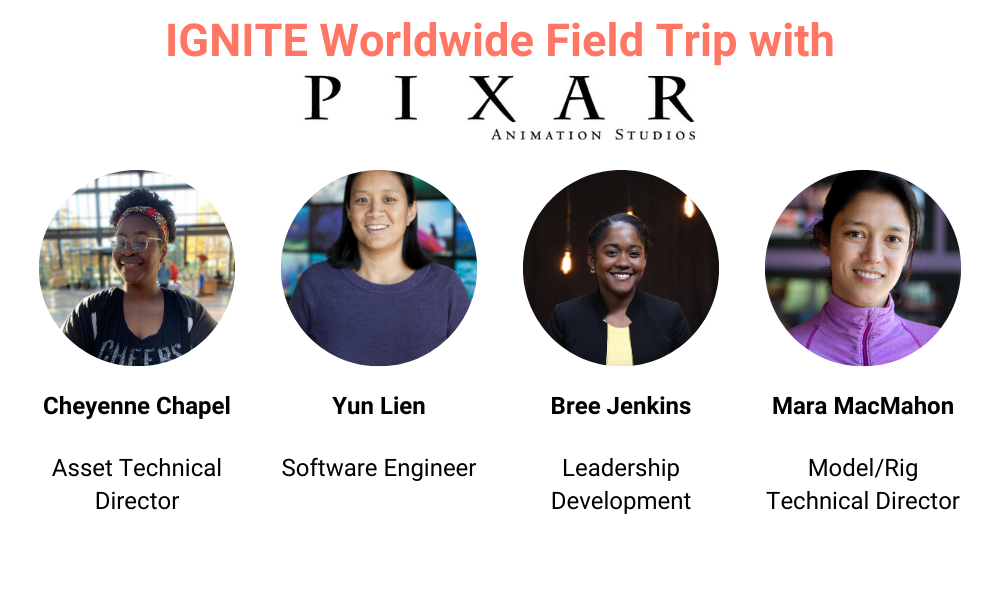 Open to East Bay Schools: Full STEAM Careers at Pixar: From Art to Tech
This event is open to Ignite schools located in Pixar's local region, specifically in the East Bay in the San Francisco Bay Area.
Teachers, be sure to take our 6 minute teacher training before signing up for the event.
Only teachers can sign up for IGNITE events. If you are a student, please let the IGNITE Teacher at your school know that you are interested in this event. If you don't have IGNITE at your school, please email contactus@ignite-worldwide.org to get started!
Pixar is an animation studio devoted to the art of filmmaking by diverse storytellers. Our employees work in careers that span the full spectrum of STEAM disciplines, from fine art to cutting-edge computer science technology.
Yun Lien, Senior Software Engineer, and Holly Lloyd, Technical Director, will offer their perspective on the Pixar filmmaking pipeline, from story idea to the final rendered image you see in the theater. Their collective experience as a software engineer and as a technical director will demonstrate the many diverse career paths at the company, from the highly artistic to the deeply technical. All the disciplines of STEAM inform Pixar's pipeline, and hopefully this presentation will de-mystify our filmmaking process!
Bios for a few of Pixar Volunteers:
Jessica Wan, Media Systems Engineer
Jessica Wan is a Media Systems Engineer at Pixar Animation Studios. The Media Systems team (affectionately known as the AVengers for AV Engineering) is charged with the design, build, and maintenance of the audio/video infrastructure at Pixar. As an AVenger, Wan has had many opportunities to help build systems enabling users to work collaboratively, efficiently, and without additional technical support. Every once in awhile, like a real Avenger, Wan also gets to save the day.
Prior to joining Pixar in 2012, Wan received a BS in Mechanical Engineering from the University of California, Berkeley. Wan was also a member of the 2019 class of Young Entertainment Professionals.
Mara MacMahon, Model/Rig TD
Mara joined Pixar Animation Studios in 2016 as a character modeler and rigger, working on "Cars 3", and Pixar's Academy Award®-winning short "Bao." MacMahon was a character designer and modeler/rigger on the Academy Award®-winning animated feature "Toy Story 4," and most recently character model lead on the upcoming film Soul. Prior to Pixar, Mara worked as a rigging artist in gaming and film studios at TinyCo, Dreamworks, and Toys for Bob.
Anna-Christine Lykkegaard, Model/Rig TD
Anna is a character modeler and rigger working on her first Pixar film Luca, coming out in 2021. In high school, Anna decided she was not getting the creative, technical and problem solving merger that her brain needed, so she dropped out to pursue computer graphics and got into college based on a portfolio. Through college she travelled the world to attend conferences and worked on projects that gave her a wealth of freelance experience before graduating. Anna was born and raised in Denmark, but two years ago decided to follow her heart and move to California with two suitcases and a backpack, ready for whatever life would bring! Sometimes you have to take that big, scary leap of faith!
Christine Crowley-Kelly, Production Management
Chistine graduated from the School of Dramatic Arts with a BA in Theater and a Minor in French (shout out to Ground Zero Performance Cafe where she worked while at USC!). She started her career in live action television on shows like Brooklyn Nine-Nine & Thirteen Reasons Why. She now works at Pixar as a Production Coordinator where she has worked on several feature films, guiding artistic and technical departments toward film release, on time and on budget. She has also produced several short films, both independently and on behalf of Pixar. She is excited to share the wonderful world of Production Management!
Bree Jenkins, Leadership Development
Bree considers herself an engineer and artist. Born in Flint, MI and claiming Atlanta, GA as her home, she finds the most joy when dancing, storytelling, and crafting with her partner. She studied Industrial Engineering and went on to pursue her career in it at the happiest place on Earth. Supporting Resorts, Water Parks, and Cruise Line, she loved having the ability to make magic and to care for guests from around the world. Coming to Haas in pursuit of other opportunities that could provide purpose, she focused on education and DE&I, serving as a Consortium Co-President and co-creating a program called Cheetah Tank, a Shark Tank-style pitch competition for elementary school students in Oakland, with a friend who was a former educator. After graduating in 2019, she became the founding Head of Operations for Hayward Collegiate, an elementary school she helped open to prepare scholars to have agency over their lives. Navigating a job description ranging from finance and compliance to school lunch manager, she found that her favorite part of the work was in developing the culture of the school and supporting the teachers. Now, she is working at Pixar Animation Studios in Leadership Development, fusing the technical with the creative and empowering the people who create some of her favorite stories.
Hayley Iben, Software Engineer
Hayley is the Director of Engineering for Applications in the Software R&D department at Pixar Animation Studios. Her teams are responsible for film production technologies for sets, layout, characters, shading, crowds, animation, simulation, lighting and rendering. Prior to undertaking this role, Hayley led the engineering team responsible for character simulation technologies, including cloth, hair, flesh, and skin, for seven of her fourteen years at the studio. Hayley's expertise is in hair simulation and she has been developing the studio's hair technology, Taz, that debuted in Disney Pixar's "Brave". She has also built tools for character articulation and animation, focusing on inverse kinematics and mathematical techniques. Hayley earned a B.S. in computer science from Duquesne University and a M.S. and Ph.D. in computer science from the University of California, Berkeley.
Susan Salituro, Software Engineer
Susan is an Engineering Manager with the RenderMan team at Pixar Animation Studios. A graduate of Rice University, she's made many shifts in her career over the years, doing stints as a technical writer, developer infrastructure engineer, and now manager, and considers herself proud to be a generalist. After stints working for various Houston and Silicon Valley software companies, she ended up in the animation industry and never looked back.
Yun Lien, Software Engineer
Yun joined Pixar Animation Studios in October 2005, beginning in the Tools department creating the animation software used for the Academy Award©-winning feature film "Brave." As a Technical Engineer Lead, Yun's team manages Pixar's Render Farm, which is a data center of machines that convert movies from software format to film. Since "Brave," she has worked on every film the studio has released including "Monsters University," "Inside out," "The Good Dinosaur," "Finding Dory," "Cars 3," "Coco," and most recently "Onward". Prior to Pixar, Yun held various Engineering and Management positions at several different startups and Oracle.
Holly Lloyd, Sequence Lead, Generalist TD
Holly joined Pixar Animation Studios in 1996. She has since held a variety of roles, starting in technology as a compression technician for interactive games, moving on to production manager and line producer, then a lighting technical director on features and in marketing, then Simulation on Onward, and now as a generalist TD and Sequence Lead on Toy Story 4, Soul and Luca. Before Pixar, Holly was a web designer, journalist, editor and architectural designer.
Sold out!