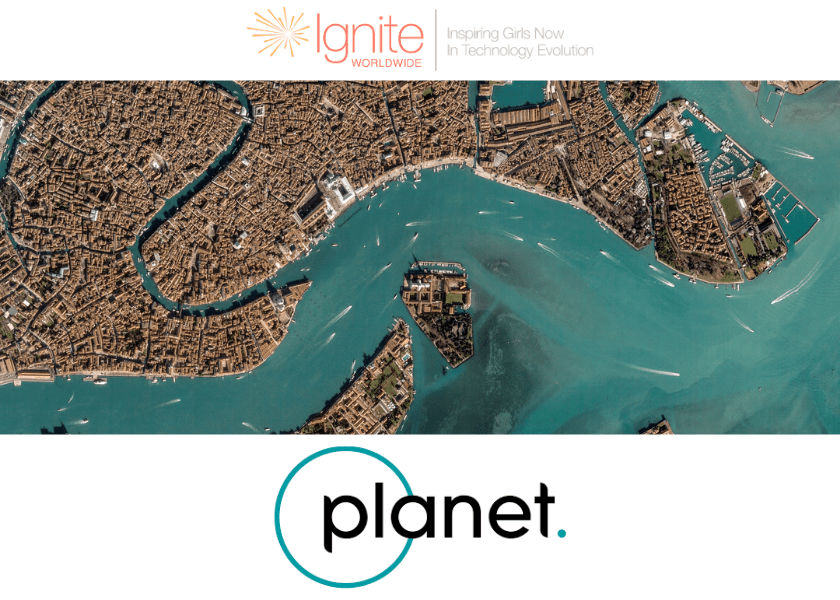 Planet Field Trip
Teachers, be sure to take our 6 minute teacher training before signing up for the event.
Only teachers can sign up for IGNITE events. If you are a student, please let the IGNITE Teacher at your school know that you are interested in this event. If you don't have IGNITE at your school, please email contactus@ignite-worldwide.org to get started!
Students will be introduced to the company and participate in a critical thinking activity helping students relate to what doing STEM at this company is like. They will also hear from women in STEM tell their stories, share their challenges, and how they overcame them. Students will then participate in a live question and answer session!
Do you ever wonder how many of the world's biggest problems are fixed? What if you could be a part of it, and help solve them?

Planet designs and builds tiny shoebox-sized satellites called Doves in our spacecraft lab. They are then launched into space. These doves take images [like selfies, but without the instagram filters] of the entire earth every single day. Yes, even where you are sitting right now. Imagine all the cool things we can see…

Now we want to give YOU a peek inside at some of these images. You will get a chance to be a superhero for the earth, alongside our global partners, who are saving the planet every day using Planet imagery.

I Spy the Planet – breakout room challenge:

Have you ever played "Where in the World is Carmen San Diego" or "Where's Waldo?". Come to Planets' virtual Field Trip where you will play "I Spy the Planet".

In this game, you will see real Planet images from our dove satellites. Each breakout room host will then present a real world challenge – asking you to find something from the image – and then ask you to explain why you feel it is important to help fix the world. There are no wrong answers!

Come join the fun and share what you see!
All students attending the workshop will receive Planet swag!
The Book Students ticket sales has ended!