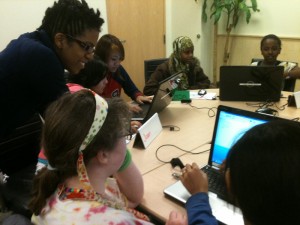 We had such a dynamic event on October 20th for 6th, 7th and 8th graders from Broadview-Thomson K-8 school in Seattle. I think our events just get better and better and I often wonder how that is even possible, but they do! This was such an amazing day and I only wish I had a video of it. But we did take lots of pictures! We had 17 young ladies and 6 incredible mentors, and the exceptional counselor from Broadview-Thomson, Emma Hong who makes it so easy and fun to work with her and her students. Thank you to Emma Hong who recruits the young women from her school to attend many IGNITE events throughout the year. It is such a pleasure to work with her. And the support from her great Principal, Wyeth Jesse, who makes technology education a priority at his school. We thank him for making this all possible as well.
I want to thank the two co-lead teachers for this event, Ashley Myers and Rick Morelan. Ashley is a Software Development Engineer at Microsoft and Rick has a company called Joes2Pros.com He leads classes and workshops on SQL and wrote 7 bestselling books on the subject. They did such a wonderful job leading the workshops and want to train more IGNITE volunteers to do TKP, and if you are interested in doing this, please let me know! We can train lots of you to be co-teachers in the TKP workshop model and spread around the fun of teaching girls Programming.
Cierra  McDonald is going to get trained and be the co-lead for the next TKP workshop on November 10th for girls from Cleveland High school. If you wish to get trained, its easy. There are training videos on the TKP website and Ashley will fill in the rest for you. Ashley started this work here with IGNITE and she just watched the videos to get trained! So all of you can do it too. Workshop dates are listed on the IGNITE website under IGNITE activities and also in the upcoming newsletter. Also, thank you for giving the girls such a great prize to take home, a thumb drive with all of the Microsoft basic lessons on it. They were so excited to go home and use it.
A big thank you to the mentors who attended to assist the girls while learning Microsoft Basic. Thank you to Cierra McDonald, Program Manager, Microsoft, Steph Berg, Software Development Engineer, Microsoft, Kelsey Schlarman, Developer, Microsoft and Amisha Agrawal, Program Manager, Microsoft. You all were right there to inspire, encourage and laugh with the girls throughout the day and it was wonderful to see. What great role models you all are.
All of the teachers and mentors did an IGNITE presentation at lunch and shared their stories with the girls. And the girls asked great questions, which lead to an awe inspiring discussion at lunchtime. Girls commented how much they loved hearing the women's stories, see more below. Then we had more hands on fun after lunch.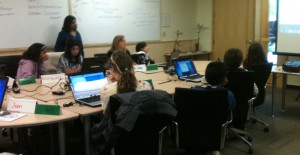 Now, I know you really want to read the comments from the girls evaluation forms. They are really tremendous. Ashley and Rick stayed after to read them and really were so deeply touched by the things the girls said about the day. Read the girls comments:
The survey forms have three questions at the beginning, and all of the girls checked "I learned a lot."
15 out of 17 girls said they were not considering a technical degree and now after this workshop would pursue a technical degree and two said they needed more information, Great statistics.
Now to the comments.
I loved EVERYTHING! Mostly programming software. Everything was super interesting. Everything was great. I can't think of anything to improve this day. I now want to go to XBoX and other gaming events and any IGNITE events that you have. 7th grade
I like how all of the people share their story about how they get into technical college. And I loved the quiz. Yay! 
Go IGNITE!!
I liked how we got to try to do the things ourselves because we got to experience it. I really learned a lot. I loved the Pizza! I thought it was really interesting getting to hear their stories and how they were so much like us when they were our age. I liked everything today. It was great. More field trips like this one. 7th grade
How all of the women start their major in technical class. (Interesting stories! I learned a lot! Thanks. I liked this just the way it is. If other IGNITE events are as interesting as this one I would like to go to all of them 8th grade
I loved learning about other people's stories and how they came into technology. I learned how they added technology into their majors. I want to hear more people's stories. let's go to Nintendo!!!!!!!!  8th grade
I liked how we learned about different ways to make the tortoise move, and how I heard the volunteers stories.
The most interesting thing that I heard today was about how even though you don't have to be good at math or science you can still do IGNITE, and be in technology. 7th grade
The pizza and learning more about how to be or get into Microsoft, knowing that you shouldn't let something you don't like get in the way. Also knowing you don't need to major in science and math to get a computer or engineering degree.  The stories of the volunteers, how they got involved at Microsoft. I want to learn more about computer gaming!!! and graphic design workshops. 8th grade
I really enjoyed meeting everyone and learning how to do different things. The most interesting thing I heard today was the part about everyone and how they got into the computer science industry. Everything was perfect, keep doing what you are doing. I thought this event was my favorite and I would come back again and again. 8th grade
The best part was learning there are a lot of choices for a job in doing game design, which I love. I did not know that so few women are involved in technology careers. I wish we had more time. I want to do more IGNITE events like this one. 6th grade
I liked the programming taught during this event. The most interesting thing today show few women have a technical degree. I would like to do all kinds of other IGNITE events. 7th grade
I loved the programming and learning how to use small basic. That math or science is not your favorite subject but you can still go on  with a computer science degree. This was amazing. More field trips, gaming companies 🙂 8th grade
I loved moving the turtle and eating the pizza. The most interesting thing was about the game programming. I would not add or change anything because this was really fun, more stuff like this  6th grade
I loved that we got to make a tortoise move faster than a human and how to speak in computer language or code.
I learned that we need more ladies in computers or game design. I want to do more field trips with IGNITE. 6th grade
I always really liked technology and I really liked making the turtle do all of those cool things. I want to do more of this, and learn more things we can do.
I liked the project with the tortoise and asking the people who were here questions. The most interesting thing I heard today was that a lot of them did even work with technology until college.  More IGNITE activities. 7th grade
I loved passing the quiz! Computers were interesting. More field trips to IGNITE. 6th grade
Making the turtle move. More field trips More turtle stuff 6th grade
The best thing was using computers and making them do the stuff for us!!
I loved that we got to use computers. I want to learn more about game design 8th grade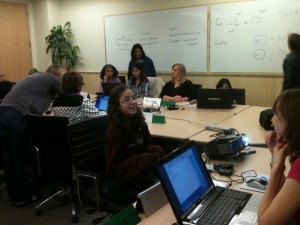 As you can see it was a very successful day. Here is to a wonderful IGNITE year ahead. It's a great way to start. Thank you all for making this day possible.
Cathi