Chinyelu Okafor was the Nigerian representative to the International Visitors Leadership Program (IVLP), funded by the US Department of State in 2009. Currently the MD/CEO of Hanniel Synergy, a flourishing public relations outfit, and the Publisher of Image Concept, she decided to go a step further to impact Nigerians with IGNITE, an acronym for Inspire Girls Now in Technology and Engineering. She spoke with EBERE AMEH.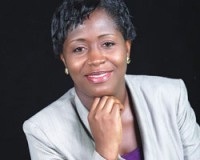 As an International Visitors Leadership Program (IVLP) alumna, Chinyelu Okafor was exposed to so much in her three week program in the United States that she needed more avenues to impact her experience to Nigerians than just a successful Public Relations practice.
Chichi, as she is fondly called, obtained her first degree in Political Science from Nnamdi Azikiwe University, Awka. Her love for education and search for knowledge led her to the University of Nigeria, Nsukka, where she did a postgraduate course in Marketing and a Masters in Business Management. She went further to do a professional course in Public Relations and is not only a certified public relations officer but a member of the Nigerian Institute of Public Relations, (NIPR), African Public Relations Association (APRA) and, the International Public Relations Association (IPRA).
She was later providentially chosen to represent Nigeria in a two-week intensive and prestigious women and entrepreneurship programme in the United States. There she met 22 other wonderful women from 22 other countries of the world, who have become like sisters to her.
Reacting on why she was chosen, she said, "I don't know. They found me. I know it is God's handwork."
When CTO, the commercial arm of the US embassy was there, Chichi said she used to handle their events – the cocktails and others at the Consular General's residence. "There we met a lot of people but I remember one who asked a lot of questions and I didn't know I was being interviewed. That experience taught me that whatever you do, do it well and wherever you are, be polite, honest and humble, because you don't know who is looking at you. So they nominated me."
Far from ending there, Chichi and a host of others nominated to represent Nigeria began a rigorous exercise of filling forms and undergoing interviews among others. Their names and profiles had to go to Abuja and then Washington, before she was eventually chosen to represent Nigeria in the Women and Entrepreneurship Programme.
IVLP is a professional exchange programme funded by the US Department of State, Office of International Visitors in the Bureau of Educational and Cultural Affairs. The goal of the programme is to link the foreign leaders with their US counterparts, providing a solid professional experience and an in-depth, substantive exploration of key issues and diverse, balanced approaches to these issues. It also aims at enabling the visitors to gain a better understanding of the history and heritage of the US, a better sense of who Americans are, and as a people, what they value.
The life transforming nature of the programme is attested to by the calibre of their alumni who went as ordinary everyday people but ended up becoming great men and women. Among the alumni are Margaret Thatcher and Tony Blair, both former Prime Ministers of Britain; Richard Mofe Damijo (Aka RMD), Femi Falana, the fiery human rights lawyer, Sony Irabor, John Momoh of Channels TV and a host of others. IVLP has been there for years and makes a remarkable impact in all her alumni.
With a tint of nostalgia, Chichi described her experience at the IVLP. "It wasn't fun, it was vigorous. We woke up early in the morning and we had a lot of meetings. We met women in business in America and we were exposed to have a feel of what the women are doing to support the economy of the US. They shared how they started, their challenges, experiences and how we can impact our people. We travelled to so many places and we met so many people. We also had home hospitality, where families took us in for dinner or lunch so we could understand the culture of the American people. This is not what you experience when you go on vacation. It was three weeks but life changing."
Though the whole package was exceptional, in spite of everything, Chichi picked one major thing from the lives of the Americans – volunteerism. "One thing I picked from there which we don't have in Nigeria is volunteerism. This is still part of the challenge I have, running IGNITE Nigeria. Most people I call ask me 'what do I get from it.' I also learnt humility and to give without expecting anything in return."
She caught her vision of IGNITE from Cathi Rodgveller, one of the great women that was on hand to inspire them.
"I met so many women in America but the one that influenced me and gave me the vision for IGNITE is Cathi." Cathi is the founder of IGNITE worldwide, who she met in Seattle, Washington. Cathi made a presentation on how America had a problem of young girls not going in for sciences and Technology and how she changed the trend with IGNITE. IGNITE has been on for more than 10 years there and Cathi has not only done excellently well, but has been co-opted to work in the education board in Seattle to do more."
Describing the birth of IGNITE Nigeria, Chichi said she didn't have any idea that she was going to start IGNITE, when she met Cathi. "I knew that I used to grow angry watching TV in Nigeria. Back in the days, children watched TV from 4pm to 7pm. Then there was no Cable or DSTV, and from 4 to 7pm, we watched so many interesting programmes like Sesame Street, Junior Debate and many others, which we learnt so much from. Now children don't have that privilege. I wonder why a TV station will show Sound City, or MTV base at 4pm? That time, especially when children are on holidays, should be for them. When I came back from the US, the thought came in again and I said no, I can make a difference and that was how IGNITE was born in Nigeria.
IGNITE Nigeria was launched on the June 10, 2010 at the Public Affairs Section of the US Consulate. The US Embassy always keeps track of all their alumni to see what they are doing and how they are impacting the people with what they learnt from the US.
"When I told them I wanted to start IGNITE, they were delighted and offered to give me their hall free of charge and have been very supportive since then. So far, we have inspired over 200 girls coming to our programme in over 20 schools. It was also launched In Katsina State last month."
IGNITE, which means Inspiring Girls Now In Technology and Engineering, aims to encourage girls to excel in Mathematics, Technology and the Sciences. "Bearing in mind that the world is now a global village and technology is the in thing, we want to have a place in the new world order," Chichi explained.
IGNITE has six goals: to create awareness that girls can have a successful career in science and technology; that women can have a successful technology career and still build their family; that technology and engineering can be fun and not for nerds; to build role model and mentors for teenage girls; increase the number of girls in science classes; and to change the idea that technology and engineering careers are for boys.
On their modus operandi, Chichi explained they have series of programmes all geared towards setting the girls on fire for science and technology. "We bring in women who have made it in different areas of technology and engineering to inspire the girls. We do it through conferences; job shadows, where the girls are attached with the women to work for a day; internships, which we do during the summer holidays and lasts for one month; and field trips to companies."
In her continued attempt to adapt the initiative to fit the Nigerian context, Chichi has established IGNITE clubs in schools and is planning a science competition next year.
IGNITE does not stop with the girls. "We also deal with the parents, the teachers and the schools. They all play significant roles in the lives of the girls."
Sharing her challenges, Chichi noted that lack of funds and the bureaucratic bottlenecks in some schools have been her major challenges. "We are still looking for companies that would sponsor our events and possibly offer the girls scholarships. I have been funding IGNITE majorly, from my pocket. It's also been a challenge going to some schools because the bureaucracy is something else. It becomes intolerable when you have invited your speakers, done catering for the children, painstakingly put everything together and be turned down."
Chichi's desire is to ignite the whole country. "Our plan and dream is a situation where the mentees would come back and mentor the next generation. We are not forgetting the rural dwellers and so we are ready to go to any state where the government and the people invite us to inspire girls."
She decried the poor standard of education in the country but insists that it starts from the home. Remembering how her father used to buy books, which helped her develop a reading culture, she maintains that we shouldn't heap all the blame on the government. "If the parents encouraged their children to read, we won't be where we are today. We watch a lot of video and TV and now everybody want to be the most beautiful girl in Nigeria and nobody is thinking about reading and sciences. We have to retrace our steps before we complain. It should be a collective effort and the parents, schools and the government should be involved. That is the only way we can move on."
Author of this article: EBERE AMEH