On Thursday, March 21st, IGNITE hosted 26 girls from Broadview Thomson Middle School at Microsoft, to participate in a Teaching Kids Programming (TKP) event. Ashley Myers. Leader and Coordinator for Teaching Kids Programming here in the Northwest, was our leader for the day. She was supported by Cathy Sullivan, Program Manager at Microsoft, who did a fantastic job co-leading the workshop. The duo taught the girls how to use the Small Basic programming language.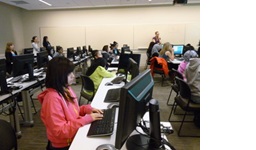 Ashley was a Software Tester at Microsoft and chose to leave her testing career to become a teacher. She is now the Web Design and Computer Science Teacher at Roosevelt High School. Ashley is energetic and always willing to help. They both provided great leadership and instruction throughout the day! Thanks Ashley and Cathy!
Another team of IGNITE rock stars who helped make yesterday so fun are the staff from Broadview Thomson. Christy Harris, a Career and Technical Education Teacher at Broadview and Melissa McCullough, a counselor at Broadview joined us for the event. The ladies organized the day for the students, and were truly excited in participating and cheering the girls on. Christy, the new technology teacher at Broadview Thomson is a star, and a wonderful new IGNITE teacher. Thank you for all your work with IGNITE and for your students!
We had a great range of experience levels in the room on Thursday. Some girls have been in IGNITE for many years, and have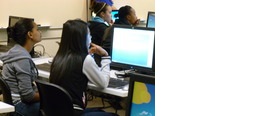 developed more advanced programming abilities. Others were at their very first IGNITE event and learning about coding on the spot! The Teaching Kids Programming lesson was tailored to match everyone's level, and the girls had a great time experimenting with Small Basic. It was amazing to see the groups move around the room, sharing their work with one another, and helping each think of new things to try. It was creativity and collaboration at its finest!
Several Broadview Thomson girls have their sights set on careers in high tech fields. There was a great question and answer session over lunch, where girls asked Microsoft volunteers how they were able to get the jobs they have, what high school and college classes would be best to take and many more. Many of the girls were surprised by the high demand for women in technology and the great salaries they could make right out of high school. Toward the end of lunch we had a surprise impromptu visit by a group of international Microsoft representatives from all around the world. They thoroughly enjoyed the girls and talked with them about the excitement of having a global career where you could have many opportunities for travel and seeing foreign countries.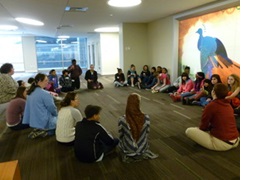 There was a great deal of interest around the many internship and apprenticeship opportunities popping up for girls interested in technology. This summer, Microsoft is offering 8-10 week long internships for girls who want to know more about the ins and outs of working for Microsoft. There is also a 3 day Boot Camp for girls to learn more about tech life and programming. Microsoft also has apprenticeships available where girls will not only learn about working in technology, but will also get a crash course in resume writing, and interview skills. Check out their website for a full list and details!
An enormous thank you goes out to the professionals who took time out of their busy days to help the girls through the workshop, and answer many good questions about their careers and lives! We are perpetually indebted to you, and admire your desire and ability to empower young women to be happy and successful! Thank you to Kathleen Molosky, Malini Jagannadhan, Karen Albrecht, Radhika Tadinada, and Cathy Sullivan, all Program Managers at Microsoft. Also to Steph Burg, a Lead Developer at Microsoft who lead the lunch Q&A session. We love working with all of you, and the girls truly appreciated your contributions and support throughout the day. Thank you!
At the end of the afternoon we closed the day at the Microsoft Visitor center where the girls were able to test out the latest and greatest products released from Microsoft! What a fun and exciting day! Thank you Broadview Thomson and everyone involved!
Here are the comments from the girls' evaluation sheets:
The most interesting thing I heard today was which jobs you can do in technology!
I love this place, it's beautiful!!!
It doesn't matter if you take a different college degree, you can still work in engineering.
Some people have worked at Microsoft 20 years or more.
I liked it best when we got to type and look up. A good word to put in the sentence.
I like it best when we were on the computer and we were working with partners.
You win a lot if you're a woman getting into technology.
I liked talking and asking questions to the people.
I loved learning how to use small basic and I thought it was awesome.
I never knew about small basic, I want to do this all day!
I loved making the code on the computers and the computers are the first touch-screen computers I have seen.
It was interesting how there were short-cuts to make code.
I liked doing creative things with the tortoise.
I liked hearing about the website, summer plans and salaries in technology.
I like being creative the best!!
I really love learning about the wonderful ladies and their jobs and that they say that technology is great!
I love this PROGRAM!!!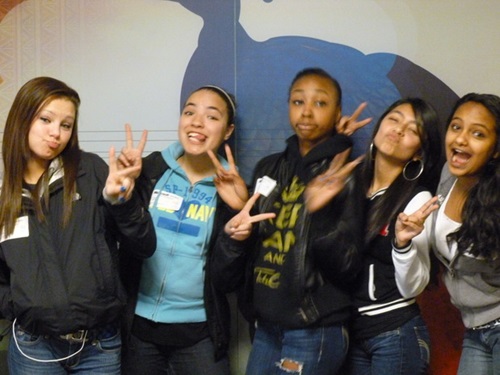 There is a specific code for every move the tortoise makes.
The best thing about today was all of it!!
That you can use the Running Start program to get started in high school.
I liked the circle and how we got to learn about the jobs and playing with the computers.
I learned how much it takes to graduate and how fun it is.
I liked that we get to learn more about technical things and the jobs.
A lot of women who are technical didn't have the choice we have today.
Microsoft has a lot of jobs in it.
I loved the visitors center!
I liked everything about the day!
Well everything was interesting for me….
I liked the Greek food and I thought it was interesting that some companies will pay for your college.
I liked the different designs we did best.
I liked how we made the tortoise move however we'd like!
I liked making the tortoise do different things and playing wit it on the computer.
The people in tech get $80,000 a year!! 🙂
I liked typing the code and creating the tortoise.
I liked having free to time with the tortoise, and the demonstrations about how to make it do different things.
Thank you all for a great event, and for your dedication to IGNITE!
Cathi Rodgveller M.S. Ed.
View the Broadview Thomson K-8 Chapter Page