Success!!!!
IGNITE Event-Bethel School District
On March 27, 2013 the Career and Tech Ed department in the Bethel School District hosted 40 students from three of their high schools for another successful IGNITE Luncheon. These young ladies were invited by our career specialists building on their interest in engineering. Five dynamic presenters empowered these young women to "believe and achieve". A little bit about our presenters;
Raelene Sanders from Microsoft: Raelene started at Microsoft as a Network Engineer, became a Project Manager, and is now a planner and manager of Venture Integrations for the company. She is also involved in IGNITE, and sponsors educational visits to the Microsoft campus.
Danette Hilton from Intel: Danette has worked at Intel for the past 14 years and has a Master's Degree in Engineering Management. Danette is a member of the Society of Women Engineers and volunteers her time to help young women reach their goal to become engineers.
Commander Trish Beckman: Commander Beckman is US Navy Retired. She currently flies for Boeing Test and Evaluation. She is FAA certified as an Aircraft Dispatcher and Flight Navigator. She volunteers with several organizations to encourage girls to pursue career in Math and Science.
Stacey Black from Boeing Employees Credit Union: Stacey is the Financial Education Manager for BECU and spends most of her days working with Educators and students in high school classrooms. Stacy's seminar helps to prepare young people to become financially responsible adults. After all these young ladies will need all the help they can get when they are trying to figure out what to do with all the money they are going to make as engineers right?
Robotics Teams: The ladies from Bethel, Spanaway Lake, and Graham Kapowsin High School Robotics teams, shared their knowledge and enthusiasm as they were preparing for the Robotics Competition the next day in Seattle. There are several girls on our high school Robotics teams and they were quite convincing in encouraging their peers to join the teams.
The students attending this event made comments like….. "Information was very relevant", "Great Speakers, very inspiring!", "Mindblowing", "There are opportunities for woman everywhere!", "Pilots are cool and can be girls"! "Use technology to your advantage". "I did not know that there were so many scholarship opportunities through IGNITE and Engineering"!
The event was also attended and supported by our District Assistant Superintendents; Ann Varkados and Jennifer Bethman, and Assistant CTE Director, Diane Carver. A special Thank you to our Districts Career Specialists and Counseling staff! Spring meetings have been planned with the help of Raelene Sanders and our Career Specialists to assist students with; How to Build an Amazing Resume, Interview like a Pro, Dress for Success, and be how to be competitive when applying for Internships.
A BIG THANK YOU TO ALL THE PRESENTERS!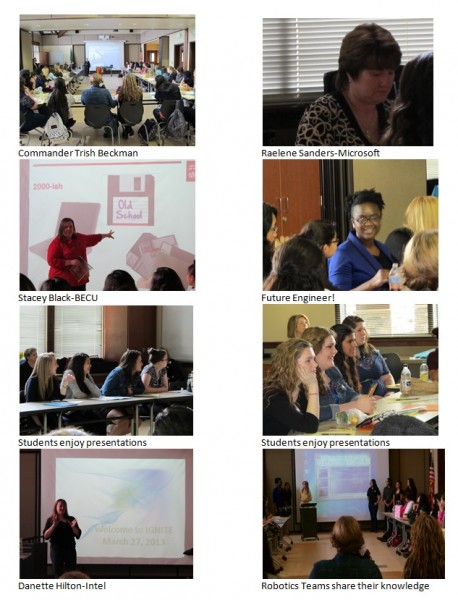 View the Bethel High School Chapter Page