On May 14th IGNITE and Microsoft hosted 32 young women from Franklin and Roosevelt High School. The group had an exciting day of tours and presentations. Half of the girls were taken to Xbox to see the creation of the games in action. The second group had an amazing tour of the Envisioning Center. The two groups came together after the tours for a tasty lunch and Panel Presentation.
Following is a recap with some great photos and feedback from our students who attended. We also want to recognize all of the participants from the school district and Microsoft that made this event possible. We hope you enjoy the information below and if you would like to see the events live in action, be sure to follow IGNITE Worldwide on Twitter and Facebook.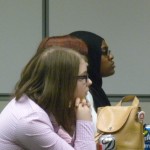 IGNITE was excited to have one group of the student visit one of the Xbox team at Microsoft. In our years of field trips and presentations, this was our third tour of Xbox, and each time the girls have looked forward to this rare opportunity. The girls were so excited to have the opportunity to see Studio D where the Xbox developers and testers work. They were able to view first hand what goes into the production of the games, focusing time on research and where the idea generation begins. There was a great deal of questions, curiosity, and discussions all around.
The Envisioning Lab, as always, was exciting for the students. The girls enjoyed the demonstrations of the amazing innovation that Microsoft is famous for. The tour entertained the entire group by sharing ways in which family members from miles away could engage with you in your own living room or by whipping up a new and interesting dish in the kitchen with guidance from world renowned chefs.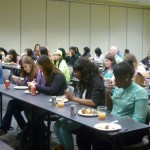 Following our tours, the girls were treated to a lunch and Panel Presentation with six women professionals from Microsoft. This was a great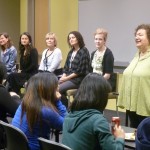 time for the women to share their stories, backgrounds, career accomplishments and aspirations. Each story was unique and was met with interest from the girls who were excited to ask many questions. A great deal of the students were interested in pursuing technology careers and wanted to learn firsthand how to overcome challenges in the workplace, how to best approach college to prep for the right career, and what opportunities were there for internships and additional learning now.
Our thanks go out to the panel participants from Microsoft that willingly volunteer their time to share their story and the passion that they have for technology and their appreciation for the work they are able to do at Microsoft; Mary Alice Colvin – Program Manager, Esin Saka – Researcher, Patricia Wagner – Technical Editor, Vanina Mangano – PM Lead, Saummya Kaushal – Program Manager, Cheryl Platz – Senior UX Designer.  For most of these women, this was not the first IGNITE event. Many of them have supported events throughout this school year and many previous years, so we would like to recognize their continued commitment. Thank you all so much for your contribution and for all you do!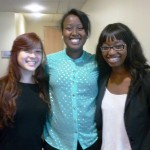 A huge thank you goes out to Julie O'Brien, the mathematics teacher at Franklin. Julie has contributed so much to the IGNITE program with her support of the events and the students. The program could not be its' best without the great efforts of staff like Julie. We were also thrilled to have Karl Ruff, the Project Lead the Way teacher from Roosevelt High School. Karl is an invaluable member of the IGNITE team with his support and commitment to our program. We are very thankful to have both of them with Seattle Public Schools.
And last, but certainly not least, IGNITE would like to thank three women who work tirelessly, volunteering their time, providing tremendous support and all of the event coordination for our events on campus at Microsoft. Manisha Patel, Aparna Vishwanathan, and Claire O'Donnell – IGNITE would not be where it is today, reaching out to hundreds of girls each year, without your dedication and contributions.
Our sincere appreciation goes out to all of you for the commitments you support every day in the work you do with these students!
Below are highlights from the girls' evaluation sheets:
What I liked best was getting to know how  Microsoft develops games like Xbox and being able to see them.
Most interesting was learning about jobs in technology!
I liked learning how Xbox works and get feedback from customers.
I like how you have all ages and genders that target technology.
I think it was interesting when the panelists told us that letting go is a great part of moving forward.
Do many different things to study that can lead to jobs in the tech industry
The most interesting thing I heard was how in the future we might have quiet technology. I really liked the tour of the Microsoft house of the future.
I loved the tour of the Microsoft exhibit. It was amazing and eye-opening to what technology could be.
I found it interesting that there is barely any women working at Microsoft.
I would have loved to hear more!!
The thing I liked the best about today was when we got to play the racing game in the Xbox testing lab.
I liked everyone's story about how they ended up where they are and how and what motivated them.
No one's journey is the same
I liked it best that we had hands-on experience and were able to play games and see how it worked to be a tester there.
I liked how we got to go to the technology room to see the future of technology.
Interesting to learn about obstacles and how they went through them.
I liked learning about the variety of jobs found withing technology. It was nice to hear from other women within the industry.
I don't have to force myself in technology or force myself to do coding. There are a number of jobs in the tech world I can do.
I enjoyed learning more about the future of technology in the Envisioning Center.
I liked to hear about how to take a course an achieve something from it before deciding whether you like it or not.
The tour through the envisioning center was the best.
I liked hearing different perspectives and about the different possible jobs.
The best part about today's event was the career presentations!!
There's so much to do in technology!
I liked how the ladies were taking their time answering the questions we had.
I liked when we got to play one of the video games and when we got to see how to test it.
I got to experience the life of an Xbox tester!
I got to play with the Xbox.
I didn't realize Microsoft does research on all age ranges.
I liked to hear about all the obstacles the women went through and how they got to where they are now.
The exhibit and lecture were the best.
Although technology is such a male dominated field, women need to be more forward and find other ways to be able to succeed.
You can apply your passion to your technical degree.
Thank you all for the great events, and for your dedication to IGNITE!
View Franklin High School Chapter Page
View Roosevelt High School Chapter Page