Date: 24th October 2013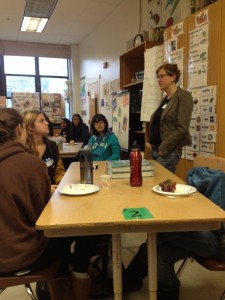 I wanted to share with everyone that we had a fabulous turnout for our first Ignite event in San Francisco at Mission High School on October 24th! 30 girls attended with great questions. We broke into small groups so the girls could talk more intimately with our women volunteers.

Thank you to our speakers Avery (software engineer at educational startup), Soo (data analytics at Facebook), Kate (founder of a biomedical startup), Robin (game designer and producer), Laura (structural engineer) as well as Becky Fulop (science teacher and our host at Mission High). Other teachers as well as the principal stopped by to see the first event in action. It's great to know that we have support throughout the school.
Here are some of the highlights from the girls:
·
I really like learning what people do in life because I could grow up and take their footsteps.
·
Kate's presentation. It was beyond cool. I wonder if they have internships or something like that. I'm happy I came over today.
·
The most exciting thing to me today was learning about all the different types of jobs there are and even though women aren't in that many technical jobs, more and more are going in every day.
·
I love seeing how women can thrive in these fields. It gives me hope (and hopefully an internship).
·
Something I loved was that they all had different jobs. It was great listening to what they do and how they got there.
·
Today the most exciting thing was to learn all about these things that women get to be.
·
Most exciting about today's panel was exploring and hearing about new fields that I never thought of.
We've already got our next two events scheduled and are hoping for a similar turnout and energy! November and December panelists, please keep an eye out for further details, coming soon.