May 7, 2014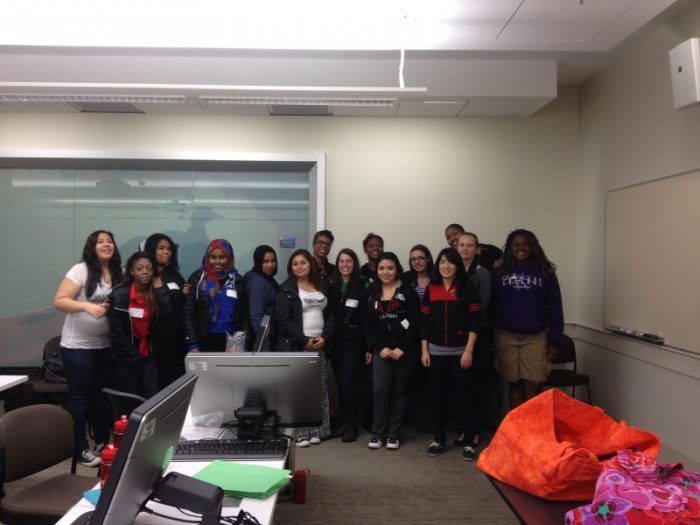 Date: April 24, 2014
HI All,
We had such a wonderful event for the young ladies at South Lake HS.
They came to Microsoft for a Teaching Kids Programming event, where they learned how to code! The girls had such a fantastic day. We first had the class, then a great lunch. After lunch we had a panel of volunteers share their story of how they got into their careers and the girls asked thoughtful questions. We also got to visit the Microsoft Visitors center where the students get to play games and try all of the new software that Microsoft creates.
A big thank you to our wonderful Microsoft/IGNITE volunteer coordinator Aparna Vishwanathan, who makes sure every single thing is perfect for us, that we have volunteers, that the food is great, that we have a lab and anything else you can think of! Thank you Aparna for all you do.
Also thank you to Manisha Patel, IGNITE board secretary who came to make sure this event was all set and that we had everything we needed. Thank you for your caring and support for everything we do.
I want to thank the amazing TKP teachers who spent time to get trained to teach this curriculum and also make time out of their busy day to come and teach it,
Thank you to Steph Burg, and Emily Greenberg, for your awesome ability to make this accessible to all and every student we bring.
Also thank you to all of the volunteers who show up that are there to rush to a students side as soon as she raises her hand. The girls have so much support, that its so easy for them to suceed.Thank you to all who mentored girls for this event, Jovana Taylor, Software Tester,  Heather Nakama, Developer, Soundarya Ramakrishnan, Program Manager, Arthur Bailey, PR Manager, and Cierra McDonald, Xbox Developer.
You were all so great with the girls. You inspired them and made them think. You answered their questions with such care, and we are so fortunate to have you in IGNITE.
Thank you to Vice-Principal of South Lake HS, Makela Stewart, who is an inspiration to us all. She studied computer science in college but decided to devote her life to students.   She is amazing and awesome. Thank you to Michelle Green, GRADS teacher at South Lake which is the teen mom program. Michelle has been so committed to making sure all of her young ladies participate in IGNITE and have these opportunities. Thank you Michelle for being such a wonderful IGNITE leader.
Also a shout out to the CTE ( Career and Technical Education Manager in Seattle Schools for attending and supporting this event and all of the IGNITE events we do.
Thank you to Mary Davison!
Here are the comments from the girls survey sheets:
I liked how the guest speakers shared their stories, they were great. I liked that everyone had a journey to share, grade 9
I liked that I learned that Microsoft pays for people to go to college and supports them to improve. I really enjoyed hearing the woman from Australia and how proud she was of her sister who had a baby and still finsihed school. Grade 10
I liked the part where the speakers came up to tell us thier life story. It was very motiviating. Also, I learned that you can make games by programming a computer. Grade 10
I liked that I learned how to make things on the computer with a code. I learned how people paid for school. Grade 10
I liked hearing Arthur's story, it was very inspiring. And I learned how to make a game learning how to code. Grade 10
I really enjoyed hearing their stories about how they got their jobs at Microsoft.
I learned that its important to have a plan. Even if there are obstacles in the way. Grade 11
I liked how she was teaching us about how Xbox works and how to program things. Xbox is my favorite thing. We learned about today. And I really liked learning to program too. And the food grade 9
The best part was learning how to write codes, and the stories of Microsoft workers.
It was interesting to hear that the speakers had no prior knowledge about coding and moved up the company so fast.
The stories of the ladies were so inspiring. Also learning how to code. I learned about how great this career field is and how much they pay. Grade 12
I liked doing the programming, I also liked hearing people's stories. Inspirational.
I also learned how Microsoft works and how great it is to get an intern opportunity and that they get hired. Grade 10
What I liked best was the coding exercise in the beginning and the panel discussion. It was interesting to hear the changes in technology over the years and what types of jobs are available.
I liked how there was multiple speakers and how the people came around to help.
It was so interesting learning how to code.  Grade 12
The best part was being involved and hands on with programming and learning to try making different things. I learned how many kinds of jobs that Microsoft has. Grade 10
Thank you everyone for making this day so great.
Cathi
View the South Lake High School Chapter page