May 1, 2015
HI All!
We had a fantastic day at Microsoft!
Forty young ladies enjoyed tours at Xbox and the Envisioning Lab.
Then we had lunch and a fabulous panel of Microsoft women to talk to girls about their careers and journey to the present day.
---
There are always so many to thank, because it takes a lot of hands to make this day so inspirational and significant for young women.
First, thank you to Aparna Vishawanathan who is our IGNITE/Microsoft Volunteer Coordinator. She han dles all of the many details it takes to make this day happen.
From getting volunteers, food, rooms, and all of the many things that add up to a magnificent experience. Thank you Aparna for making this all look so easy.
We are all so grateful to you for the many hours of service.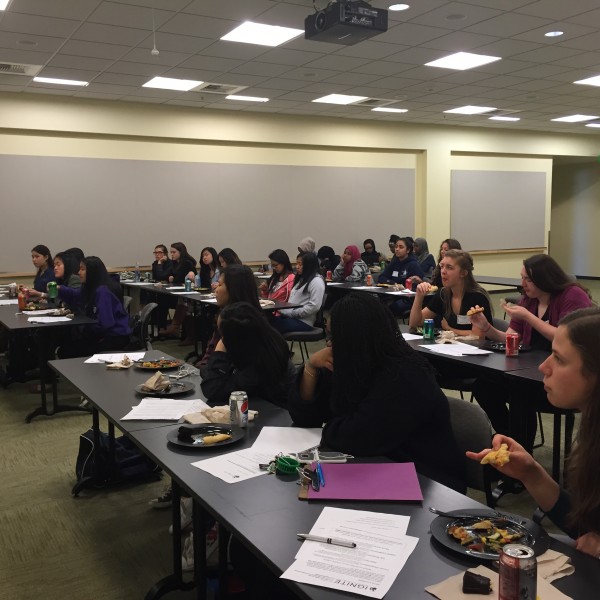 Thank you to the tour guides from Xbox and the Envisioning Center who made these tours magical for the girls. I talked to the girls after the tours and the girls were so amazed and enthralled by all they saw. It is life changing for girls to see all that these careers can do. Thank you to Heidi Shelley, User Experience Designer, Janae Gerand, User Researcher, Tracey Sellar Fuller, Femila Anilkumar,  Ann Vu, Envisioning Center Host, and Laura Riley.
Thank you to the wonderful, amazing women on the lunch panel.
Your passion in talking to the girls was obvious and that is how the girls start to open up. Because they see how much you care and how much you want to inspire, and encourage them to consider careers in STEM.
Thank you to Kylie Hurd, Program Manager, Anya Stitz, Product Manager, Rebecca Goehner, Strategy Project Manager, Heidi Shelley, User Experience Designer, and Janae Gerand, User Researcher. We cannot thank you enough for your time and caring in your uplifting and moving presentation with the girls.
Thank you to the amazing teachers who work so hard each and everyday to inspire girls. Thank you to Julie O'Brien, IGNITE teacher at Franklin HS, Royce Badley, CTE Director, Highline Public Schools, Cindy Akana, Technology teacher, Mt Rainer High School. And so many people in Highline School District who work tirelessly behind the scenes so girls get there kinds of opportunities.
Julie Burr, Michelle Thomassian, Genova Hauser, Pamela Minkler.
---
Here are the comments from the girls survey forms:
I liked the advice all of the women gave us. Such as how interviews go, who they became later on, college and more. I also really loved the Envisioning Center. The most interesting thing I heard today was the different backgrounds from all of the women.
The best part for me was getting to know how different parts of gaming and technology comes together. Knowing another persons perspective on their journey that already went down the path that I want to go through. I see how much there is that goes into a game, so much coordination to do a simple game. I learned a lot. Grade 9
My favorite part was the panel. I enjoyed hearing real stories from real women about their jobs and how they got there. It inspires me to pursue technology. I found it interesting that there are a wide range of degrees and level of education that have job opportunities at Microsoft. Grade 9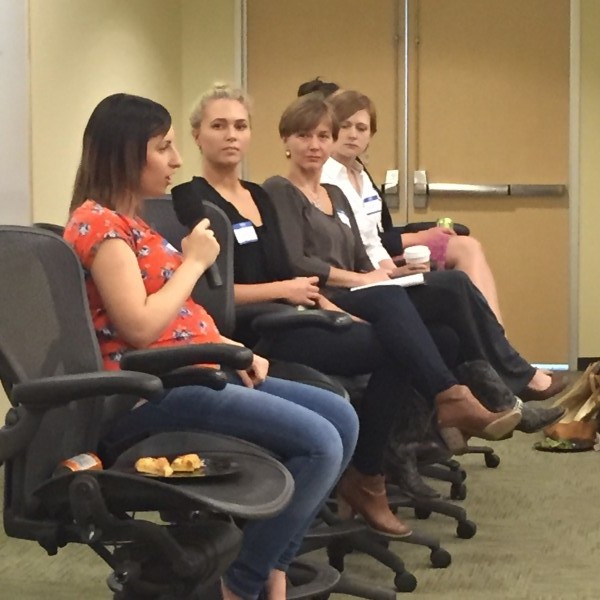 I loved learning about all of the different things you can do at Microsoft. And learning about these women who started off so differently. I learned that 4 years of college can be enough for anyone to work here at Microsoft or any tech career. Grade 9
See the different facilities at Microsoft was really fun and I learned a lot and women are really needed in the tech industry. Grade 9
I loved how we got to ask questions. I learned that you should never give us on something or yourself.  Grade 9
I liked learning about all of the different jobs at Microsoft and in the tech field. Grade 10
I liked hearing about all of the different advice the speakers gave us. And hearing about how they got to Microsoft was great. Today I learned that I can be good at all different things and be in the tech industry. Grade 10
It was great to see the exhibit at the Envisioning Center. Knowing how technology will get in a few years. Learning about the different paths to jobs today. I learned
Always keep looking
Find what you enjoy
Focus on what you love
School is not an obstacle but an opportunity
Grade 9
I liked how they incorporated technology into people's everyday lifestyle. I also really liked how all of the women in the panels talked about their childhood and how they got to where they are now.
The most interesting thing I learned was technology is being developed so that people can be comfortable while using it. Also, when Danae talked about now she found power and happiness in something she loves to do, instead of focusing on the money and what people think. Take diverse classes in high school and take as many math classes as possible. Grade 9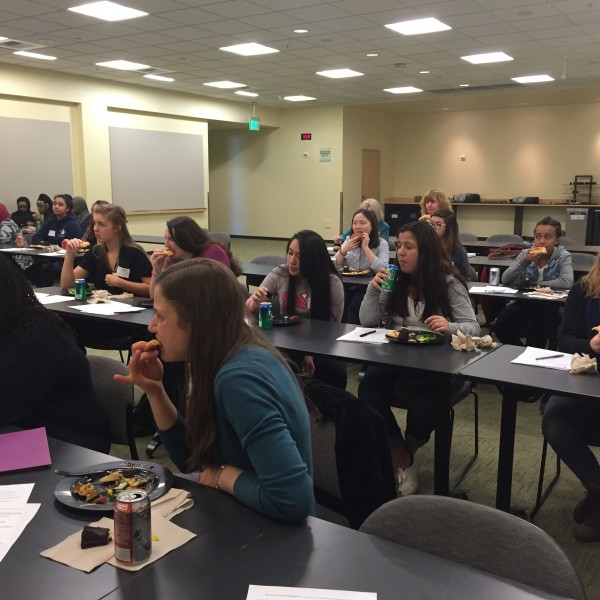 I really enjoyed the Envisioning Center and how we got the opportunity to see what potential technology can be launched and what would be acccessbile later on. It's also great opportunity to be able to even have a tour because not everyone has that chance. The most interesting thing I've heard today was that it's better to take as many classes in high school as you can to explore which you like and find interests, because when you go to college you have to pay for your choices. Grade 9
I really loved the Envisioning Center. I loved seeing the future home with all of the technology. Getting to see it was fun. I felt special being able to see it. The most interesting thing I heard today is how you can watch a cooking video in the kitchen and it will go with your pace. That's something that I would want and be able to use. Grade 9
Seeing how the future is going to change a lot in the tech world. Chase your dream no matter what comes your way. Grade 10
I loved the Envisioning Center. Learning about the new technologies that are going to be coming out in the future. Internships sound like fun, its not just getting coffee for your manager or something like that. Grade 10
I liked the best about the tour we had in the Envisioning Center. I also liked the panel of women. I got to learn about the different backgrounds each woman had to get to their position. I thought it was very interesting that Rebecca had a medical degree and that degree can be useful at Microsoft.
Grade 9
The ladies are very helpful and nice. To have a good job and be able to help your family is everything. It's less stressful then no money and work 2-3 jobs. I learned that there is no right way to reach your goal, just do not give up. Grade 9
I liked the Envisioning Center. It was very interesting to see how technology will be in just a few short years. The most interesting thing I heard was the ladies talking at lunch. I never thought that people who have such different backgrounds came to Microsoft. It shows how diverse the company is. Grade 11
I loved seeing the Envisioning Center. It was amazing to see how technology would impact our lives. It seems as if everywhere you look technology is right there. I also had a lot of fun listening to the women's advice and stories.
The most interesting thing I heard today were the experiences people went through to get to Microsoft. They went through a lot of school and hard work and I have a long way to go to reach my goal, but I found out its worth it. Grade 9
The best part for me was the questions and answers part at lunch. I found out that its important to face your fears and be different from other people. Don't be afraid to speak your mind and be creative. BE CONFIDENT. Grade 9
I enjoyed learning about all the different fields they have to offer at Microsoft. There is no right path, there are a lot of different ways to get a tech job or work at Microsoft.
I loved everything actually. I learned that education is the key and try new things. Grade 9
It was awesome to explore the Microsoft campus, seeing things people do here. Learning about people's experiences, seeing the rooms games are tested. Grade 9
I enjoyed learning about the Xbox projects. It was interesting how much goes into game making process. I found it interesting that making games is more than coding and software, its also art and psychology. Grade 9
I liked learning about the different technology options for design, coding etc. I thought it was interesting about how people's hours can vary, and how you can chose to sleep in, as long as your projects are done. Grade 9
I loved finding out about Xbox and all of the opportunities there are for women in technology. I learned a lot about the amount of research that goes into games. Grade 9
Thank you all for making this day so special.
Cathi
View the Franklin IGNITE Chapter page
View the Mount Rainier IGNITE Chapter page