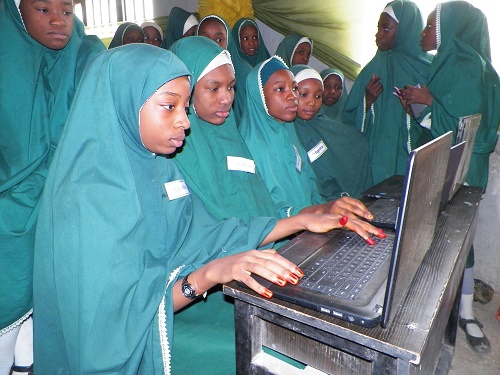 The event started at about 10:30am in the students' examination hall of the host school (Mariamoh Ajiri). Though the hall was small compared with the number of IGNITE Students in attendance, we were able to manage the crowd.
The new IGNITE Flag made by the school IGNITE club was mounted. Students, coordinators and invited guests, all stood to recite   / read the National Anthem & the IGNITE Anthem / Poem. The event proper started at exactly 10:45am as the audience was seated to listen to Edith, the Principal of the host School direct / minister of  the event.
The event included the IGNITE Club members from the immediate communities schools. The proprietor of the host School, Hajia Fauziat T. Raji, the schools Principals, and other schools IGNITE Club coordinators were also here to witness the EVENT that lasted for four hours.
The IGNITE Katsina matron and patron, Mrs. Muhybat T. Abdulsalam (Consumers Education Officer) and Mr, Moshood (an IT Consultant) respectively, led by Abdulraheem, the IGNITE Katsina manager happily received the lead presenter, Binta Hamisu Tafashiya, a lecturer at the Department of Mathematics & Statistics, College of Science and Technology, Hassan Usman Katsina Polytechnic, Katsina.
Binta presented papers on "Why Should Young Girls Participate More in Science, Technology, Engineering and Mathematics (STEM)" Read Binta's paper here.
The event started with the IGNITE Katsina members (Girls) reading IGNITE Anthem/ Poem, as constructed by Abdulraheem:
IGNITE POEM!
WE ARE GIRLS LOOKING UNTO YOU
NATURE HAS BESTOWED MUCH ON YOU
RISE UP TO YOUR RESPONSIBILITY
OBSTACLES ABOUND EVERYWHERE
SHARE US YOUR PERSONAL STORIES
INSPIRE US TO SPARK OUR CURIOSITY
YOU ARE OUR PATH TO BECOMING AN EXPERT ON THE FIELD OF STEM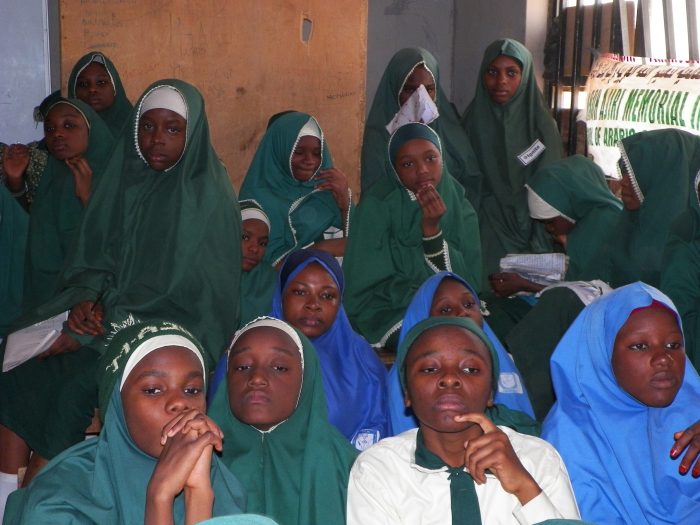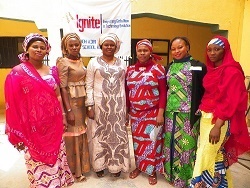 Abdulraheem gave the opening remarks. The presenter gave her talk, the student asked questions and were all interviewed on how IGNITE has contributed to their studies. The proprietor of the school gave a few words of counseling to the girls. IGNITE Club coordinators each spoke out. More schools in Katsina voted to have IGNITE as a club in their schools and Abdulraheem assured them that the IGNITE program would be inaugurated in their schools soon. It all ended with a talk from the school IGNITE Club president, a presentation from the Matron and group pictures.
---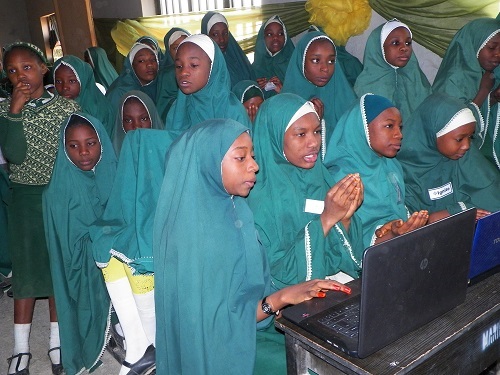 The last part of the workshop was equally interesting, the girls made it all as they contribute immensely. I quote their words, and I know you will all like it. Hear what the IGNITE Katsina School Club students say:
"I used to considered all the courses in STEM field as men affairs. I now know that what man can do, a woman can do better. As a girl and a woman to be, I would do more better. IGNITE connects me with women experts and I know more" = FIRDAUS IBRAHIM MUHEEB (SS1 Class)
"I know that with big interest in Mathematics I can grow to be rewarded with STEM Career". = FATIMA ABBAS (SS3 Class)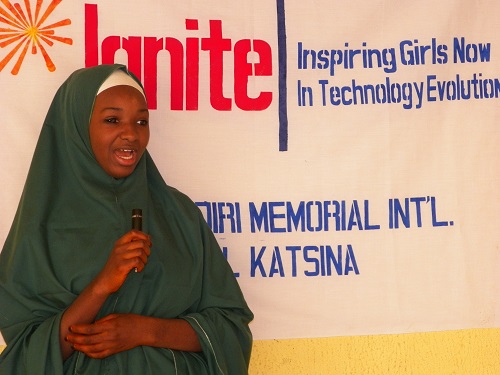 "Choosing a career in STEM field is a helping profession that build communities and transform nations. I am happy to be in IGNITE Program" = HAUWA SANI (JSS2 Class)
 "That STEM Courses need to be taught by engaged and enthusiastic teachers using hands-on and minds-on activities: makes STEM teachers to be noble. I like my teachers because they teach me well" = HINDATU USMAN (SS2 Class)
"At the end of the career talk, I learn differentiation between small circles and great circles, an aspect of mathematics. Binta is a good STEM expert, IGNITE program like this inspired me" = FAVOUR EUGENE (SS2 Class)
"With my love for mathematics; and if mathematics is a logical language for expressing ideas, shapes, quantities, sizes, change & dynamism of simple and complex system, then am a complete girl to sign on for STEM Career" = FATIMA YAHAYA (SS2 Class)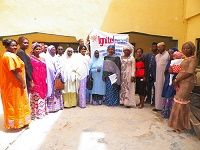 Thank you.
Abdulraheem A. O.
Read about more Katsina Events on their Chapter Page.