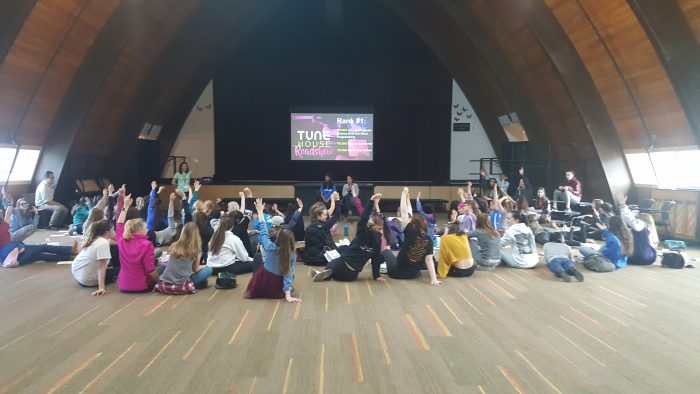 Yesterday, Camille, myself and TUNE House scholars, Aishwarya and Aishwarya (talk about confusing the students!) visited a group of female middle school students as part of our TUNE House Roadshow. On Monday, we were told there were 35 students signed up, and by the morning of the visit, there were over 70 girls on the list who had voluntarily signed up (our biggest audience yet!). We were told we needed to move from a classroom to the theater in order to accommodate the numbers.
We handed out TUNE sunglasses to everyone who asked a question, but in the end, we found those weren't even necessary because the students had SO many great questions! In the hour of our visit, there was not a single moment where there weren't at least 5+ hands raised.
At the beginning of the roadshow, we always ask the students, by show of hands, "how many of you have taken a computer science or tech-related class?" and we've come to find that number is usually below 50%.
Near the end of the roadshow, after the students have asked all their questions to the TUNE House scholars, we have the CS teacher explain what tech classes the school offers that are available to them next semester.
Camille and I then ask the girls "after hearing from the TUNE House scholars and how great it is/how much opportunity there is working as a software engineer….how many of you are now going to register or continue taking tech classes?"(These visits are planned around class registration, and once registration has concluded, we follow-up with the teacher and report how many students actually registered for a tech class).
Our goal is that 100% of the students will register for a tech-related class the following semester. Yesterday, 99% of the hands were raised!
After the roadshow concluded, each TUNE House scholar had a line of students who wanted to continue the conversation and ask additional questions. It was inspiring to see and feel the energy/passion from all 70 of the girls in the room. The students thanked us over and over and some even gave us hugs.
In addition, we had them fill out a survey at the end and asked what they enjoyed most about the roadshow…
Just everything…it re-sparked my interest for coding and reminded me how much I loved being in the class last year – Sophia, 8th grader 
I liked how we got specific examples of what you can do with computer science to help or improve things in the world – Aden, 7th grader

Learning about what inspired them and why they enjoy it! – Katie, 6th grader
I enjoyed that women were talking about technology instead of men – Lillian, 5th grader 
Learning about TUNE! – Anna, 6th grader 
Hearing other girls/women inspire me with their stories to be someone that is happy with who I am when I'm older, no matter what other people say. – Noelle, 7th grader 
I enjoyed that it was all about girls and how they can change the world – Jordan, 5th grader 
I love how they inspired me to do more of technology – Marley, 5th grader
Everything was well done! It was very interesting to hear their stories! – Hannah, 8th grader
I liked that we had the freedom to ask questions – Alana, 5th grader
I liked seeing what a tech office looks like – Eleanor, 5th grader
They taught us girls can do things just as well as guys can, or even better! – Daly – 6th grader
I really liked the interview with the college students. They had a lot of cool things to say and they definitely inspired me – Lucy – 7th grader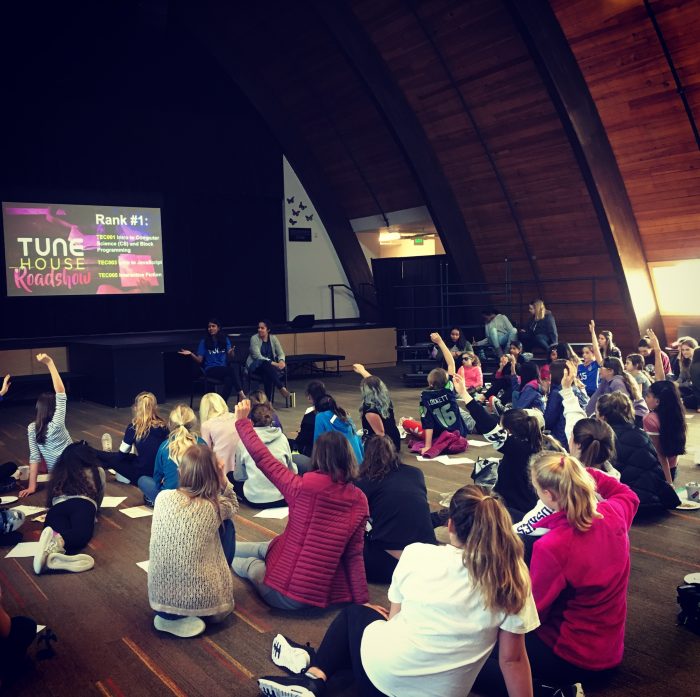 We are excited to continue these roadshows through the remainder of this school year and start planning for the fall! If you're interested in the roadshow visiting your child's school, please let us know! We're always looking for new schools to visit, and our only requirements are that the school offers CS or tech-related classes and we can visit 1-2 weeks out from registration.
Thanks for reading! 🙂
Cheers,
—