West Valley Junior High IGNITE was fortunate to host Michelle Schiefelbein and Michelle Baxter from our District's IT Department on January 8, 2018.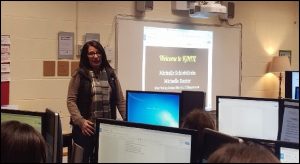 Ms. Schiefelbein started her career as a graphic designer, and because she was always fascinated with computers and technology, she continued to educate herself in various computing areas even when she took a break from her career to raise her children. She mentioned how she never let her gender determine what career to pursue and when she had a goal in mind with a passion to pursue it, she followed it up with action. She then joined West Valley School District (WVSD) as an office administrator but when a position was created in the IT Department, she moved on to that position becoming the first woman IT technician at WVSD. The students were inspired by her perseverance and fearless attitude as she advised the students to never go with stereotypes but to focus on their interests.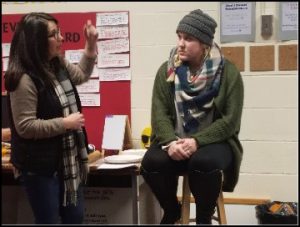 Ms. Baxter is a HelpDesk Technician and also working towards her Bachelor's degree in Network Operations and Security at WGU. She is proficient in programming in several languages and talked to girls about how she struggled to learn to code but didn't give up because "when you want to learn something real bad, you figure it out." She has an interesting background in mining and shared her stories of how she managed computers deep down in mining caves. The students were inspired by her energy and enthusiasm. Her message was that WVSD now has so many resources available to coach and educate students in various Technology pathways and that students should take advantage of these in order to nourish their interests and secure a career in the largest growing profession of today.
Feedback from students:
It was good to hear that "a girl can do anything she wants to."
I liked how Ms. Schiefelbein talked about career change and that it is never too late to pursue your passions.
I enjoyed getting to hear from female IT staff in our District. We see them around but don't know their stories and what inspired them to explore STEM careers. This event inspired me to continue staying in STEM classes and keep on attending IGNITE events.
Getting to hear stories of other women gives me confidence that I can do it too.