On Thursday, March 1st, Abraham Lincoln High School in SFUSD hosted an inspiring IGNITE Kick Off Panel with 86 girls in attendance and the following 5 volunteers:
Carrie Gotch, Social Media Manager at The Trust for Public Land
Jenny Famularcano, Designer at Column Five
Kat Michie, Senior Art Director, Freelance
Sonja Hernandez, Design Manager, Adobe
Sara Kremer, Design Lead, Plangrid
The women told their stories of challenges they encountered in high school and college, what they learned, and their successes. They also shared what they love about their career today and offered encouraging words of advice. Girls asked excellent questions and left inspired by the myriad opportunities joining the Digital Media Design Academy class opens!
After this event:
Comments from the girls:
"I really enjoyed seeing the variety in these women's work even when they're in similar fields of a career." - Grade 9

"I was inspired by learning about their mistakes and what they had to go through before they found the perfect job, the job they have now." - Grade 10

"I liked the 2nd presenter. It inspired me to check out the Digital Media Design Academy but focus more on Photoshop and video edit." - Grade 9

"I enjoyed getting to know how their careers started, finding about more options I have for my career, and knowing how happy and interested they are in their jobs. Have more of these events." - Grade 10

"I enjoyed learning about new apps for digital design, more possible pathways for my future, and inspiration and encouragement from women." - Grade 9

"I learned how people design websites and stuff online. This event inspired me to major in math and minor in technology." - Grade 11
THANK YOU!!!
Thank you to Jorge Goncalves, Lincoln High School's IGNITE Teacher. This was his first event and he did a great job facilitating! It's so important for girls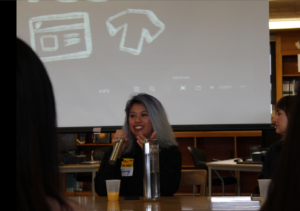 to see that there are caring teachers who go above and beyond to make such a memorable learning experience for them. Thank you to each of our IGNITE Volunteers. Each of these volunteers shared their stories with the girls, and it's what makes this experience so relevant and valuable. The girls relate to the volunteers and see how similar they are to them: they went through a lot of things, did not have it easy, and had to work hard, but triumphed because they never gave up. It's an amazing message and one that changes these girls' lives forever. Thank you to everyone who shared their stories and answered questions with care and such thoughtfulness. Thank you to Galileo High School's Librarian and the student TAs who helped set up the projector, chairs, flyers, and food for the event.