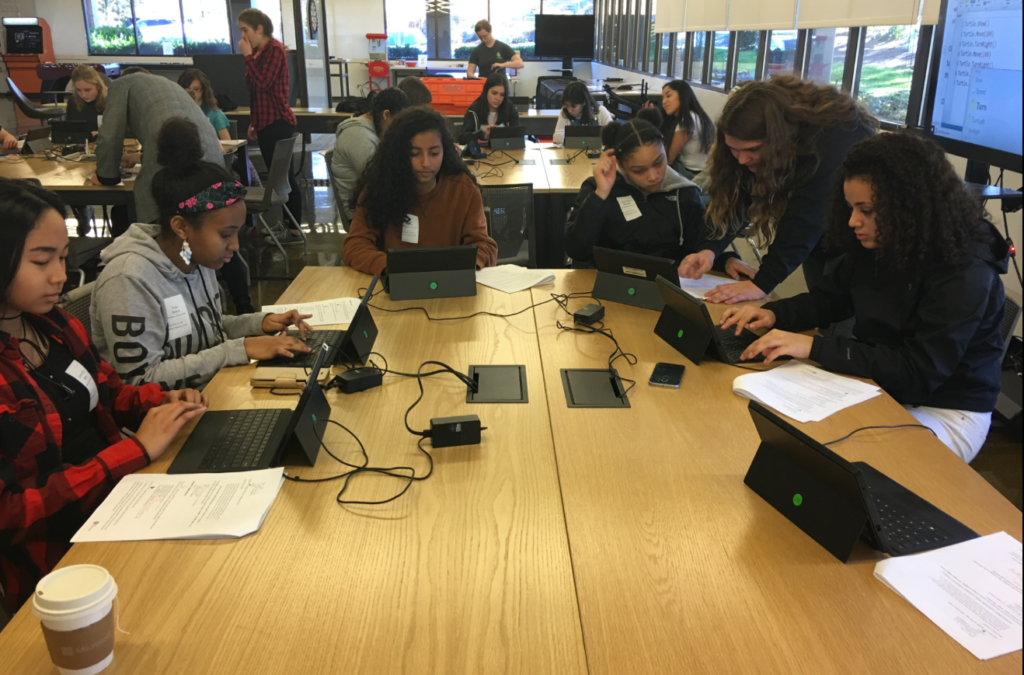 This was Broadview Thomson Middle School's second visit this school year to a Microsoft IGNITE event.  100% of all 7th & 8th grade students wanted to return for another experience since our first visit in the Fall was so positive.  This time my students were very comfortable using the Simple Basic programming language.  They were able to be creative and try out their own ideas, expanding on the given code in the packet.  The girls shared and participated when the facilitator asked for feedback or examples. Some won prizes for sharing their ideas. 
During lunch, hosted by Microsoft, the students took notes, asked questions and listened carefully to each of the women on the panel as they spoke of their experiences. The panel consisted of Sweety Chauhan, Kristi Yankacy, Alishba Khawaja, Kathy Vu and Layla Sells.  All the women discussed that to work at Microsoft you don't have to be a programmer. Some of the women were program managers who manage several teams of people making sure they are on task, help them solve problems they have and brainstorm ideas.  Most of the women had worked there from 6-13 years.
After this event:
Kristi told our group that Microsoft pays for any college degrees you want to get if you work there! That was very eye opening for our girls.  Alishba surprised our girls by sharing that she had dropped out of high school and was emancipated. She told them that she had gotten her GED. One student asked what that was.  She told them that it was the equivalent of a high school diploma but you have to get it at a community college and pay money for it.  She went on to share that at one point she had been homeless and was also dyslexic. She said that all jobs have some sort of technology needs and that you don't have to work at Microsoft but that working in tech field allows you to have a high salary and that you really appreciate the quality of life when you have a good job that pays well. She has been employed by Microsoft for 13 years.
Alicia told of her experiences being a girl trying to take CS courses in High School in Pakistan. She was told that girls probably wouldn't want to take those classes. So she went out and recruited 25 girls to take the class to show that girls are interested in computer science. The students asked how young can you be to be an Intern at Microsoft. Kristi said that any age can do "usability testing" where you try out products. To be an Intern you must be in high school and with the idea that you want to become a full time employee once you graduate.  To woo interns, the panel said,  Microsoft gives interns really cool gadgets, paid lunches and do cool social things together. Interns also get paid! All the women agreed that in order to be successful in computer science you need to have a curiosity for how things work, like to solve puzzles and be able to collaborate with a team of people! And that programming was just one skill that was useful to get a good job at Microsoft.
The visit wrapped up by the kids getting a goody bag of Microsoft trinkets to take home.
Comments from the girls:
This event inspired me in a way I can't describe.
I enjoyed doing small basic it inspired my knowing there is many options.
I've learned a lot about coding and how it could be really fun and relate a lot to computer science.  in the future I would like to attend more activities with coding or anything with computer science. I now want to learn more about what you can do with technology I'm glad I attended this program because I'm really into computer science.
I enjoyed the q&a. I found it very inspiring when that lady was talking about diversity at Microsoft, especially LGBTQ as I am LGBTQ myself. Also being an intern sounds awesome.
Thank you to Microsoft and IGNITE for allowing Broadview Thomson Middle School Chapter to participate! It shows the girls that anything is possible!