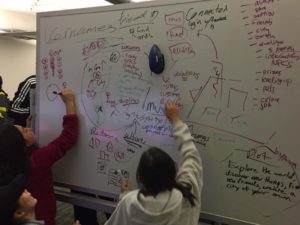 On Friday, October 5th, 38 Aptos Middle School 7th-8th grade girls had the opportunity to visit Zynga and take part in a all female career panel and gaming workshop. The girls were personally taken around by Zynga staff where they saw all the amenities Zynga had to offer including the free meals and cafeteria, gym and wellness center, arcade room, and office spaces. The girls were surprised that such a workspace existed. Five women from Zynga took time out of their day to speak to our young ladies about the different careers in tech and about their experiences and journey to get there. After a generous lunch provided by Zynga, the girls were ready to work! In groups, the girls were asked to create a game where the purpose was to find a mentor. The excitement in the room was contagious as the girls were eager to share their ideas and start working on their game prototype. Seeing the young women embrace and empower one another in a positive way with their knowledge and creativity was amazing to see! The girls then presented their group's prototype to everyone else in the group and to other Zynga volunteers. From what most of the girls reported, this was the most exciting aspect of their day! Special thank you to Michelle and all of the women at Zynga that made this day such a memorable experience for our young women to work towards careers in STEM and tech! Nearly 95% of the girls said this experience made them more interested in exploring their interests and the field!

After this event:
Here are just a few quotes from the girls about the event:
"This showed me how hard people and I should work"
"I enjoyed the food and meeting all the powerful women in tech"
"I enjoyed making the game designs and I was inspired by all the ideas"
"I liked the panel portion of today because they told their middle school stories"
"I had a lot of fun and this experience really made me want to get into tech"
"I loved all of it!"
"The video game design activity made me more curious about STEM"