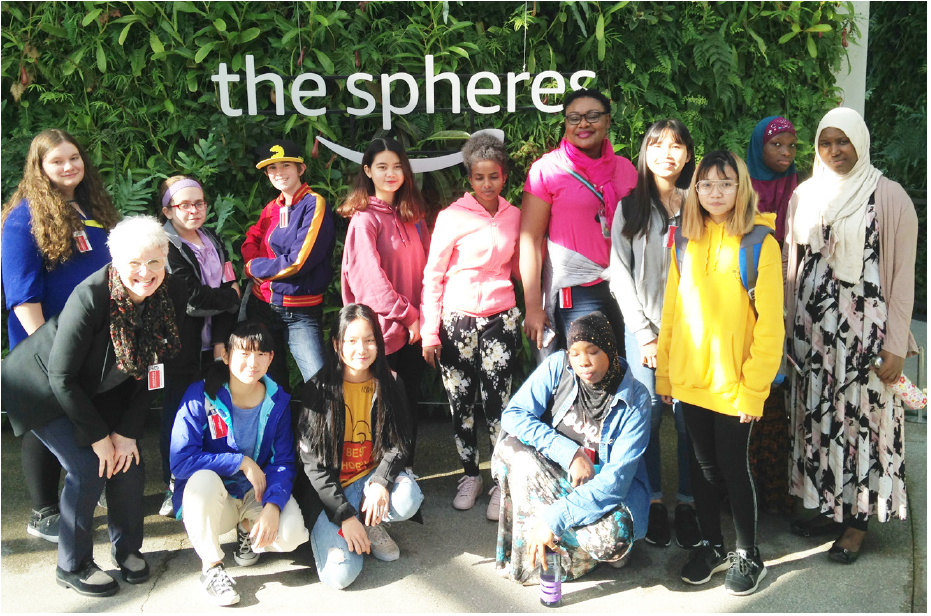 IGNITE field trip to Amazon HQ | 10.16.18 The Center School | Wyn Pottinger-Levy
On Tuesday, October 16, 2018, students The Center School and Seattle World School walked Fifth Avenue, under the Monorail, to Amazon's buildings at 2111 7th Avenue in downtown Seattle.
Our IGNITE visit was about to begin and spirits were high. (Especially when we saw the Amazon dog park, which must also be an attraction for potential Amazon employees who love dogs, too.)
The goal of our visit was to inspire high school girls to consider careers in technology. Our hosts were female Amazon employees who are part of a women in engineering club at the company. Diana Antczak (Sr. Technical Program Manager) was our contact. She met us, along with co-workers Melinda Sevinc (Senior Innovation and Design Manager), Melissa Mackie (Diversity Program Manager), Nicole Michaud (Systems Engineer) and Taylor Loran (UX Designer). We split our students (sharing this field trip with Seattle World School) into two groups of about 15 students each. Each group, accompanied by Amazon guides, toured the Spheres and one of the HQ buildings.
One group went to "Day 1" building, a large, 37-story modern edifice that houses much of Amazon's business operations.The name "Day 1" comes from a phrase coined by Amazon founder and CEO, Jeff Bezos. The concept being, at Amazon, they operate like every day is Day 1 because they are constantly working to invent, innovate, and experiment on behalf of their customers. Every day is Day 1 because they are always trying something new. This mindset is what draws many people to work at Amazon, as it makes every day different and exciting. After getting our guest security badges, we checked out prototypes on the wall of Amazon's Kindle – coincidentally, the newest version was released the day we were visiting. It was in the news reports that night!
We rode in elevators lined in whiteboard material for writing ideas. The hallways were decorated in Jeff Bezos's quotes. Our guide took us to an upper floor, where we were able to see the conference rooms, meeting spaces and foodservice areas for collaborations and teamwork. We saw a bird's-eye view of the globular spheres that separate Day 1, Doppler and a third 37-story tower currently under construction.
Going outside on the 4th floor deck, we saw some of the original carnivorous plants which were tested for the Spheres project.
One can't underestimate the effect on students of being observers of work culture – the ability to see the employees going about their day. It was not difficult to note a higher ratio of men to women. Everyone looked like they had somewhere to be, something to do. After a tour of 45 minutes, we switched with the other group and had a personal tour of the Spheres. Students were encouraged to ask questions, take pictures in both venues. The Spheres "experience" is designed for photo opportunities: so lush and verdant, every backdrop is interesting. In the Spheres, we were able to view the rare Corpse Flower (named Morticia), which was about to come into bloom for the first time in over seven years.
After the two tours, we embarked to a third building ("Doppler"), joined the other group in a large conference room and heard from our hosts. They presented a deck with their name, title and job points. We ate pizza. Joining us was Elizabeth Mansfield, Sr. Product Manager.
To wrap up our tours, the amazing Amazon staff shared their own career journeys with Center and World School students in a question and answer panel. Themes that emerged included following your passions, being OK with "not knowing what you want to do yet," working with friendly, focused and intelligent co-workers on a team, envisioning where your interests and abilities might take you (but never just define you), working very hard to become an expert yourself ...and finding work-life balance.
Often the question at IGNITE events is posed of the students, "Who likes math and science?" I only wish more students answered in the affirmative. But certainly, seeing the positive outcomes of these study areas should inspire more girls to consider the possibilities.
As we exited, traveling past Amazon's "Post Alley," a riff on the famous gum wall, covered in colorful Post-It Notes with messages, students jotted notes of thanks.
Here's what the students enjoyed most about the trip:
"I enjoyed how people utilize their skills to create something big, new and adventurous. This event encouraged me to work harder and gain self-confidence."

"

I changed my mind into going to college. The field trip inspired me."

"It showed me that you can be successful if you don't have the best GPA and that you can change your career direction."

"I enjoyed learning about Amazon, and the influential women who work there."