On November 29, 2018, The Center School took a short trip downtown to the offices of Moz. The work of Moz can best be described as "making sure Google works for everyone who needs to find something." Moz's clients utilize the software they purchase from Moz to maximize the analytics of their customers' web searches. This business is termed SEO: Search Engine Optimization. Moz is a $57 million company, run by a female CEO, Sarah Bird.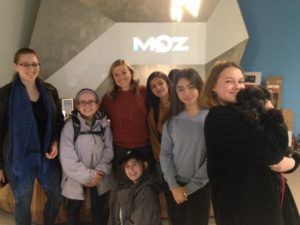 Our guide, Ashlie Daulton, Moz's manager of operations, met us at the elevator on the fifth floor of the 1100 Second Avenue building. Her front desk crew, including Ashlie's dog, Draco, was welcoming. We heard about the tasks of the two "Team Happy" receptionists who coordinate client meetings, events, ordering of supplies and materials, as well as the prolific snacks and beverages for employees in the shared kitchens of the MozPlex. 
Ashlie provided us a grand tour of the two floors of the Moz operation. We noted the open concept arrangements of desks, which included standing desks and treadmill desks. The departments were arranged in engineering and technology, marketing and design, human resources. We even met a graduate of The Center School, Skye, who works at Moz as a UX designer – so cool to make that connection to school and career!
After the tour, Sarah Bird, Moz's amazing CEO, spoke to our group. She encouraged the students to pursue their ideals and dreams. At Moz, the term TAGFEE is used to capture their corporate goals of "Transparency, Authenticity, Generosity, Fun, Empathy and Exceptional." Sarah's proud of the work of her company, as they've grown from $1 million to $57 million in the time she's worked there. She was an inspiration to all of us!
We had a photo opp with the human-sized Moz mascot, Roger the Robot.
We were joined by other women who work at Moz for a problem-solving group project. Maria (UX design manager), Lauren (customer support engineer), Denise (UX designer) and Chelsea (analytics – with a mechanical engineering degree — and self-confessed ski bum). The challenge questions were "How would you create an environment that celebrates the contributions of women and support inclusivity of underrepresented groups in general?" and "How do we help customers better understand our products?" Both of which are serious, real world considerations that the management team works on daily in the practice of doing business. The Center School students presented their ideas.
We took a short break for a delicious pizza and salad lunch. Students were encouraged to choose any beverage from the giant wall of refrigerated coolers, with dozens of selections. We also got to visit the "Candy Wall," which is just as you might imagine: something out of Charlie and the Chocolate Factory!
For the final stage of our three-hour visit, we were ushered to a conference room with a large table and comfortable chairs. Around the table, each of the Moz employees who had shared our project work spoke of their journey from high school to their current position. We heard about a diversity of paths, with everyone touching on the perseverance and focus they had to develop a skill set that provided them with the tools they needed to get hired at this amazing company. Ashlie continued to manage our time with the utmost skill. After the last question had been answered, we returned to the lobby, where a table of Moz swag was arranged for us, a Roger Lego charm and deck of cards featuring women in technology.
Overall, it was a great visit and, as usual, our IGNITE-sponsored field trip inspired all the students to do better in school, appreciate their math and technology classes – and want to pursue higher education. Although a few students said they'd start working at Moz tomorrow, if they had the chance!
With our appreciation,
The Center School and Wyn Pottinger-Levy, Career Connected Learning teacher
After attending this event:
Highlights of the trip for students:
"Meeting the CEO, and knowing that she cares about us and wants us to do amazing in life."
–  19th grade
"They showed that you also can have a family and social life while working in a tech job, and that you can have different education levels before you start working there. ."
–  11th grade
"I enjoyed how they showed us their space and explained everything. Everyone was there to help each other."
–  11th grade
"The small group work, talking one on one with the adults, the activities, and seeing the dogs."
– 9th grade