The IGNITE Chapter at Lowell High School in San Francisco welcomed 5 amazing diverse women, with an equally diverse STEM skill set ranging from digital art to eye blind spot research, to come speak to girls at our high school. Through these qualified professionals from various STEM fields, this semester's STEM in College panel was a great opportunity for the young women of Lowell High School to learn about the variety of STEM majors and opportunities available in college.
Over the course of two hours, the presenters told stories about their education and life as women in the STEM field, and what steps they took in high school and college to get where they are currently. Students had the opportunity to ask the panelists in depth questions, and receive informative and personalized answers and advice. They learned about the different majors and options in college, and the benefits and opportunities of pursuing their STEM careers in college outside of the state.
Students left the panel with a renewed interest in STEM, and most importantly, a willingness and excitement to continue taking STEM classes in the future. With advice such as "you can do it, just go for it" and "don't stress, follow what you want to do", we concluded another amazing IGNITE event.
Thank you to Amber Zertuche, the IGNITE Regional Director who guided us through the process of hosting this panel.
Thank you to science teachers and mentors Bryan Cooley and Anjana Amirapu for helping us organize and supervise the event.
Thank you to our fantastic panelists- Monique Wray, Audrey Wong-Kee-You, Cecile Vullings, Claire Jacobson, and Rucha Tatke. You all truly made this event an unforgettable experience.
And thank you IGNITE Worldwide!
Respectfully,
Team 4159 CardinalBotics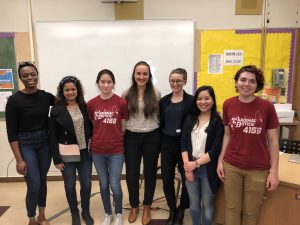 After attending this event:
Here's what the students enjoyed most:
-This panel gave really good life advice about continuing a career in STEM.
-It was reassuring to hear from other successful women that it's totally okay to go into college without knowing what you want to do in the future.
-I liked the personal background, because it makes me realize that it's not a straight path to where you want to go in life, but many people have many different ways of getting there.
-I enjoyed listening to the panelists' experiences and advice that I would find helpful now and in the future.
-This event inspired me to work harder to further my education despite the environment of being one of the few women in a certain field.
-I liked the ethnic diversity of the group of panelists.