Thursday, April 18, 2019 | Bethel School District at the Bill & Melinda Gates Foundation
The Bill & Melinda Gates Foundation in downtown Seattle welcomed a group of 40 female students from the Bethel School District. Heather Smith, Senior Assistant warmly greeted our group and escorted us to a conference room and we all checked in for the day!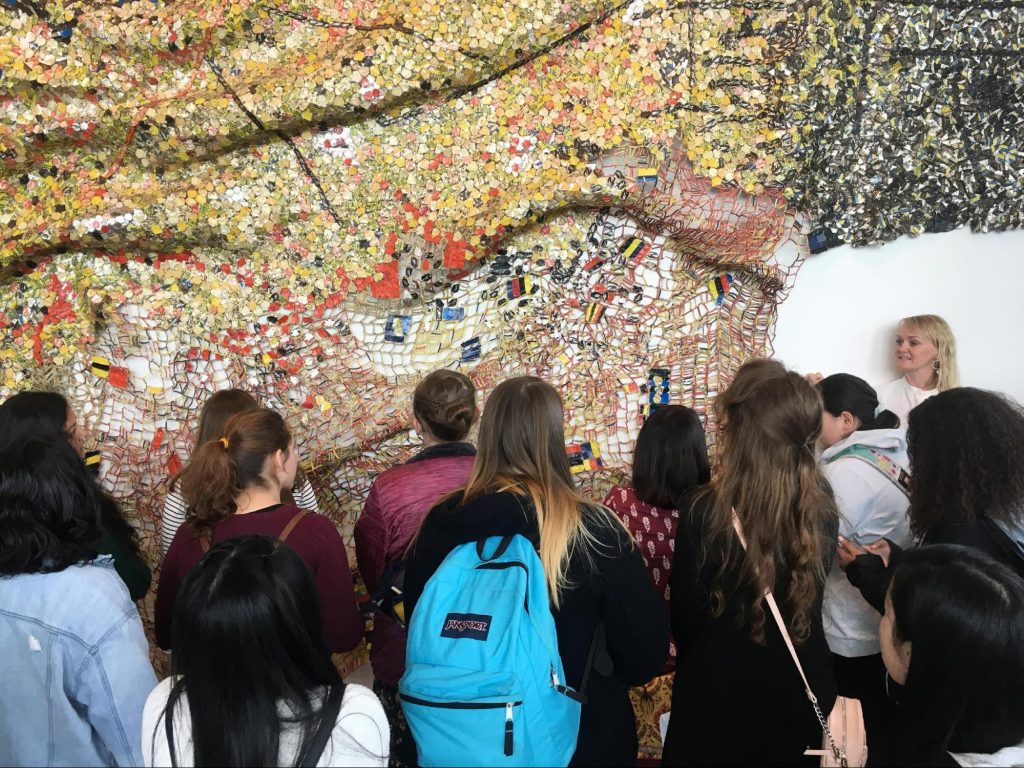 The conference room tables were set up with awesome wooden pens and mini journal keepsakes for the girls all labeled with Bill & Melinda Gates Foundation. The first speaker was Sue Taylor, Chief Information Officer, who welcomed the girls and gave a brief history of the Foundation and how it is focused on helping developing countries. Their focus is on enhancing healthcare and inspiring people to take action to change the world in many ways. 
Cara Kleid, Cheryl Platz and Teanna Quinn from the IT Design Team encouraged our girls to stand in power poses to make them feel more powerful. They then shared one of their inventions sold in India, the Haptic Smart Cane, using vibrations for detection of obstacles. The girls then split into smaller groups to pick a challenge and brainstorm creative solutions by sketching prototypes. This was definitely a highlight of the day for the students! They loved being creative, working together and getting the chance to work alongside an employee from The Gates Foundation.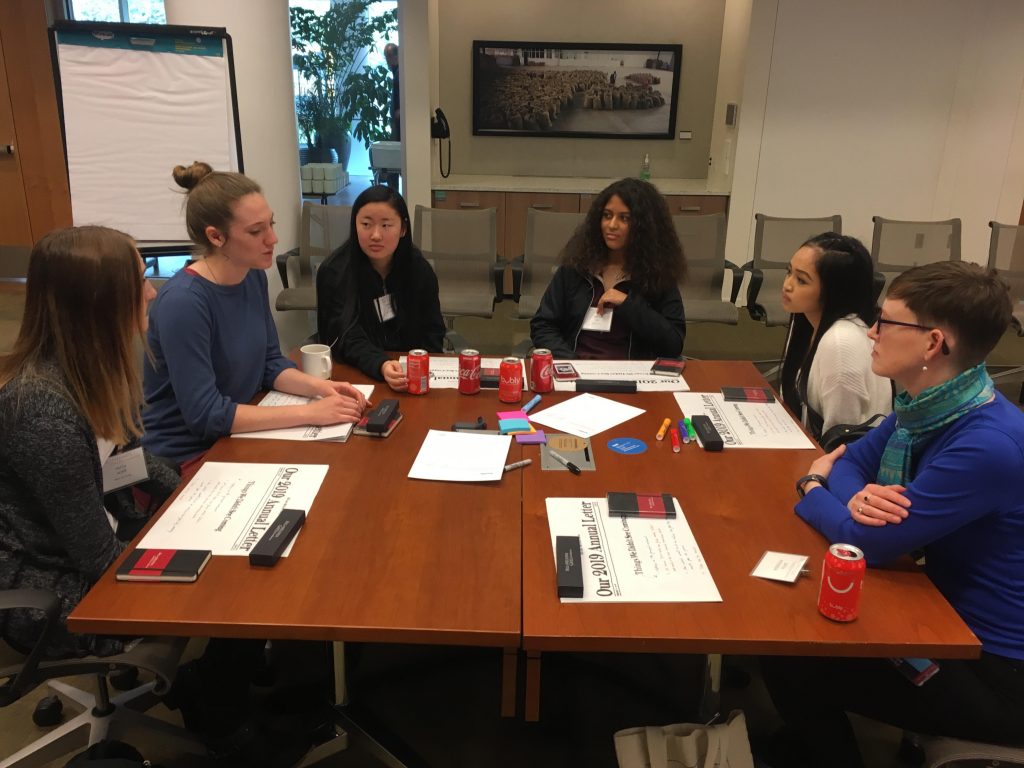 Next up on our agenda was an incredible taco bar spread for lunch, but first a quick game of Don't Catch the Ball (this had all the girls laughing). Once lunch was over, a Panel of seven inspiring women presented: Heather Smith, Sue Taylor, Nicole Neurath (A Gates Millennium Scholar), Rajashree Parthasarathy, Melissa Garcia, Roze Rich and Cheryl Platz. Each speaker shared about their experience of how they came into a position at the Bill & Melinda Gates Foundation. Stressing the importance of analytics, innovation and using their imaginations. One lesson that really stuck the group was from Sue Taylor, who said, "being perfect doesn't make you successful, and expecting others to be perfect doesn't make them successful." She wanted the girls to take away that there will be mistakes along the way, but they need to keep pushing through to achieve their goal.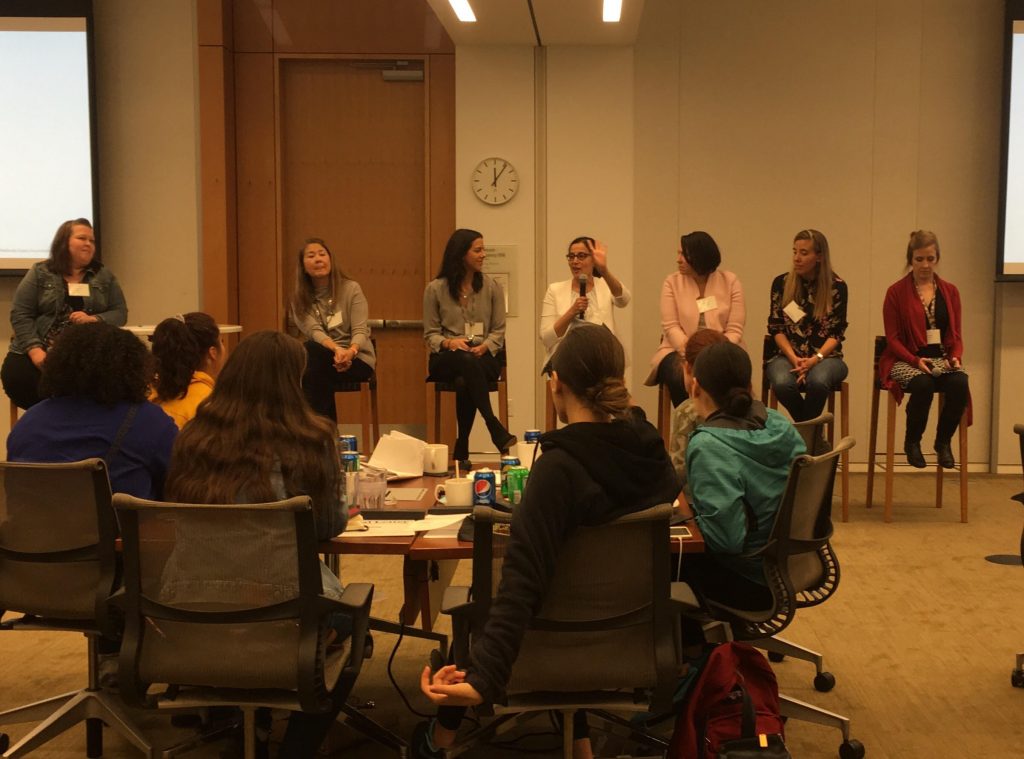 The last thing on our list to do was tour the Gates Foundation campus! We observed their open office spaces, beautiful artwork, and the fun places to explore. It was such a successful day at the Bill & Melinda Gates foundation for the Bethel School District female students. They gained a lot of knowledge from all the spectacular women who had a story to tell. Thank you so much for providing this amazing opportunity to our girls!
After attending this event:
Here's what the students enjoyed most:
"Knowing that if you have a passion for something, go for it and pursue it."
- 12th grade
"I really enjoyed the Panel and hearing from a group of successful women in the STEM field."
- 11th grade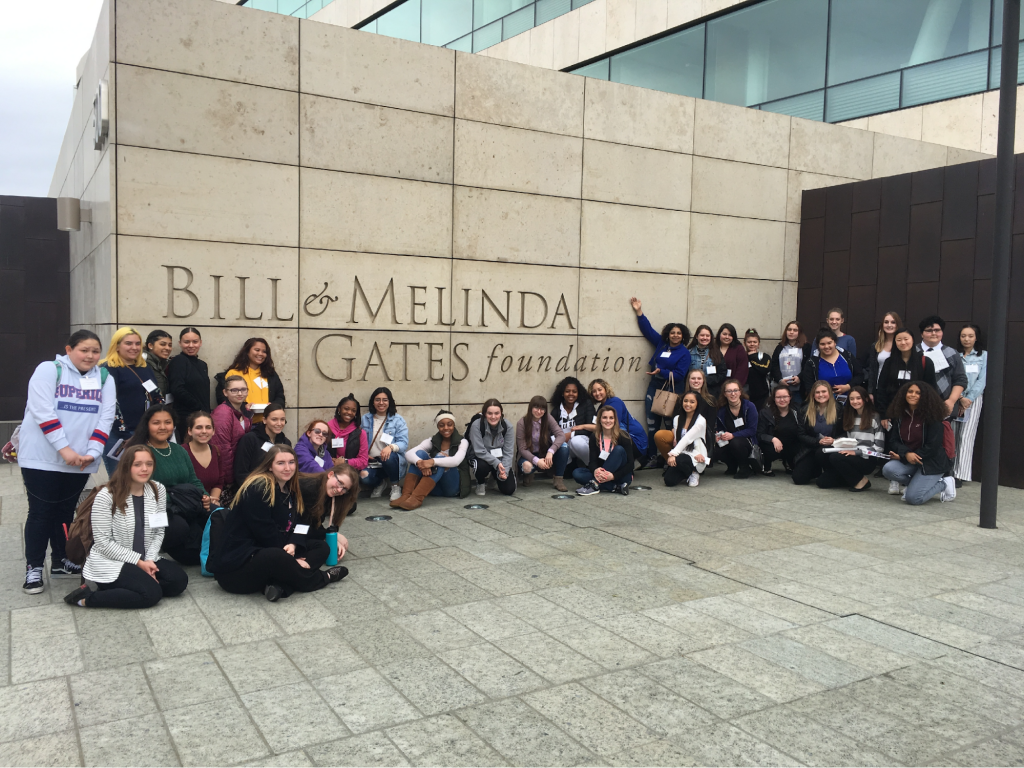 "Seeing the workplace, and understanding how these amazing women contribute to the operations. It inspired me to look more into nonprofit work and how to contribute now."
- 9th grade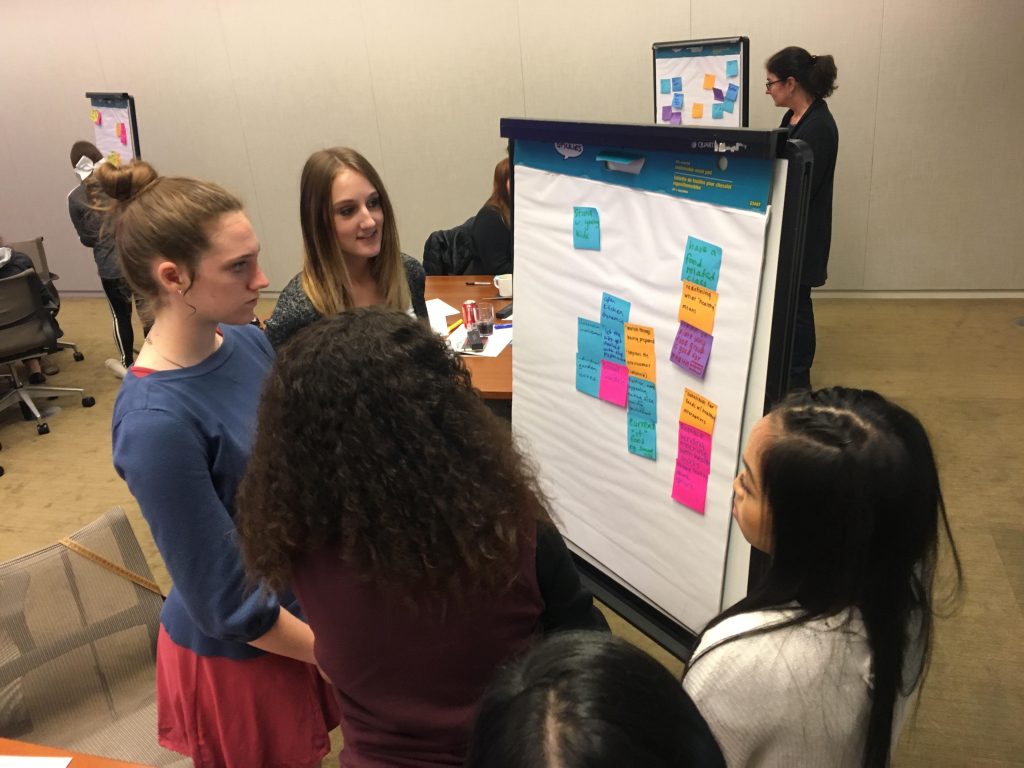 "The highlights I enjoyed from today's visit is finding out what it is needed for a STEM-related job, that also made me more inspired to do a career in a STEM field."
- 9th grade
"The Panel helped inspire me to choose my dreams and tell myself I can do it."
- 12th grade
"Meeting and talking with professional women, and touring their amazing buildings."
- 9th grade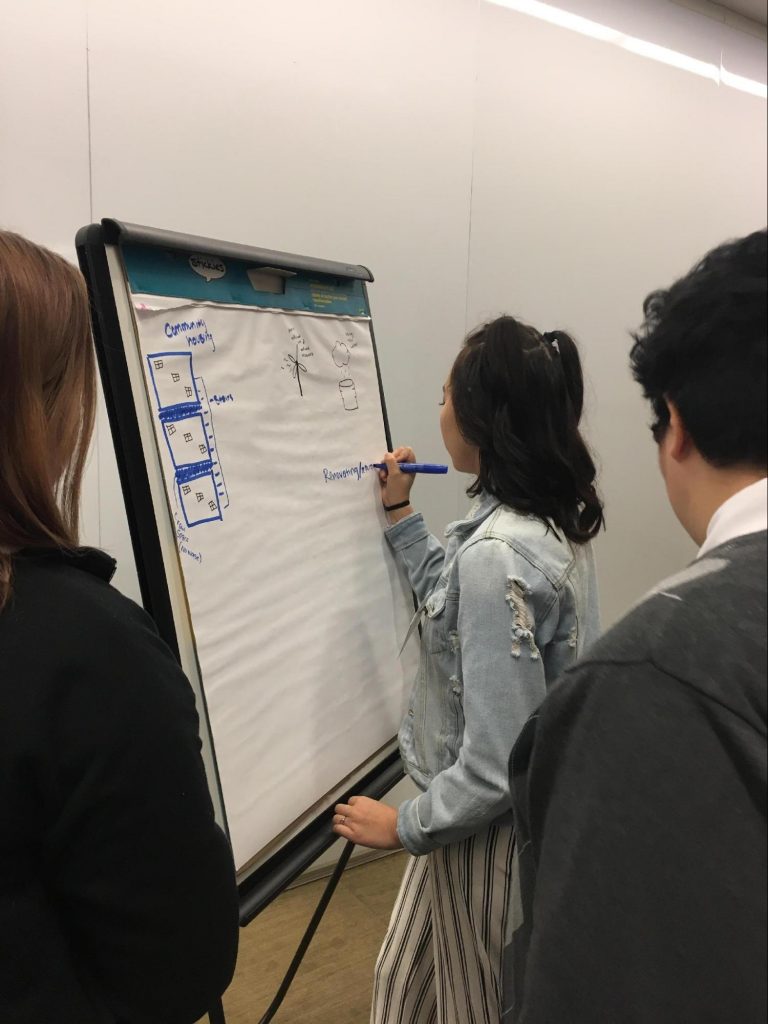 "Being able to actually talk to the women on the Panel was very cool. This event inspired me because it shows you can get there even with a hard background."
- 9th grade
"I enjoyed the tour and all of the group activities. I was inspired to go for what I want to, no matter the obstacles."
- 12th grade
"The people who spoke, and all the possible jobs one could be involved in."
- 12th grade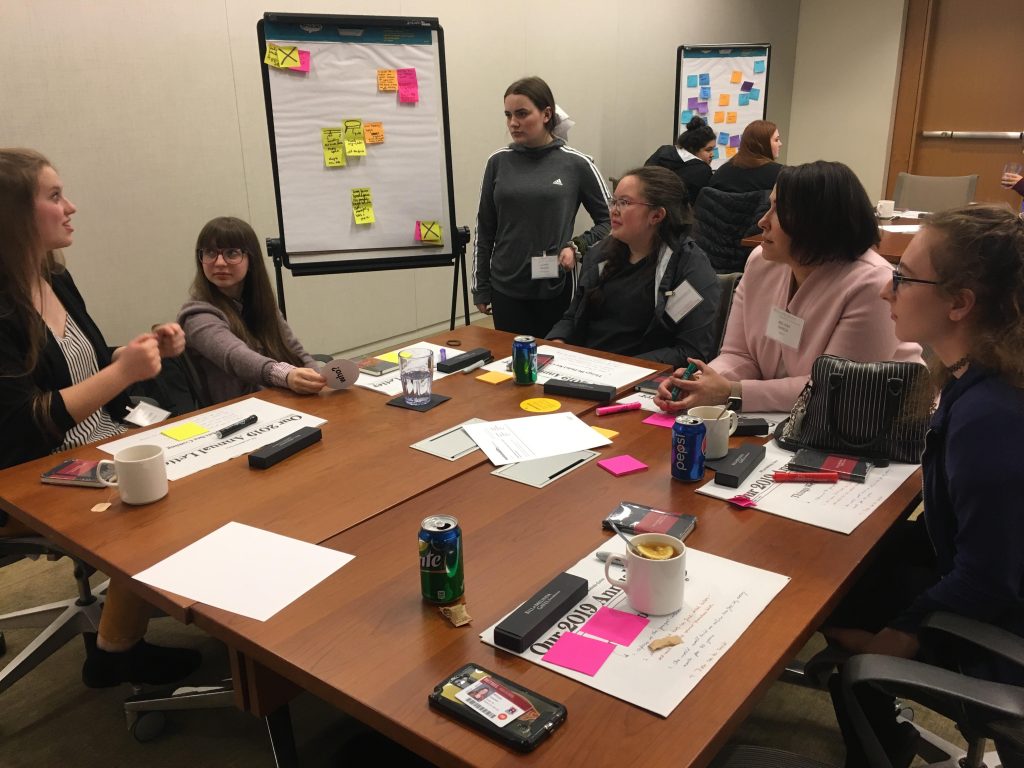 "A highlight I enjoyed was that the amazing women talked about their experiences and struggles up until working at the Foundation. It inspired me to not give up and women are smart too."
- 11th grade
"The Panel was inspiring and educational, and I LOVED the hands-on activity."
- 11th grade
"I enjoyed being able to hear other women speak about how they succeeded in STEM fields."
- 12th grade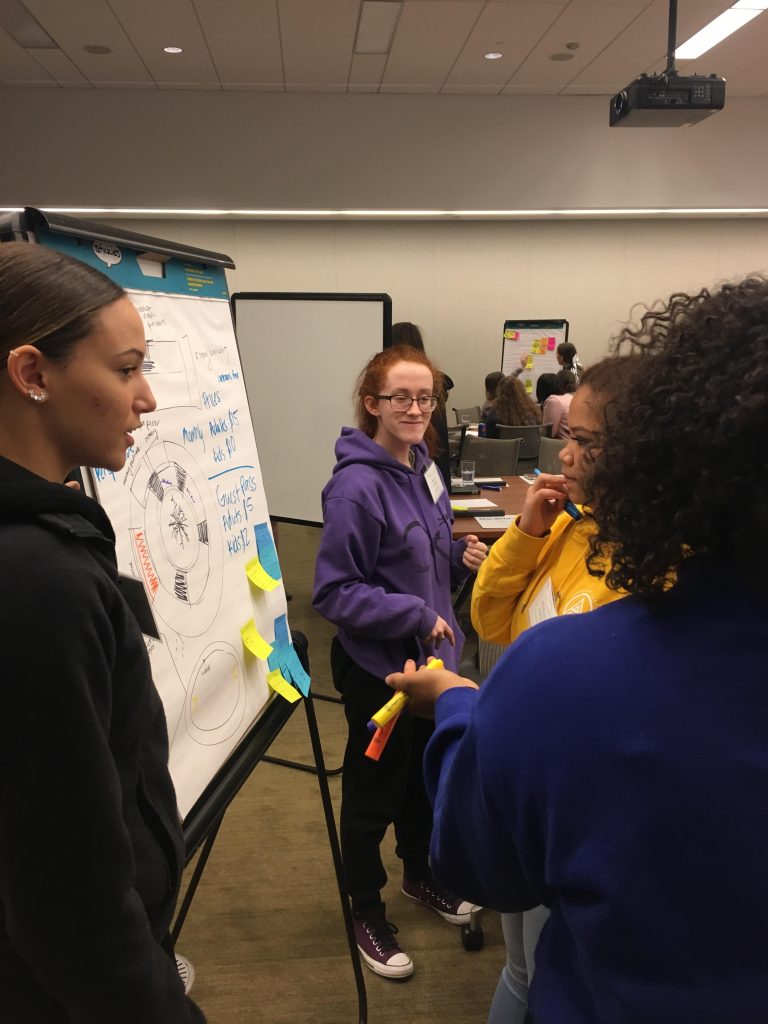 "Everything- I especially liked the design activity. It inspired me to try harder to reach my goals."
- 12th grade
"The activities and the diverse and welcoming environment."
- 12th grade