Monday, August 26, 2019 | Solar Energy Workshop at Hilltop High School | by Joseph Alter, IGNITE Advisor
A group of around thirty Hilltop High School young women, faculty and staff attended its second annual mini-tech panel sponsored by Ignite Worldwide held on August 26, 2019. Ignite Worldwide brought together a diverse group of three panelists: Loretta Jimenez of AutoDesk, Faith Chikwekwe of Make School and Shakela Richardson a Solar Energy Specialist. The panel was introduced by students Samantha and Ashley and they also led the Q&A session.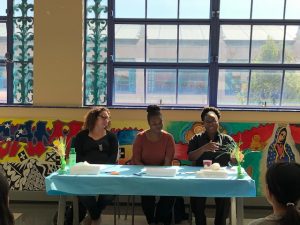 Panel Speakers from left to right: (a) Loretta Jimenez of AutoDesk, (b) Faith Chikwekwe of MakeSchool and (c) Shakela Richardson a Solar Energy Specialist.
Photo by Gary Hercules
Panelist Loretta Jimenez gave our students encouraging words as she shared her own experience as a teen growing into adulthood and becoming interested in technology. Even though she faced the challenges of being a student turmoil, she expressed how glad she was to have taken the opportunity to move into technology. A new hire to Make School, Faith Chikwekwe, shared that a STEM path required determination. And although she was recently hired to her new job, she was confident that was equipped with the skills for this job. Shakela Richardson a Solar Energy Specialist shared her story and engaged girls with how she remains confident in her talent while searching for a job.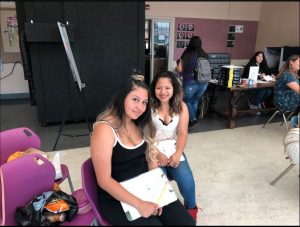 "I learned some new things." Lisbeth shared as she poses with her classmate, Flor, to her left.
Photo by Joseph Alter
While a few of our Hilltop students understand training in STEM to be important, the panel expressed why students need to study in the STEM fields because of the changing landscape of the workforce. Many of our Hilltop mothers were curious on the schooling and work involved to prepare for a STEM career. School STEM instructors Mr. Alter and Mr. Lu, along with other school faculty and staff, supported and encouraged students as they expressed an interest in the field of science, technology, engineering and mathematics.
On behalf of Hilltop High School, San Francisco Unified School District, students and faculty, we are appreciative and thankful to IGNITE for making this career exploration opportunity possible!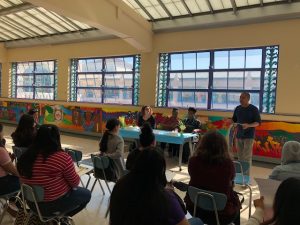 IGNITE Advisor, Mr. Alter introducing the visiting speakers
Photo by Gary Hercules
Special thanks goes to Gary Hercules of Autodesk who invited one of the panel speakers, Loretta Jimenez, and for the extra technology support he and Autodesk provided to the school in the way of circuit kits, tech posters and guidance on Autodesk digital products. And thanks to Ignite for introducing Hilltop's STEM Department to Jessica Redden of Strategic Energy Innovations who brought a team of fantastic colleagues (TTriss Williams Renard, Giselle Serafin and Lawrie Mankoff) to provide 4 days of training on energy conservation, electrical components and circuits and energy rights.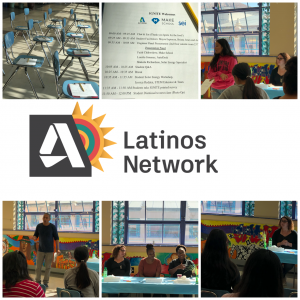 After attending this event:
Here's what the students enjoyed most:
"I enjoyed creating something new." - Grade 10
"I enjoyed building a solar USB charger" - Grade 12
"I like when we practiced with all the cables of electricity and the light was on. Don't change anything - I like this event. " - Grade 12
"It makes me think that technology is so amazing." - Grade 12
"Compartir con mis compañera. (Sharing with my classmates.)" - Grade 11
"The highlight from today's event was hearing their stories." - Grade 12
"I learned that women can become successful and get paid in STEM fields." - Grade 12
"The highlight from today's event was learning about the solar panels. What inspired me was their life stories. You guys should keep doing these events! - Grade 11