10/28/19 | IGNITE Panel at Lowell High School | by Naomi Chao, IGNITE Student Advisor
We had an outstanding time at the Women in STEM Panel on October 28th, held at Lowell High School. Our panel of 3 women in STEM professions included LaDonna Willems from Dropbox, as well as Diana Haas and Rhonda Wilson from Dolby. Field trip forms excused roughly 30 girls from their classes, allowing them to devote a full two hours to the panel. Each of the panelists briefly shared their experiences as women in STEM and what inspired them to pursue their current career path. Following this, girls participated in a Q&A, asking the panelists questions ranging from "which STEM major do you recommend" to "how do you balance parenthood and the demands of your job?" Drawing from their unique personal experiences, each panelist highlighted a different pathway to a career in STEM, helping the girls to explore all possibilities, including the possibility of blending multiple interests with your STEM career. This panel would not have been possible without the support of IGNITE Worldwide and Lowell staff.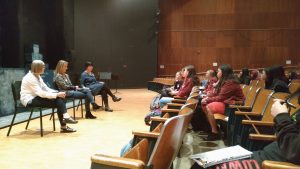 Thank you to Mirji Campolongo, the Lowell Theater Tech coordinator, who graciously granted us use of the Carol Channing Auditorium. Your commitment to ensuring the panel ran smoothly and taking the time to assign one of your own students to assist us was greatly appreciated. 
Thank you to Bryan Cooley, coach of the Lowell robotics team, who helped set up and clean up the food.
Thank you to Amber Zertuche, the IGNITE San Francisco Regional Director who guided us through the process of hosting an IGNITE Worldwide panel and found our panelists.
Finally, thank you to our panelists, who made the event an extraordinary experience. Your willingness to talk about personal experiences in an effort to connect with the students was both brave and admirable. 
Thank you to everyone who made this event possible!
Best,
Naomi

After attending this event:
Here's what the students enjoyed most:
I liked how the members of the panel told us not only how their job worked but also about how they balance their life and their job. It inspired me because I've learned I can be dedicated to a STEM job while also having my own hobbies and interest.
Particularly the parts of their educational journey, because they didn't all immediately know what they wanted to do, and their struggles seem similar to my current situation. It inspired me because it gave me evidence that I can actually pursue this . . . even if I stumble along the way.
That there is a place in a STEM environment for people with more creative mindsets.
I enjoyed hearing more about Dolby labs. I'm inspired to apply what I like to tech--endless opportunities.
I loved the advice the women gave and how thoroughly they answered each question. Their stories inspired me of how each of theirs was different and the obstacles they overcame to get to where they are now.
I enjoyed hearing each of their individual stories and how they got to where they are now. It inspired me to look more into the STEM field & the major I should choose.
I enjoyed talking about maternity and job flexibility.
It inspired me to look more into STEM and people in it.
The general life advice made me feel much more confident about finding a career I enjoyed. I felt inspired and motivated when the speakers talked about how they got themselves to their jobs.
The Q&A was really interesting and the variety of answers about college to careers was insightful. One speakers introduction reminded me that you don't need to excel in math and science to work in STEM.
I really liked how honest and genuine the panelists were, and they had really thoughtful answers to tough questions both career oriented and general. It really made me reflect on my priorities, as a a senior going into college next year.
Hearing people's real life stories and how they got to where they are. It made me realize that I can do what they did.
Excitement/thought process of making new roads, not following; international opportunities, huge amount of opinions; continued following their passions despite being a minority.
I really enjoyed the speakers who came today they were very good speakers and were compelling to listen to. I was inspired by how their paths were not linear and how they made mistakes along the way, but were still able to find a successful career that they greatly enjoy.